TOKI MINOYAKI STORY

The charm of Minoyaki pottery,
communicated by the women of the pottery studios.
Minoyaki Okami Juku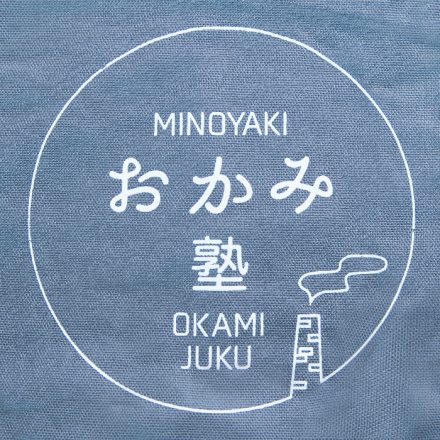 Profile
Minoyaki Okami Juku
Instagram
minoyaki_okami_juku
Facebook
「美濃焼おかみ塾」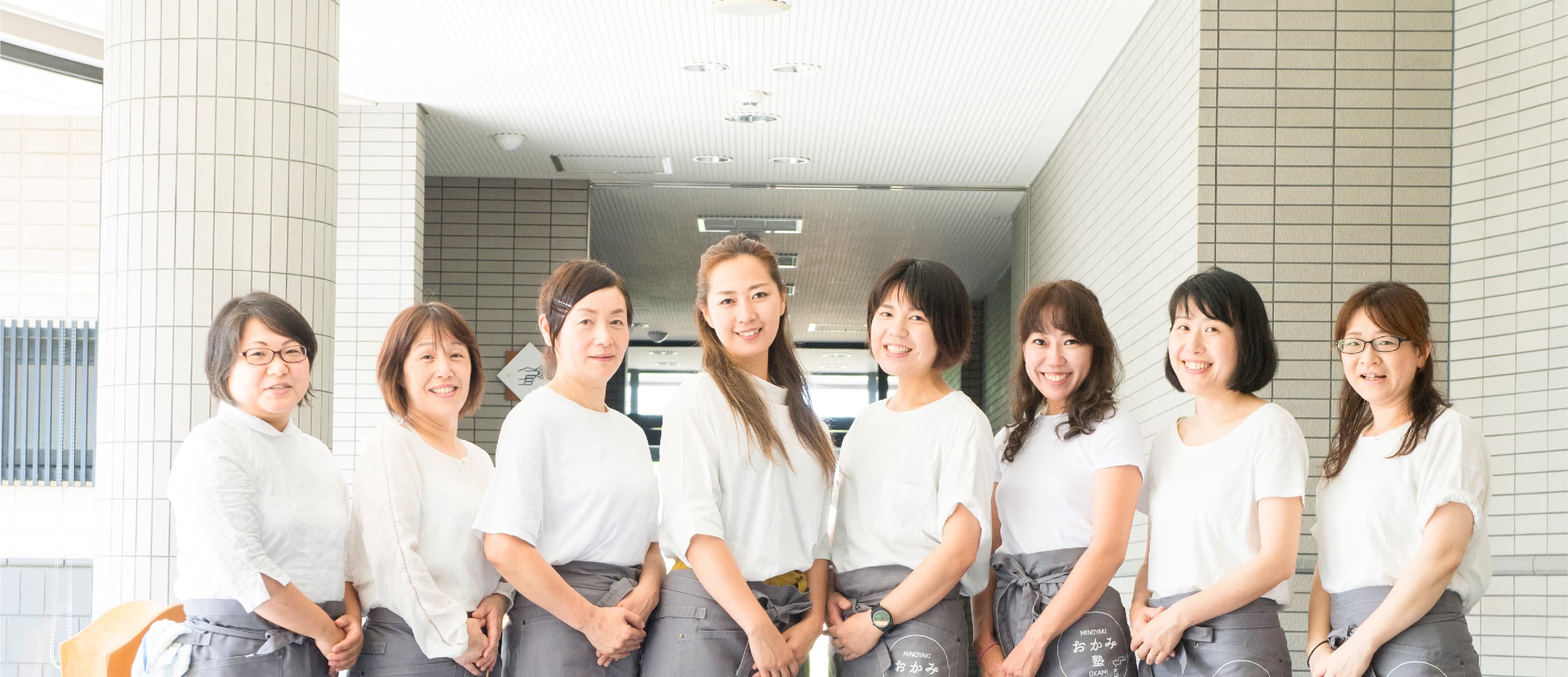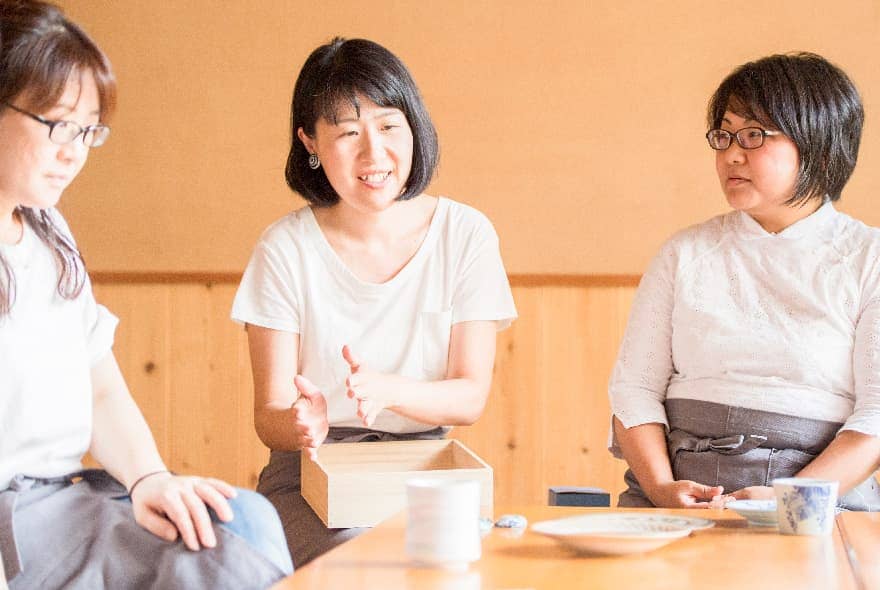 A new wave brought by new friendship.
In a room inside the Seratekuno-toki, a pottery testing facility in Hida-cho Toki City, lively voices echo through the facility. Women who work in manufacturing or selling Minoyaki and designers have come together to make up the "Minoyaki Okami Juku". On the 3rd Wednesday of the month, the women gather at this hall to plan for the next event.
The first ever held gathering was in August 2015 at a workshop for women who worked in the Ceramic industry. Pottery producers are all basically competitors but once they came all under one roof, the conversations would not end. "Women want a place to express their opinions and a place where they can lead projects and to do something for the children too. While working, these women shared similar beliefs as well as a sense for team. It would be a waste to just end this gathering and they talked about their dreams and of the things they created. Soon enough, in August 2016 "The Minoyaki Okami Juku" was founded.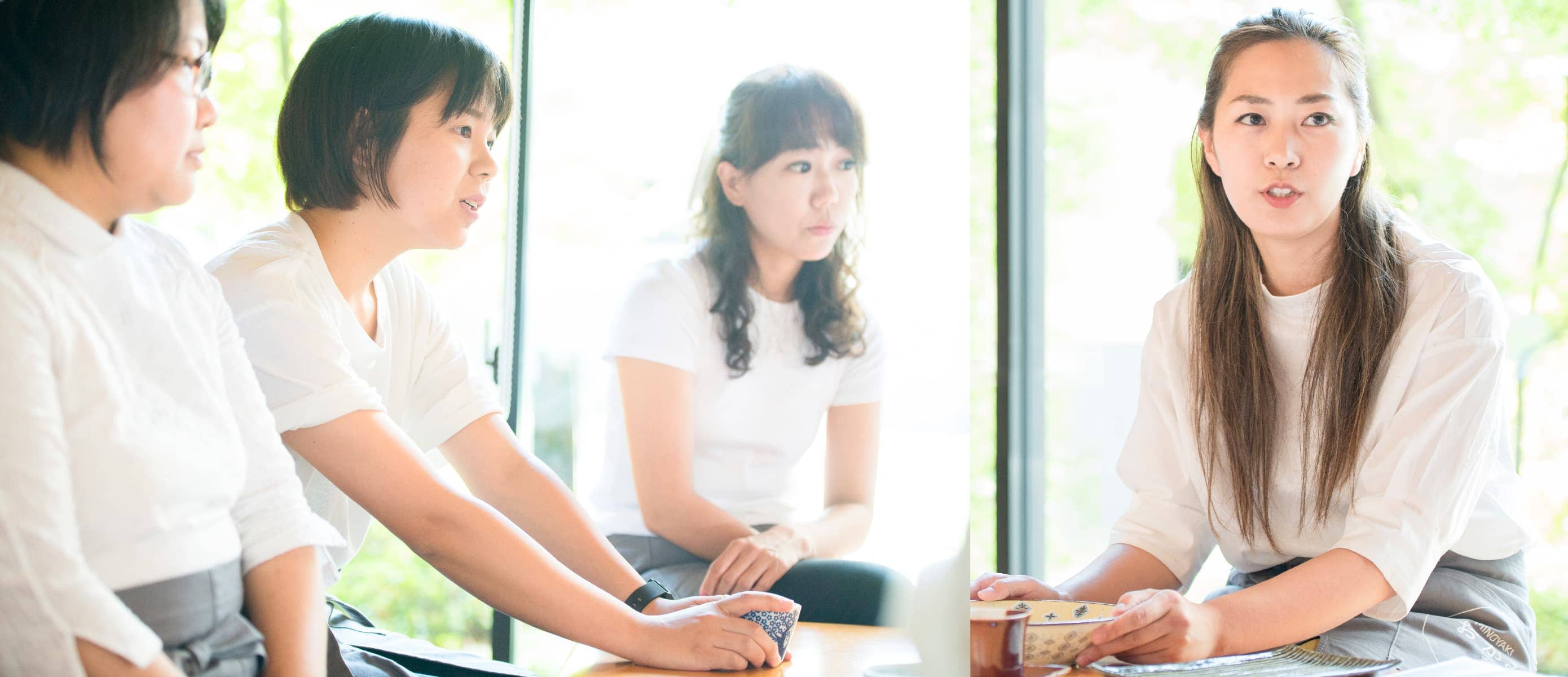 The theme is to learn, to communicate, and to meet.
"We want to change the image of Minoyaki." So, first of all, they thought that it is important to enjoy themselves and increase people who have the same opinion.
If the customer thinks these potteries are made from us and they are very attractive, the typical image of Minoyaki can be changed.

They started to learn and share their technique and knowledge about Minoyaki production through the workshops, keeping in mind 3 main themes;
"To Learn" : to incorporate knowledge to make their own brand stronger.
"To Communicate" : to meet and get together with other regions and communities to establish new relations
"To Meet": join in events and establish "Minoyaki Fans".
Using SNS tools such as "Instagram", they also created an education program called "TOIKU", held conventions of products directed towards female consumers, held workshops and other variety of activities.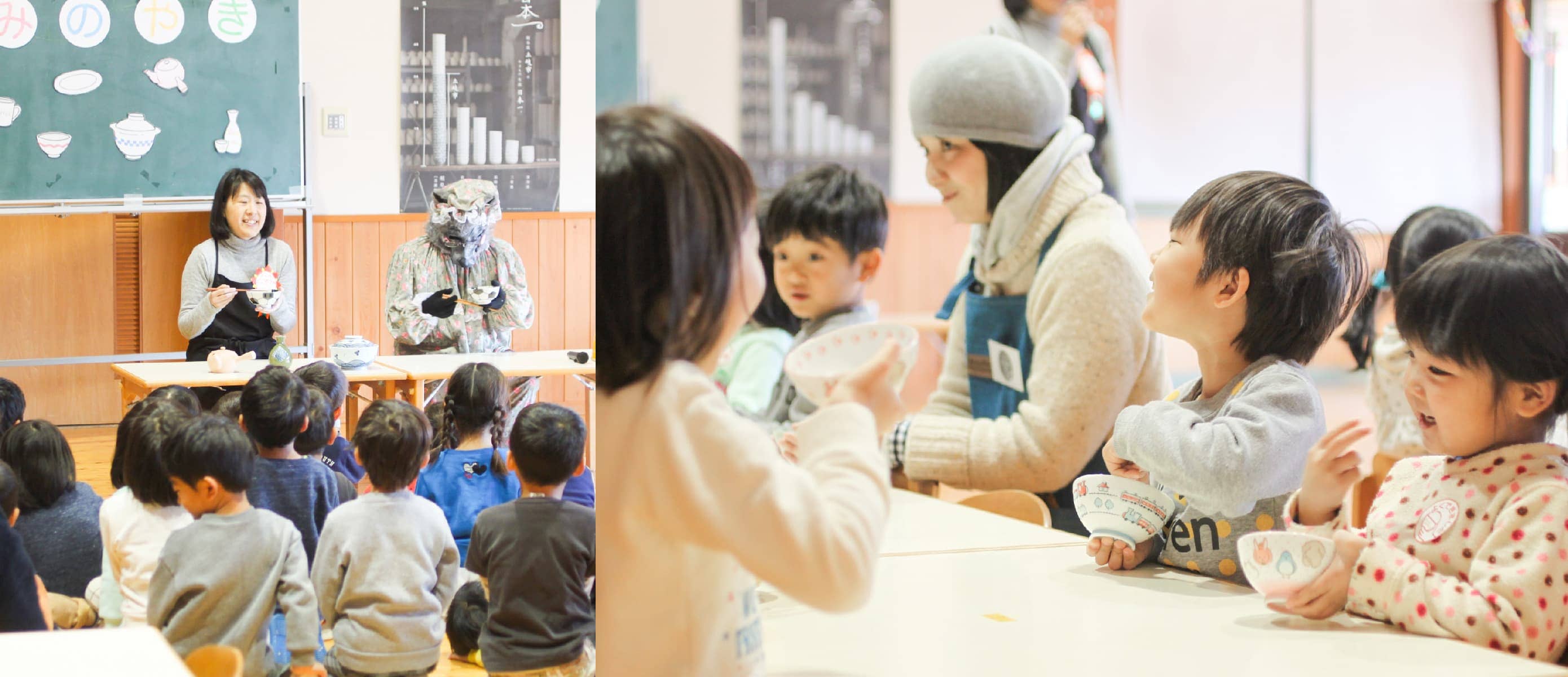 An Educational program made from the mindset of a mother.
"TOIKU Project" was designed by a mother to educate to cherish and correctly use pottery from a young age.
Members visited nearby preschools and kindergarten to teach typical Japanese table manners using a rice bowl. "You must keep a good posture and say 'ITADAKIMASU' " which is a blessing prior to starting to eat a meal, and then raise the rice bowl. It is easy to hold the bowl with your thumb on the rim of the bowl and the rest of the fingers supporting it. They taught by doing skits and lectured on the correct way to hold a bowl.
How to hold chopsticks is usually taught at home but in many cases, how to hold a bowl is seldom paid attention to and often forgotten. "Since we live in a town known for pottery I felt at least we need to teach good table manners", explains one of the members Ms. Ito from "Yamajun". "TOIKU" was well accepted. Especially from the preschools and public centers the reaction was good and there were many requests for events.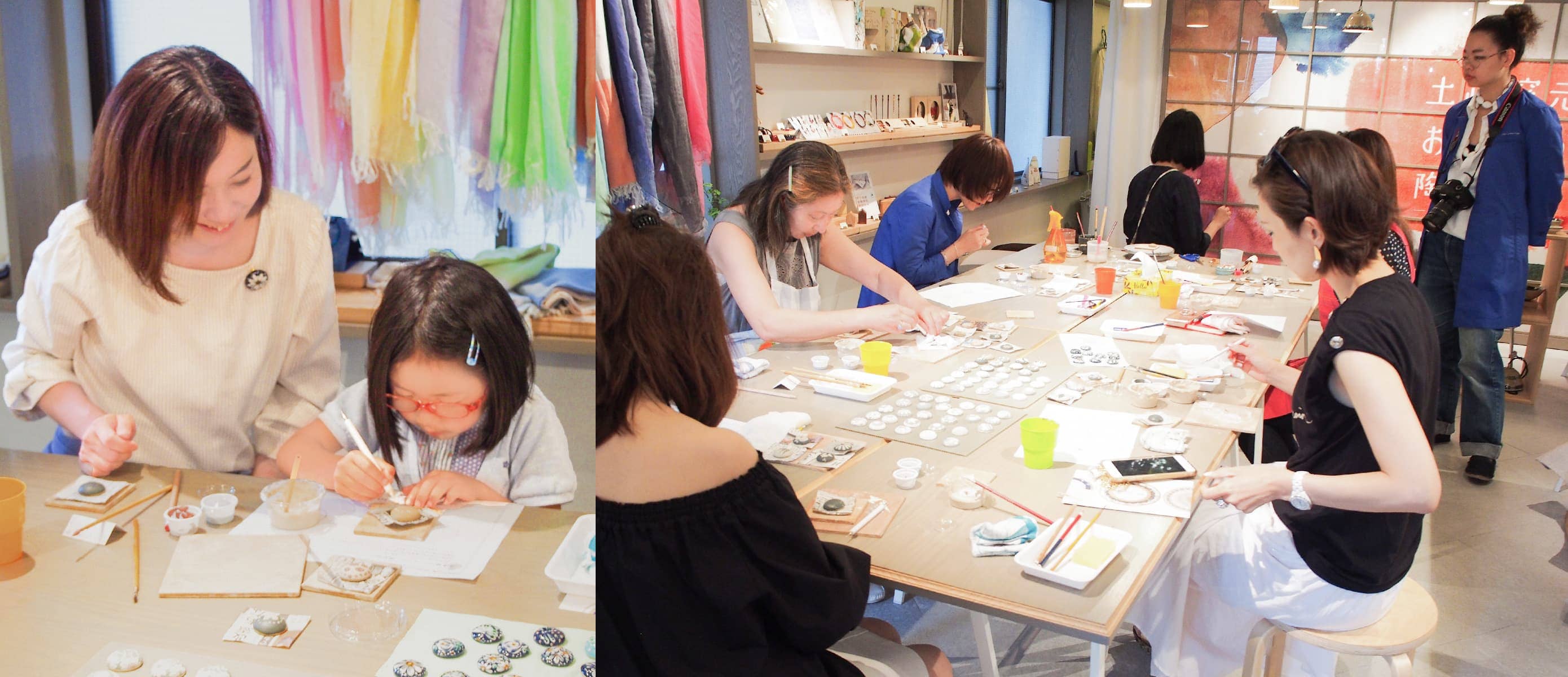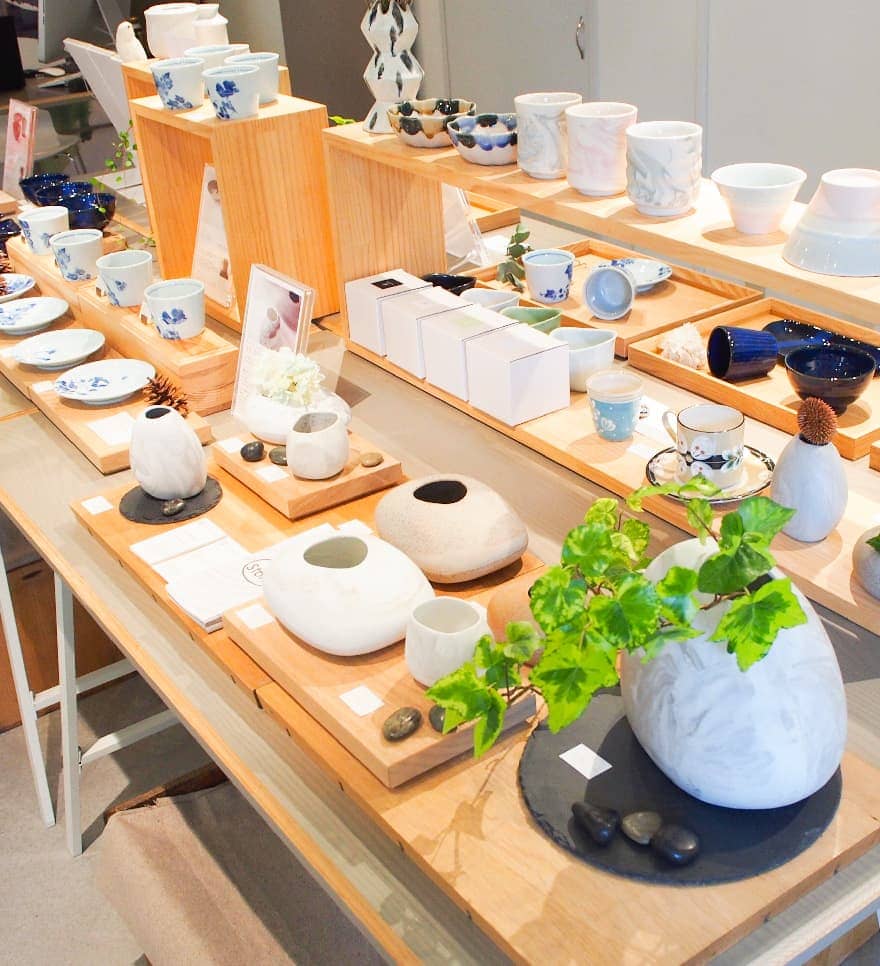 Promoting Minoyaki from
a female point of view
Members are motivated in creating new products. In May, they held the first event outside of the prefecture at "Kotomonoichi" a gallery in Omotesando, Tokyo City. Pottery made with design and usage that showed a sense of craftsmanship by women, were displayed. Some examples such as a Pottery Studio which made tea cups typically used in Sushi restaurants designed their cups by using a technique called "Nerikomi" which mixes a few types of soil and molded together to make a marble pattern. Although the shape is the same, it created a gentle smooth image to the cup. Another example is a manufacturer for Sake cups came out with a half-"Go"(90ml) cup for women to drink as though a cocktail. In the inside of the cup there is a cherry blossom design to show marking for half-"Go". In most cases, women decide to buy the dishes and vessels for the household. By producing products having in mind what the consumer wants and adding a female taste, we hope to attract attention from a wider crowd.

Balancing work between pottery making and promoting it, it gets very busy but there is no room for complaining. The most rewarding aspect of promoting pottery is to have established a team says all. We are realizing a dream together as a team and it is very enjoyable. As more ideas come up, they ask each other, "What should we do next? How should we show it? They seem like little girls planning for another fun activity.
Discover The TOKI MINOYAKI
SHARE ON