TOKI MINOYAKI STORY

New pottery, focused on what others have never done
Tanzan Gama H&M Craft Co., Ltd.
Masahiro Niwa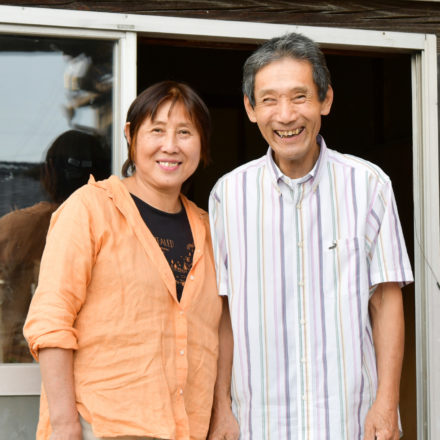 Profile
Tanzan Gama H&M Craft Co., Ltd.
Masahiro Niwa
635-2 Jyorinji, Izumi-cho, Toki city, Gifu, 〒509-5102
TEL +81-572-55-2400
http://tanzan.gifu.jp/
Instagram
tanzan.hm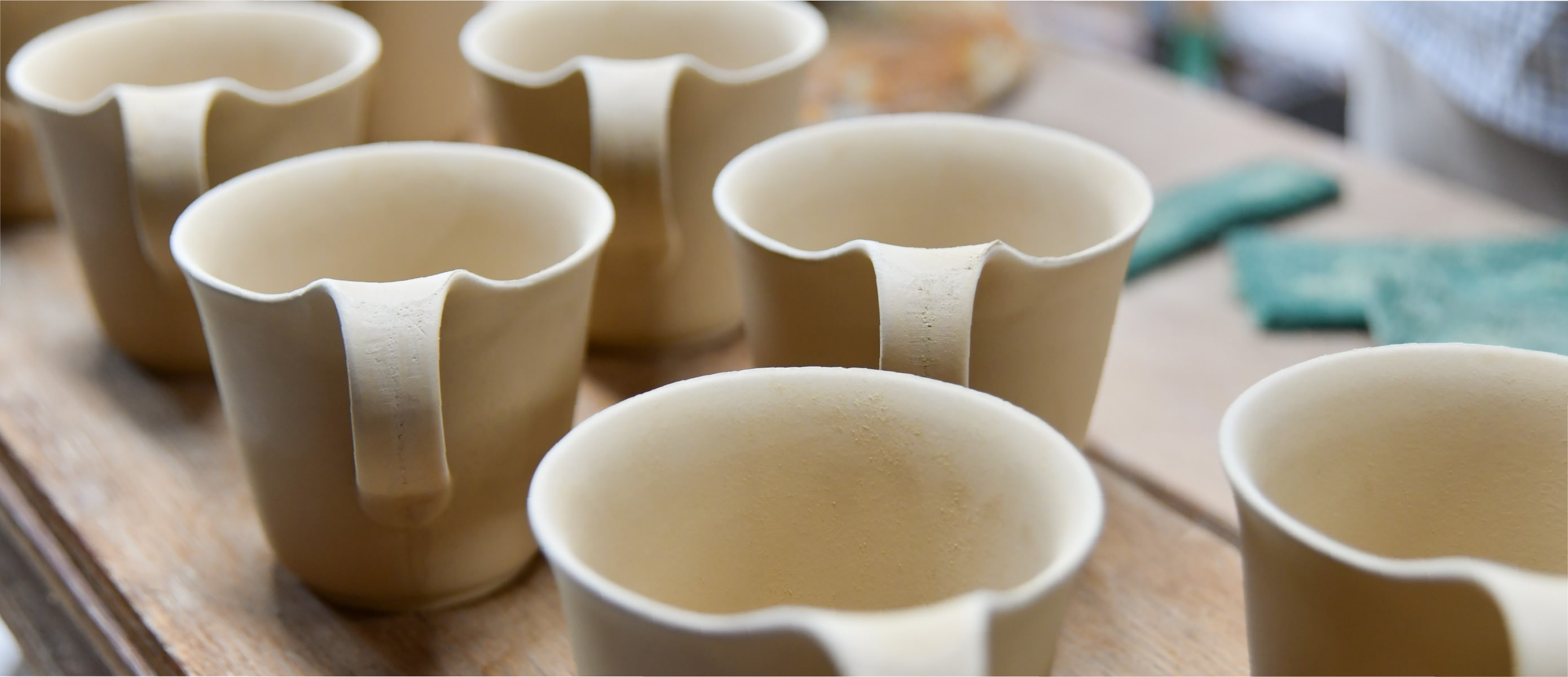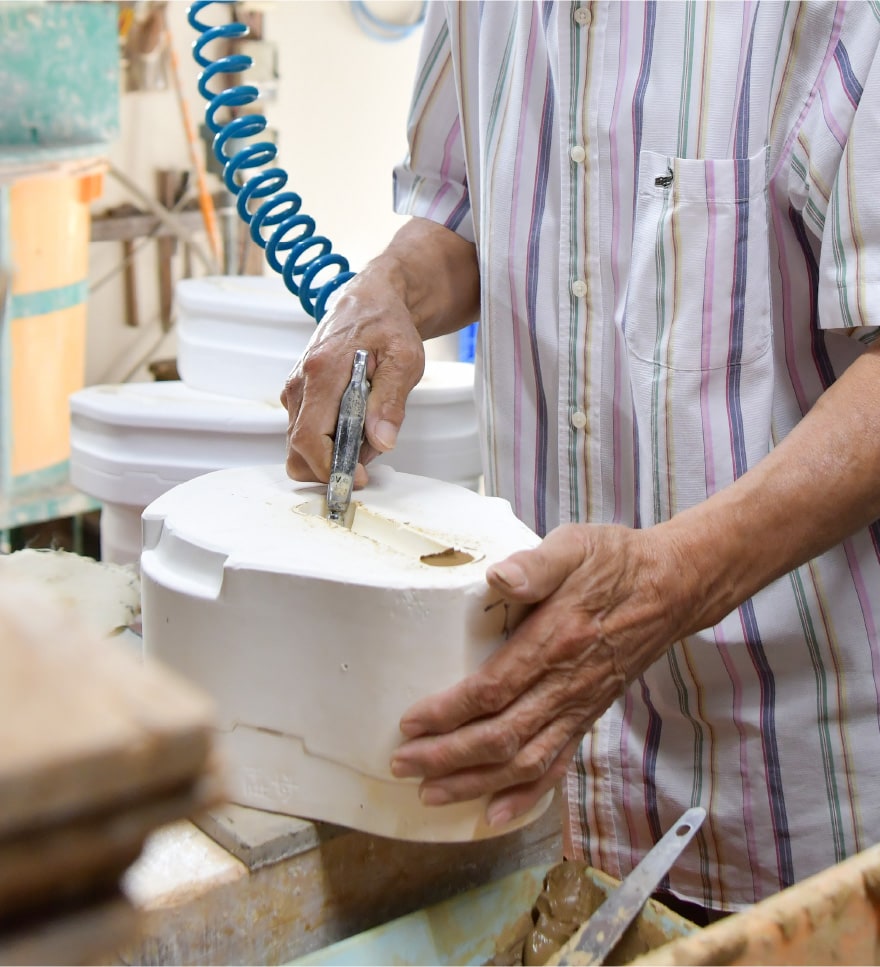 Last few potters protecting the technique of high-pressure casting
Tanzan gama, located right off the Toki freeway exit, is surrounded by rich nature and bamboo groves. Established in1921, Tanzan gama has continued the technique of high-pressure casting which is rare even within Toki city, famous for pottery. High-pressure casting is one of the techniques developed after World War II for production of ceramics. Liquid clay is poured into plaster molds with high pressure, leaving it for a while to dry so the moisture of the clay is absorbed and allowing for it to form when removed from the mold. Some manual process is required such as removing it from the molds and wiping off the surface before firing to refine the works thus it is time consuming and difficult to mass-produce. On the plus side, it allows for carving or adding some plaster to adjust the molds and making complicated shapes precisely even if the potter's wheel cannot do it. Now the 4thgeneration president Masahiro Niwa and his wife Harue are continuing to protect the high-pressure casting technique.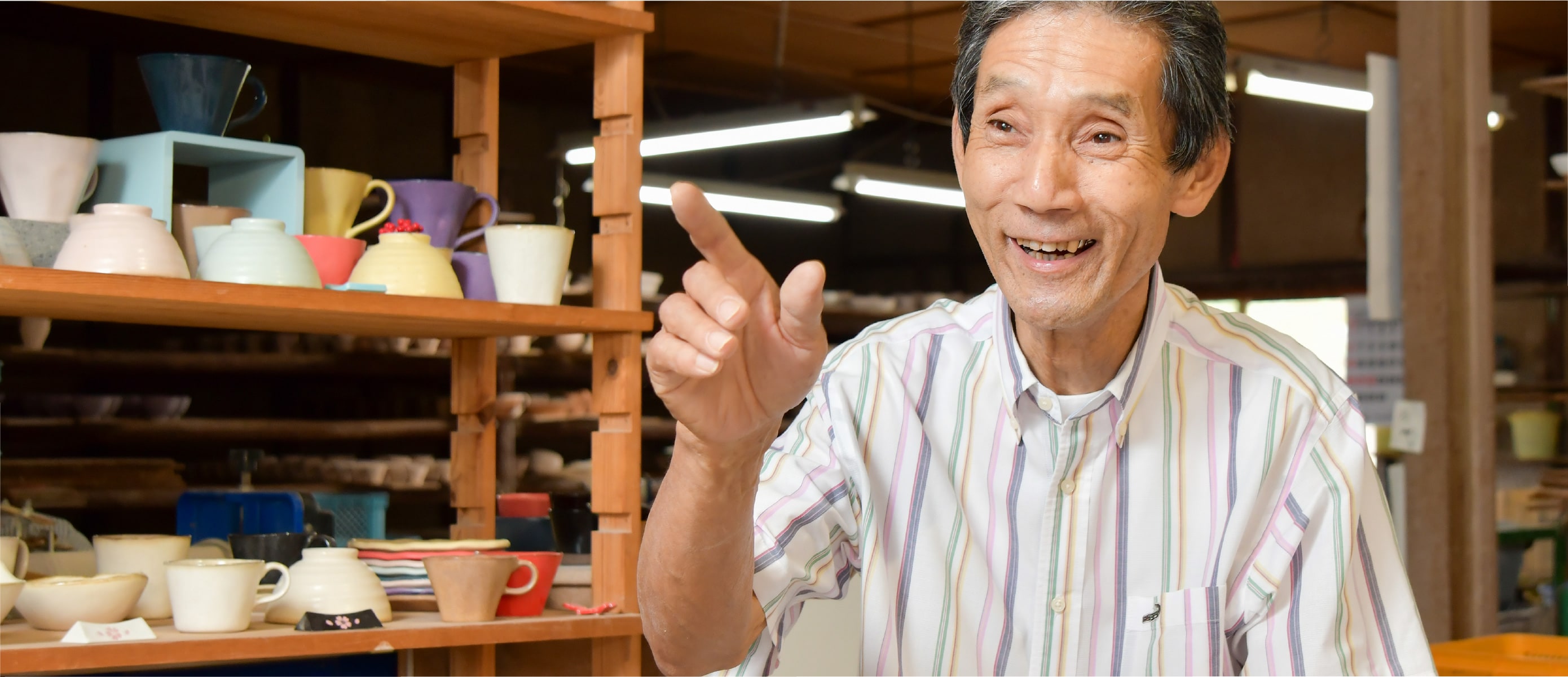 The challenge to create new products for survival
During the time Tanzan gama was founded, each town specialized in different products such as Dachi-cho for rice bowls, Oroshi-cho for Sake servers, Hida for plates and here in Jorinji area, it mainly produced Japanese teacups. Later on, the division of labor gradually declined. During the 1970's, gas fired kiln and high-pressure casting were introduced to make new products and they started to manufacture other kinds of potteries besides Japanese teacups. Furthermore, as the demand for gift products increased, they changed their business to become a manufacturer of various products such as plates, vases, cups and small bowls. Unfortunately they could not keep up with the low cost, mass-production by large corporations, and the gift market itself shrank, decreasing the number of orders. The trend of mass production ended and the new trend focused on the value of the process of creating potteries. To overcome this change, Masahiro believed he needed uniqueness and started to develop his original products.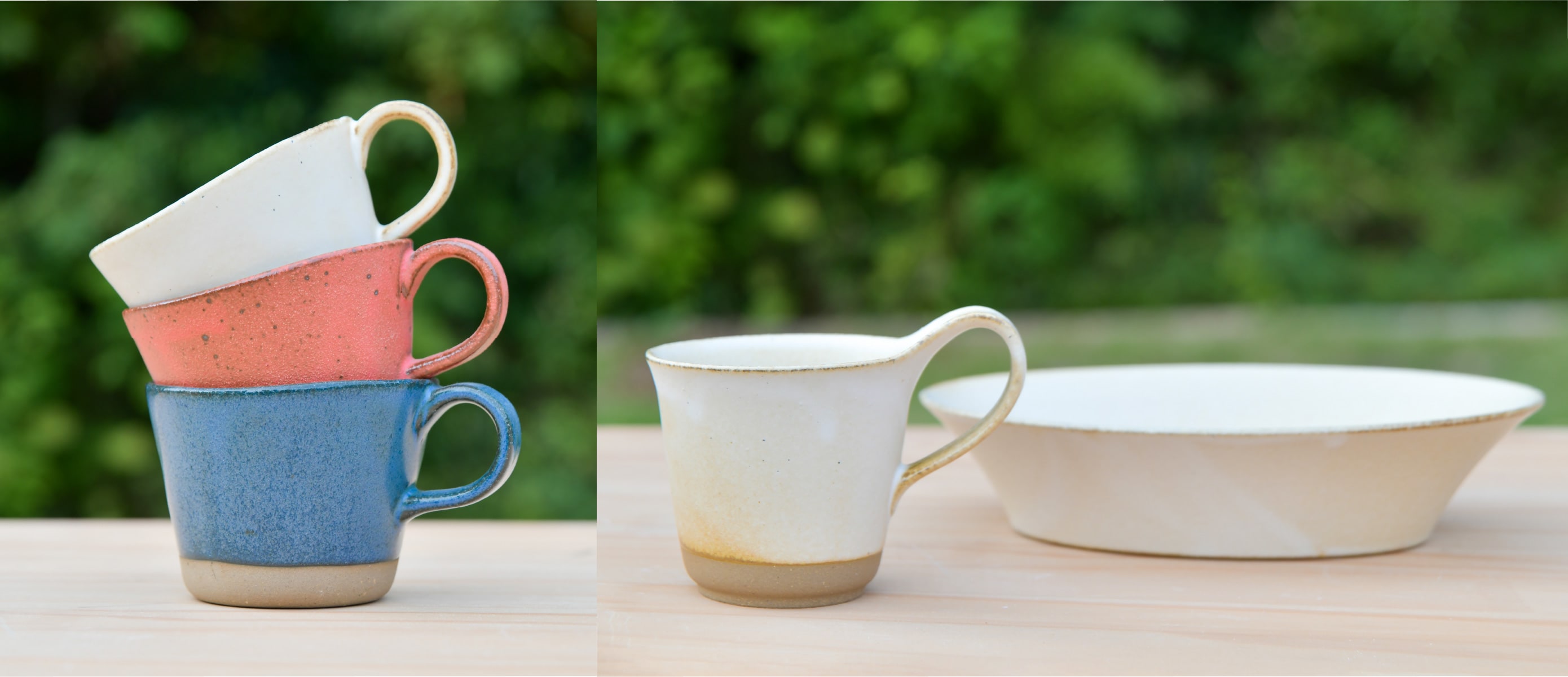 Difficulty of the soil was key in creating such unique charm
Having belief that doing something no one has ever done would become his unique weapon, Masahiro asked the clay manufacturer, " I'm looking for soil that no one has used before". Then he came across "Red Soil". Soil that no one uses usually means difficult to deal with. For high-pressure casting, you have to make a slip to pour into plaster molds. After kneading the soil in the tank, sodium silicate is added but it is very hard to determine the right concentration to maintain the moisture. Masahiro continued to trial and error to find the best thickness for the slip. In addition, it causes cracking if the firing time and temperature isn't precise. His first trial products were all faulty. No matter how many times he tried, it was hard to deal with red soil and high-pressure casting and firing process were always wrong. 6 months later, finally, he made something that he was satisfied with. The most attractive is the warmth of the soil. The depth of red soil was expressed. His product had a texture of red soil and unique edge of using high-pressure casting method and also a smooth shape that fits in the hand. It was a moment that he produced a one and only pottery by combining Tanzan gama's long time history and best techniques.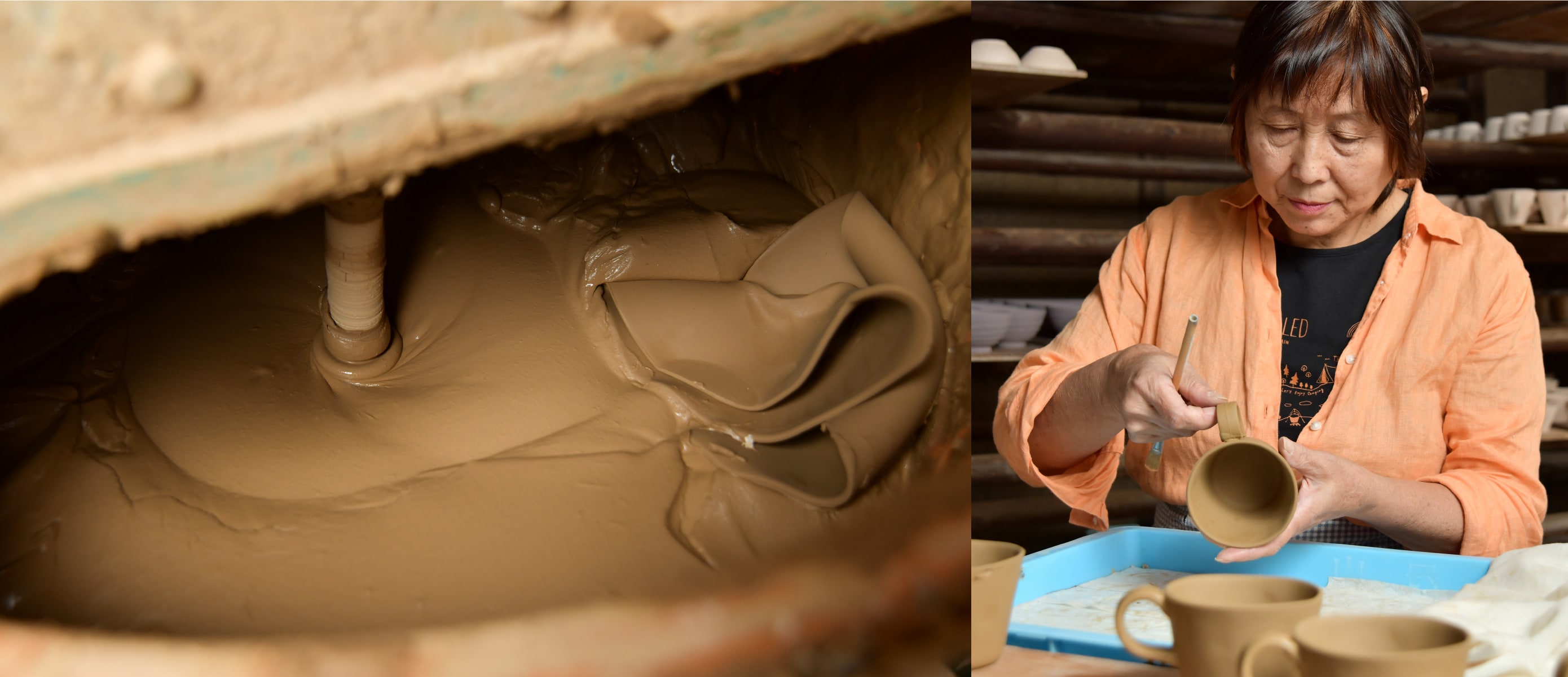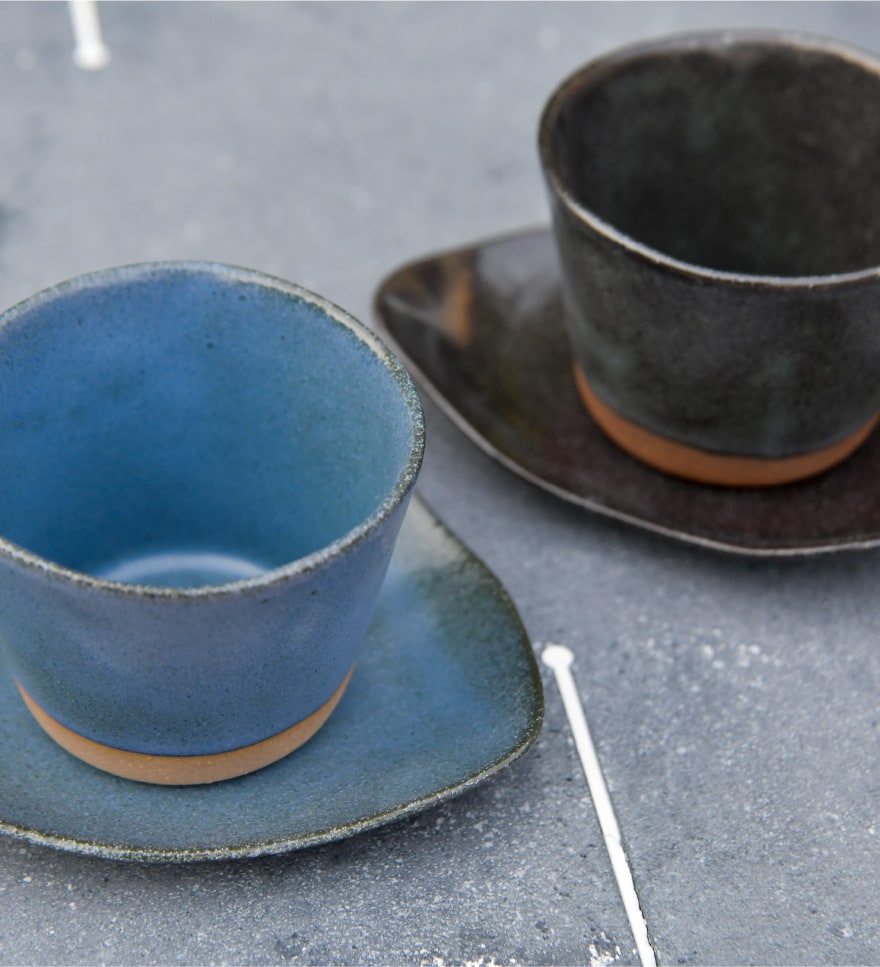 Delivering warm beauty derived from soil and fire
If you look at Tanzan gama's potteries, you will notice its color white is not just white and its blue is not just blue. The combination of clay and glaze convey different expressions. The pottery has warmth you want to keep holding in your hand and gaze. "Firing process is very different. It's hard to imagine they derive from the same soil", said Masahiro. The method called oxidation firing has enough oxygen in the kiln during firing process and it allows oxidation glaze to show bright colors. On the other hand, in reduction firing, the flow of incoming oxygen restricts and incomplete combustion will occur. In oxidation firing, Oribe ware turns green, but it turns opposite color red in reduction firing. The best part of pottery is to be able to handle and express color and texture depends on the firing process. "Pottery is fascinating because it doesn't work out as you always expect." Masahiro has been feeling that since he became a potter. Especially using red soil is very interesting in reduction firing. Red soil contains high percentage of iron content, which is responsible for its color and the texture of soil stands out under the glaze when it is finished. "This is a time to show my skills," says Masahiro. When firing starts, he walks back and forth in front of the kiln to see how it goes. "He is nervous as if it were his first time". Says Harue. Feeling excited and fulfilled to see unexpected results, Masahiro clasps his hands together in front of the kiln and prays that it will turn out well.
Discover The TOKI MINOYAKI
SHARE ON