TOKI MINOYAKI STORY

Promoting the Value of Minoyaki from a Building industry perspective
Nihon Ceraty Co.,Ltd.
Kenji Ukai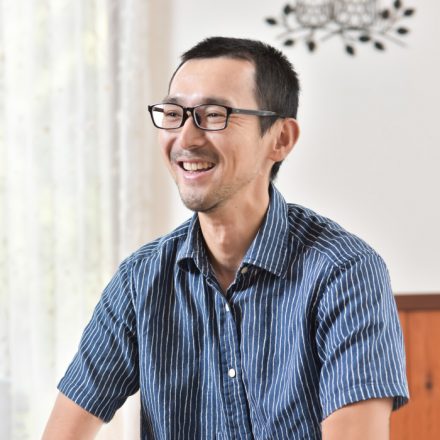 Profile
Nihon Ceraty Co.,Ltd.
Kenji Ukai
5-1 Izumikitayamacho, Toki City, Gifu 509-5171
TEL +81-572-54-3400
http://www.ceraty.jp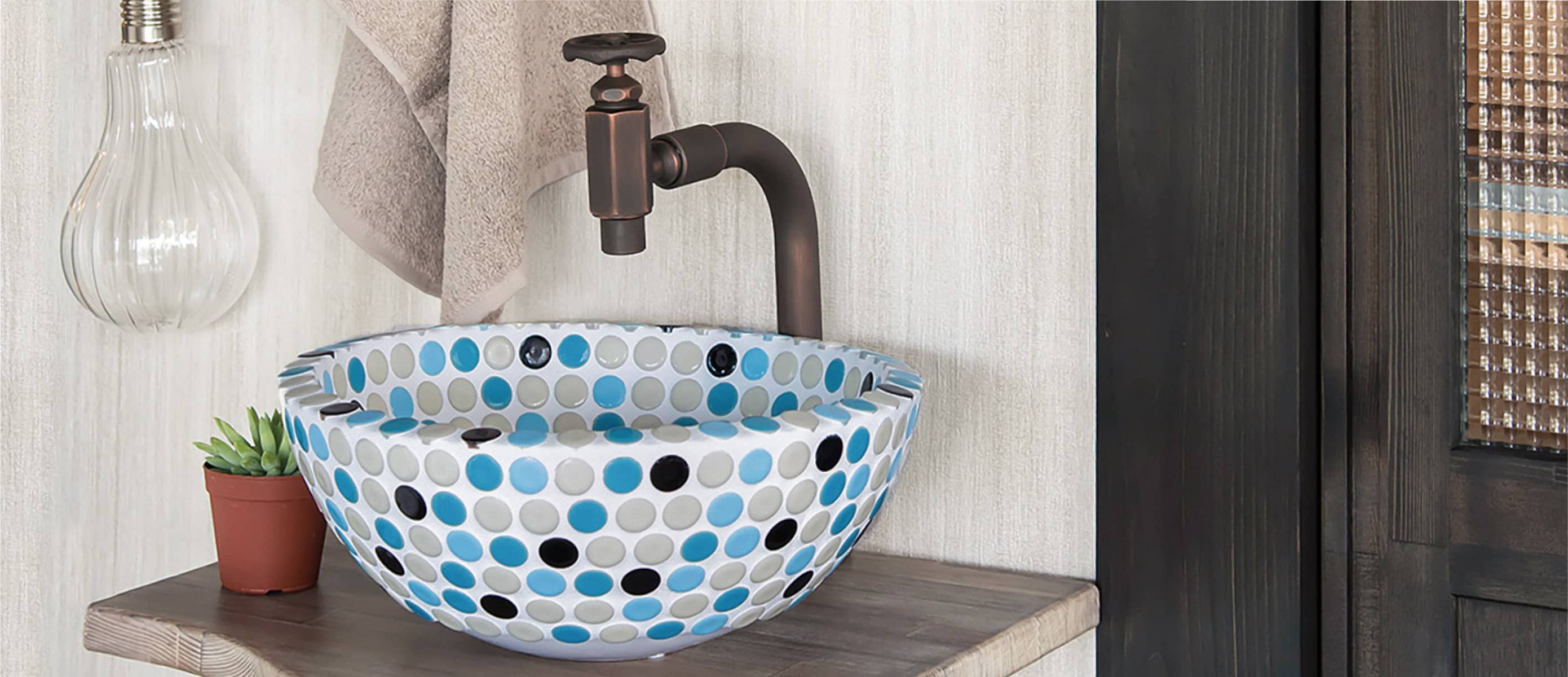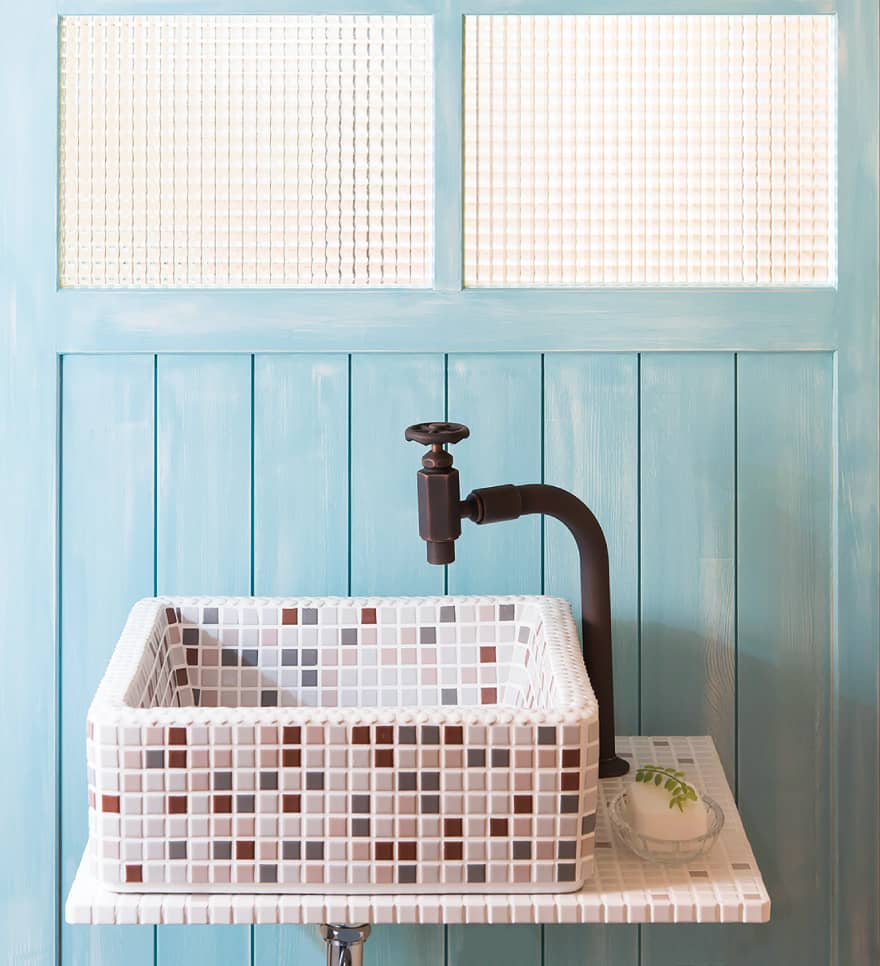 Challenge to seek opportunity in a new Industry
"Shortly after the end of the World War II, my grandfather would often travel to the Tohoku region, which is the northeast part of Japan, carrying Minoyaki to sell." Kenji Ukai, third-generation president of Nihon Ceraty, talked about the company's history. After a history of business in ceramicware wholesale, now Nihon Ceraty's core business is manufacturing and sales of bathroom sinks.
The company started to handle bathroom sinks about 10 years ago. Before that, they sold ceramicwares for wedding gifts but over time as wedding customs changed, less people used ceramicware as gifts thus the demand in the market decreased drastically. Toki city is the largest producer of ceramicwares in Japan, so they tried to develop new products which do not compete with other ceramic companies. One time while Ukai was looking at ceramic bathroom sinks, suddenly he came up with an idea. "What would happen if we made porcelain sinks?" Their challenge began.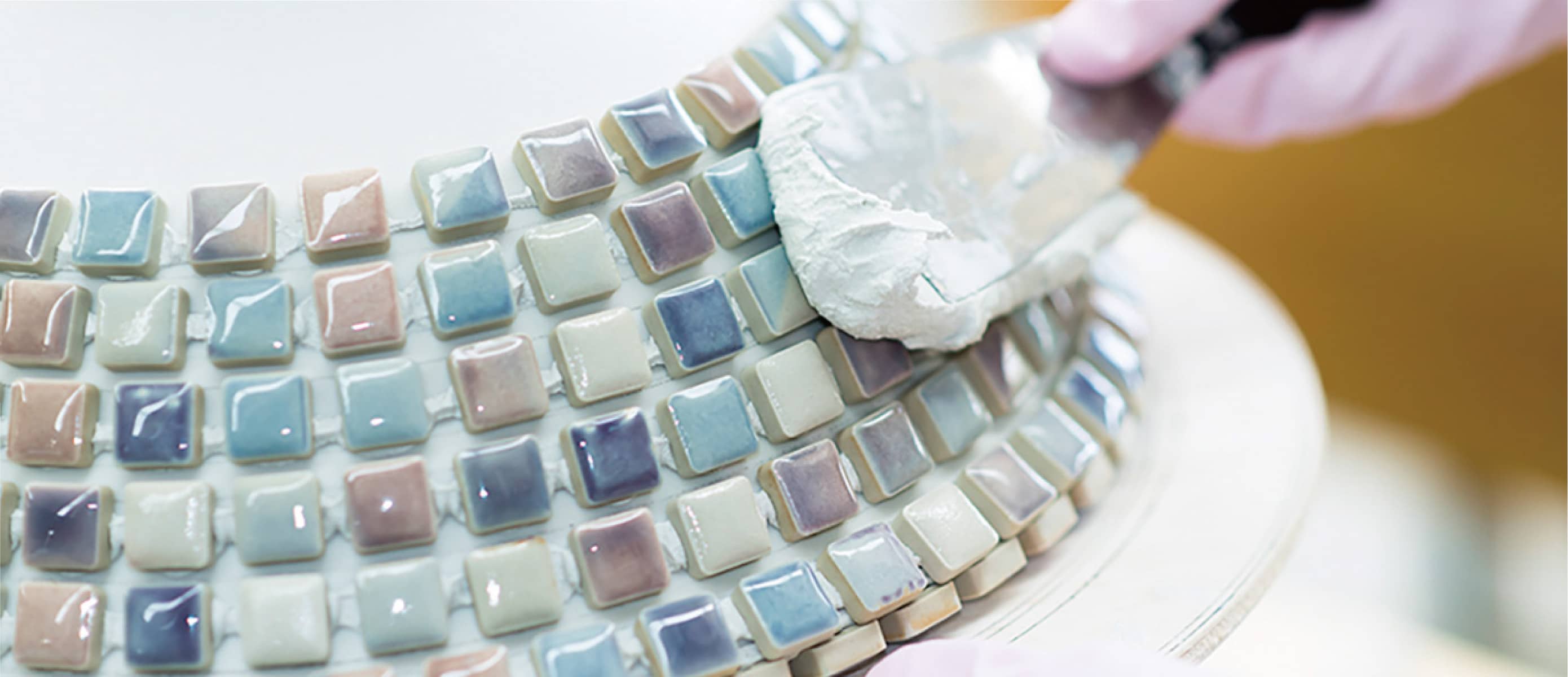 Using the traits of Porcelain to build a unique product
In the first place, it is hard to make a large pottery such as a sink. Gypsum mold for a sink is tens of times larger than a rice bowl. It requires two people to move the molded clay.
Glazing is also manual due to the large size and could not be done by a machine. Furthermore, Porcelain clay is harder than ceramic clay, so it needs more technique to roll out the clay and form. "Because of its size, the yield is low anyhow lol" Ukai said.
On the other hand, porcelain is perfect for sinks being both durable and water resistant. Ukai believed there was a chance with sinks, being difficult to build and had kept people away from using porcelain. "We were lucky that one of our business partners had a facility to make large porcelains." Finally, with the cooperation of a Pottery which they had a long-time business relationship with, the porcelain sink was complete.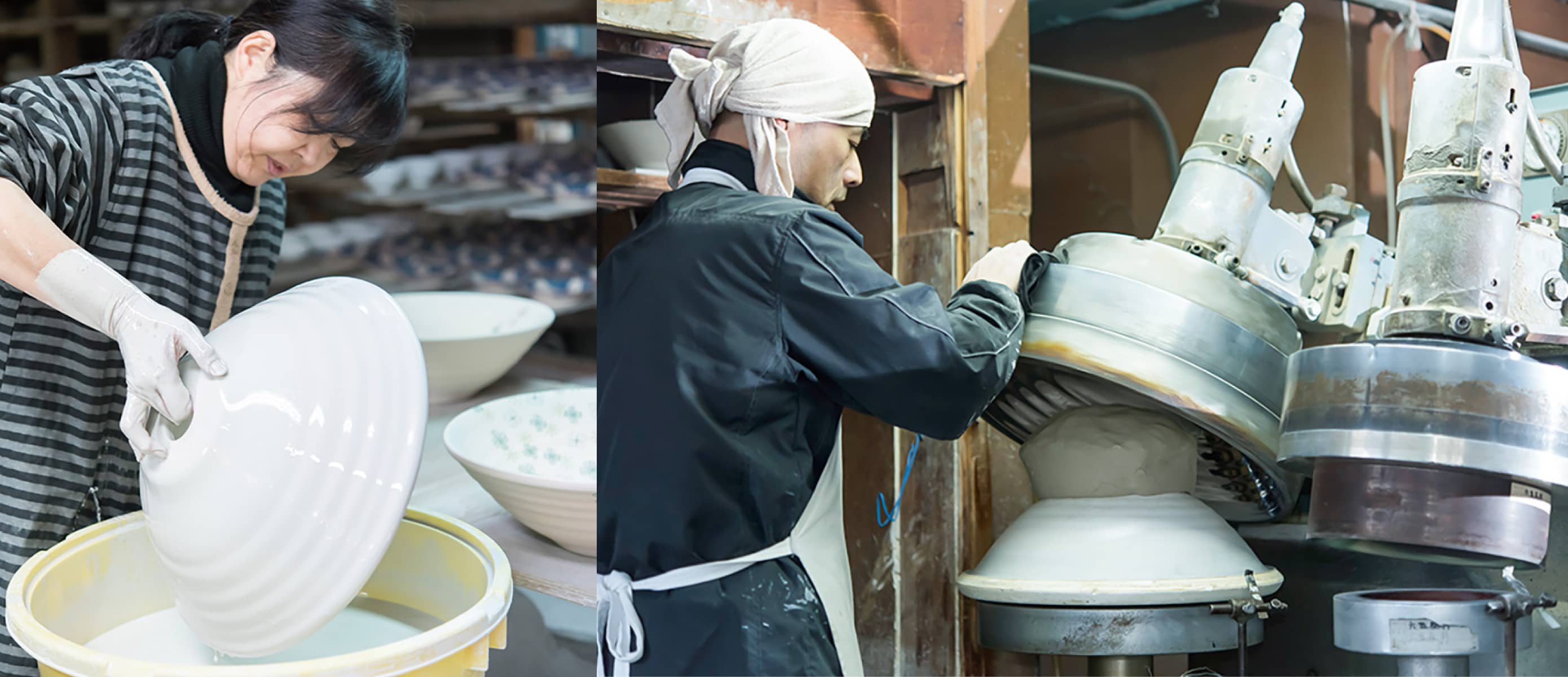 A sink with the tradition and technique of Minoyaki
Their main clients are building constructors whom they had never done business with. They participated in exhibitions and sent catalogs, slowly but surely, they spread Minoyaki's porcelain sinks. Challenging this new market was not so easy. Tableware can be purchased again if they are broken but sinks cannot. They need to develop more durability and water-resistance. They reconsidered the original design and concentrated on quality improvement. To provide additional durability the firing temperature was raised to 1350℃.
They made strenuous effort for 10 years in the construction industry. They only had one unique design sink at first but became more than 50 types now. Using Oribe glaze which is well known for Minoyaki, also decorating with hand drawings and tiles which are the local specialty of their neighboring town, Nihon Ceraty has an abundant line-up of products which used traditional techniques rooted in the area. There are good reputations for the products being nostalgic but having modern texture giving some accent to the interior. In addition, they rolled out tempered glass sinks, mirrors and faucets. They expanded to many bathroom related merchandise.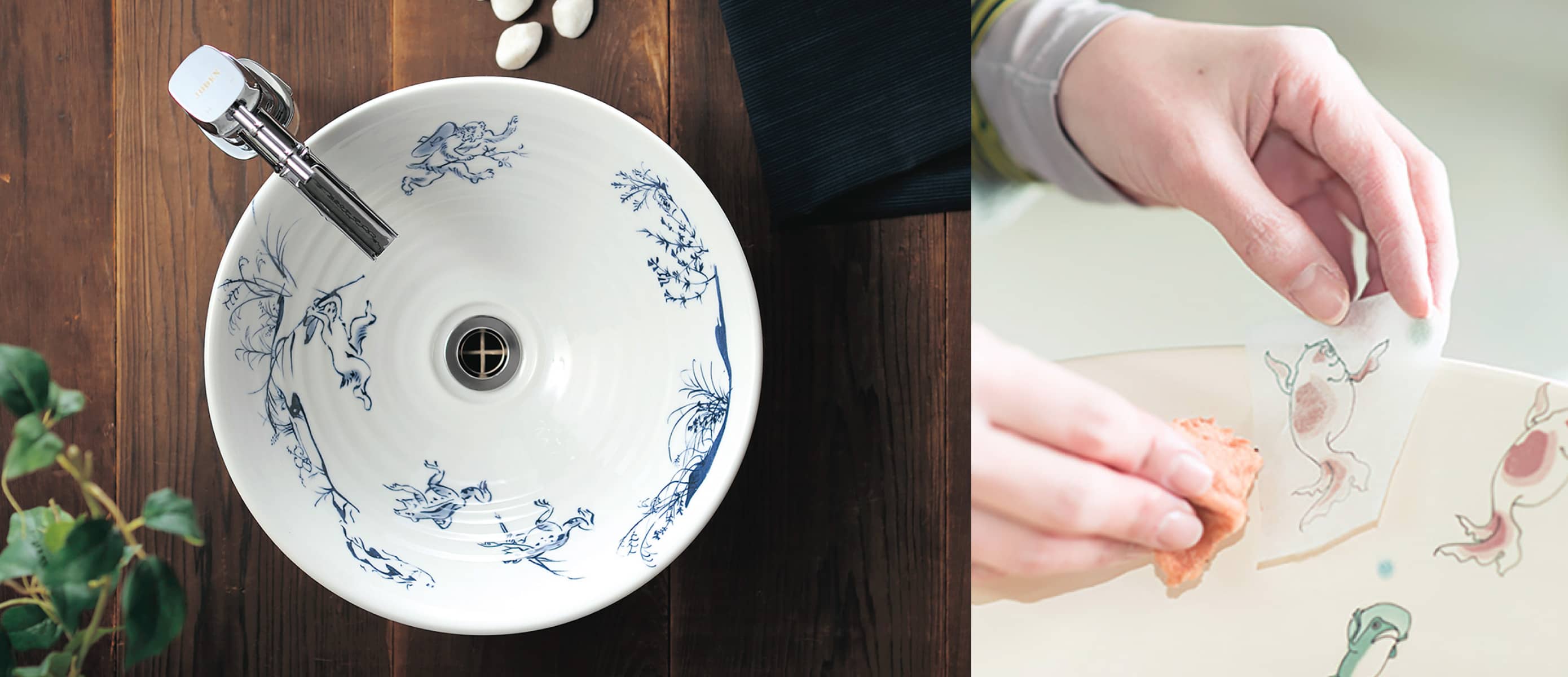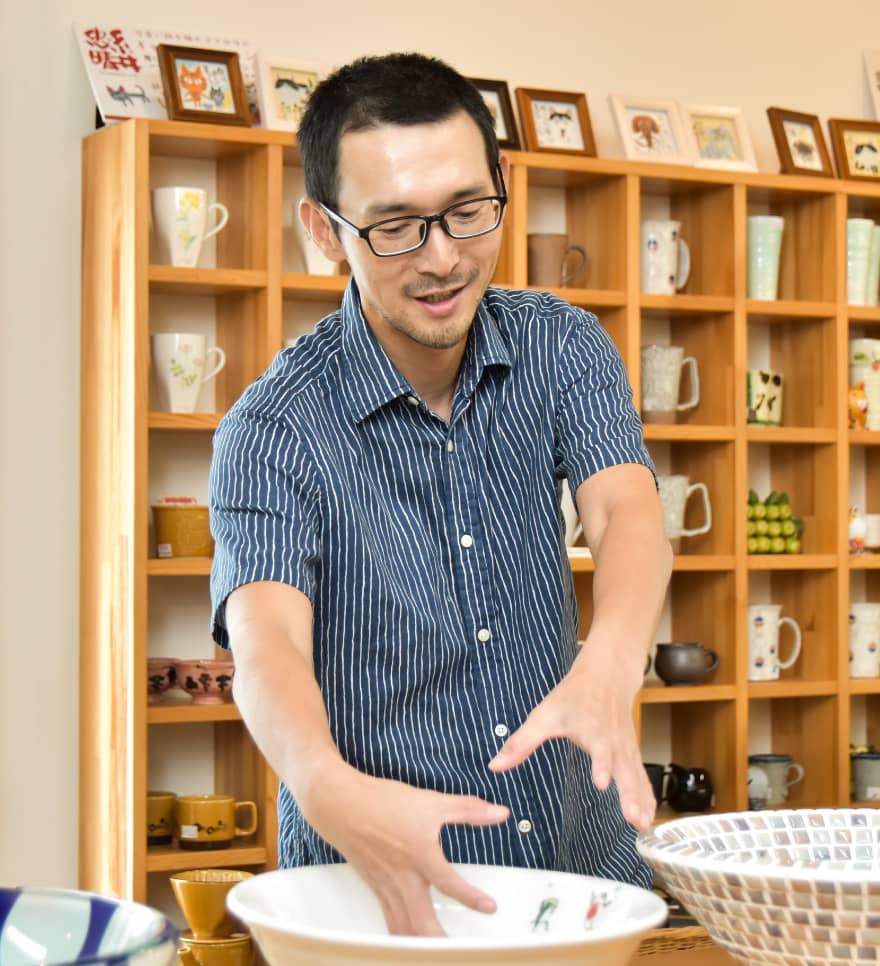 Joy of being selected as essential products for everyday use
90% of the customers bought the sink for their homes for everyday use. "I'm glad people chose our products among various other choices.", said Ukai happily.
He also realized new things by working with people other than in the pottery industry. People don't know how much labor is required to make pottery. "I was born as a son of a potter and of course I know it is a lot of work to make pottery. But I was surprised people in other industry didn't know. We spend time and effort doing it! I want people to understand us more." So, he is trying to spread understanding of pottery such as placing explanations of the pottery and pictures of the product in the catalog.
Minoyaki is attracting more people through the building industry. Diversification of goods brought decline of Minoyaki, but it is receiving a lot of attention through the new industry. "Nowadays the product which is traditional and specially made by craftsmen attract people's attention. During this change of times, I hope Minoyaki find its new way." Ukai keeps moving forward believing in the possibility of Minoyaki.
Discover The TOKI MINOYAKI
SHARE ON