TOKI MINOYAKI STORY

Skilled craftsmanship with unique seasonal ornaments
Houdai Gama Ltd.
Hitoshi Ito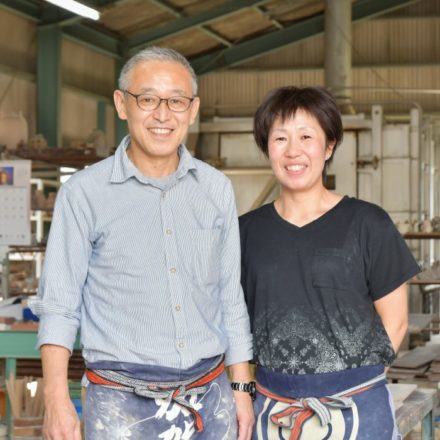 Profile
Houdai Gama Ltd.
Hitoshi Ito
850 Oroshi-cho, Toki city, Gifu, 〒509-5202
TEL +81-572-57-6763
Instagram
houdaigama_official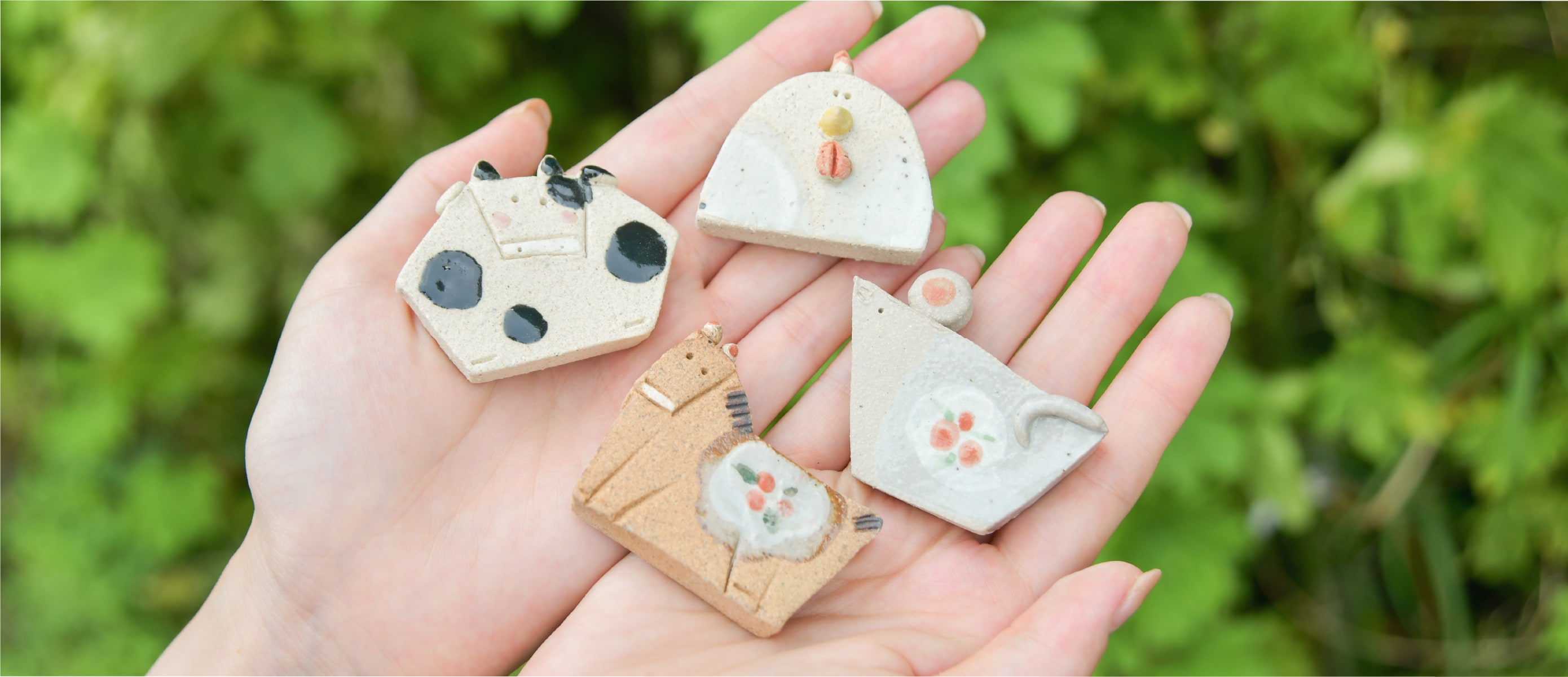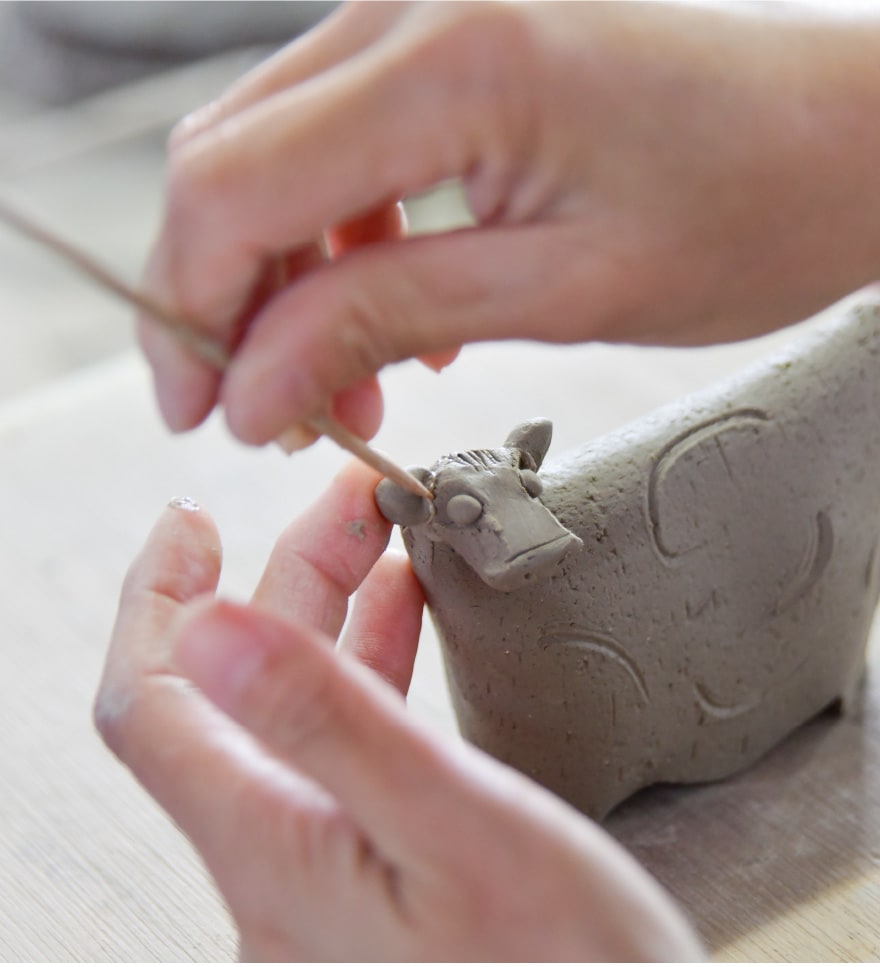 Specialty in ornaments
Houdai-gama, which is located in Oroshi-cho known for making Minoyaki Sake server, established 60 years ago. Former president started pottery to produce Shochu servers. (Shochu is Japanese distilled liquor.) During Showa era (1926-1989) it became popular as a gift. Hitoshi Ito took over Houdai-gama from his father 30 years ago. Although he inherited his fathers business, he took advise from manufacturers who are close to the consumer and built his own style such as handmade ocarina and candleholder without using molds. He tried to do what other people hadn't done so he attempted to make various potteries except for tableware. Meanwhile he started to produce Chinese zodiac ornament and Hina dolls, which are displayed and celebrated on Girls day (March 3rd) in Japan to feel warm texture of handmade. Now Houdai-gama became a popular pottery known for seasonal ornaments with detailed handwork.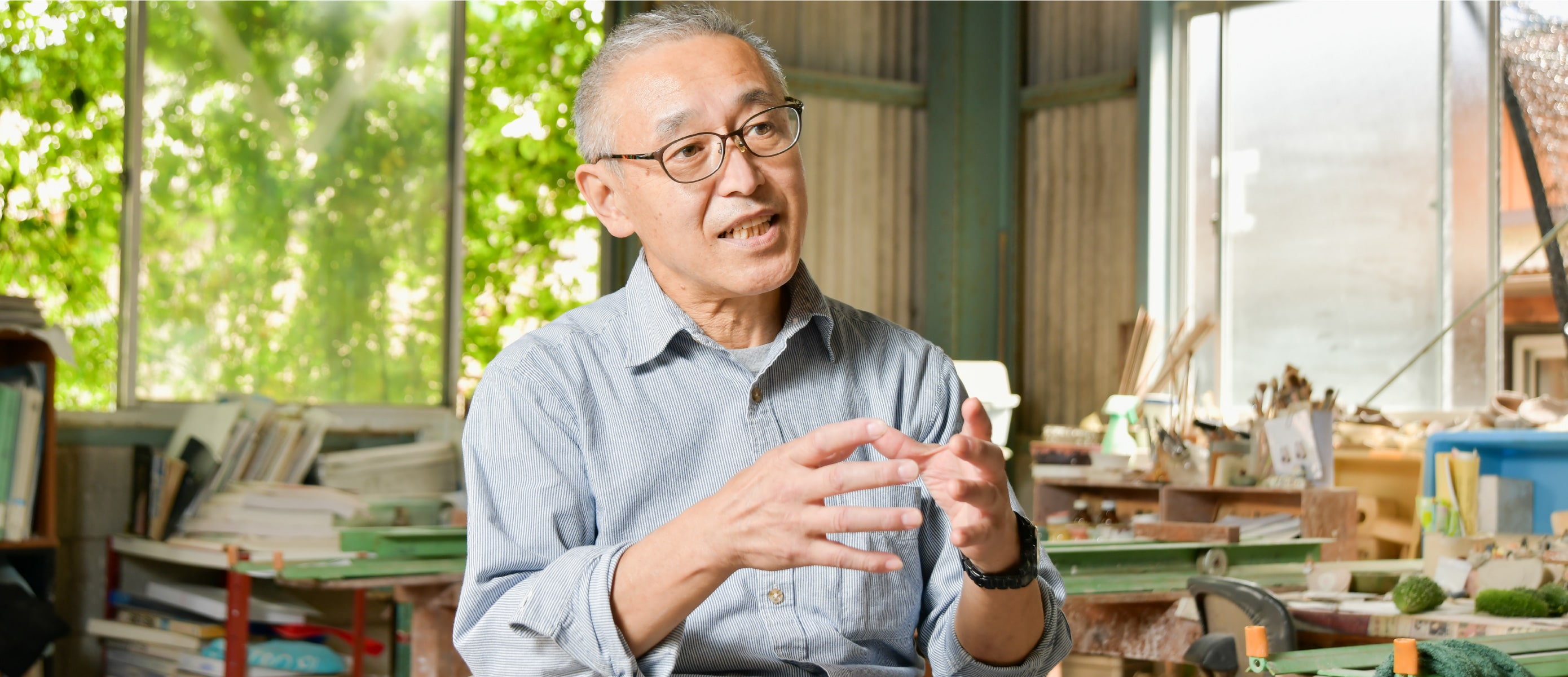 Freedom by not relying on molds
As soon as the New Year begins, Hitoshi gets started making prototypes of Chinese zodiac ornament for next year. He gets his ideas from other products and animals, which inspire him, and incorporates into his works. " I am often told that I have a unique style." As he mentions it, Houdai-gama' s potteries are all handmade without using molds. The Tatara method, consist of making clay sheets with equal thickness and cutting along a pattern, then adding more sheets. The cut clay sheets are molded into a body and then the ears, eyes, nose, mouth and tail are all added and pasted with melted soil, a very detailed process. It is a process that can be done quickly with a mold but Mr. Ito prefers to take time. "If it's handmade I can modify as I want to". Some designs have sharp edges from cutting the clay and some may have rounded soft clay. It is interesting how though the characteristics are different, each design is made from the same clay.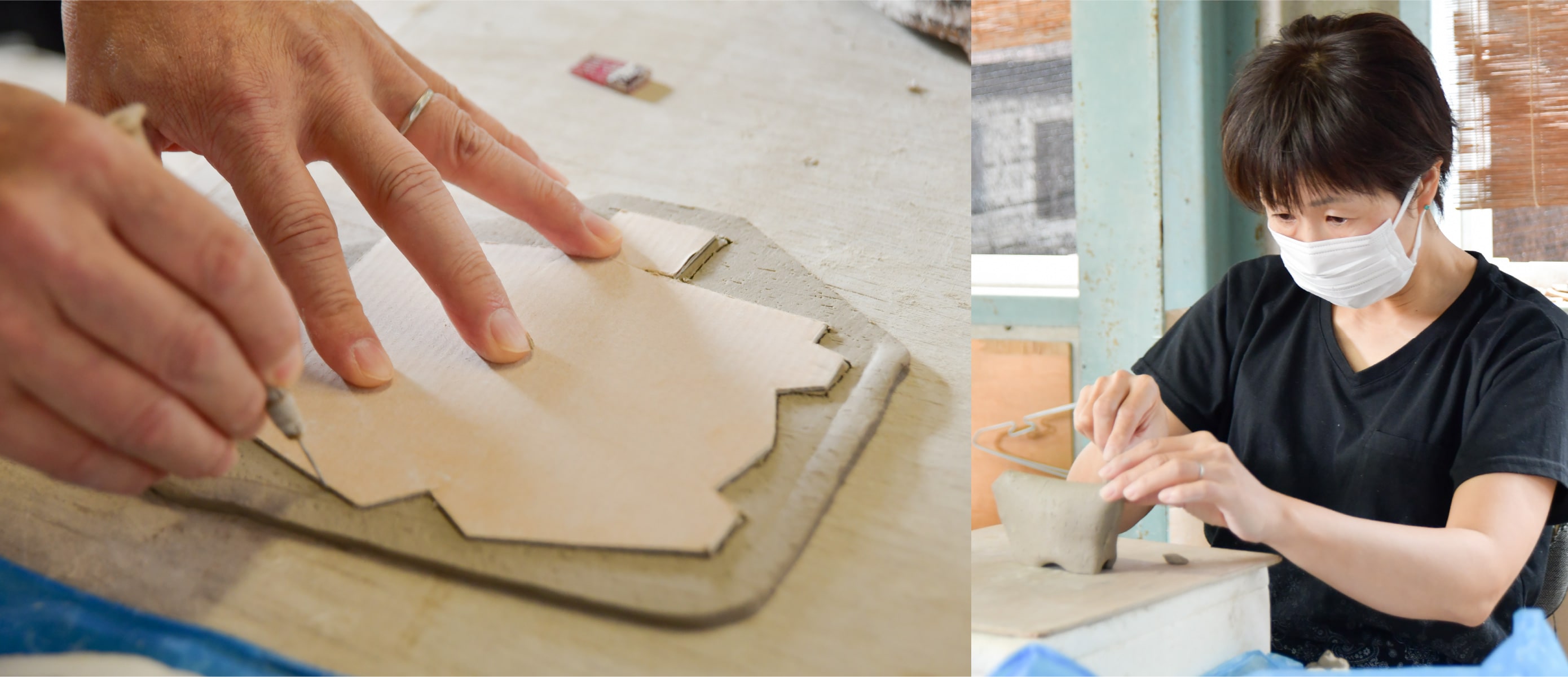 Minimal production to focus on quality
Shigaraki, a sticky type of clay is used. It is also solid so the clay will not tear when bending and molding into the desired shape. The work is shared between Ito, his wife and two other workers all having in mind the blueprint Ito made to quickly form the clay. If too much time passes the clay starts to dry and crack so the task requires speed and focus. Once the clay is formed it is left out to dry for two days and then fired in the kiln to get rid of the moisture. Afterwards a glaze is put on the body and ears, as well as adding some beautiful decorations then firing it at 1250 degrees. The result is a solid texture with a warm look particular to soil made works. Each year the motif is different as the zodiac. The designs are also different and different people make it so it is difficult to make it the same. That is why we cannot make many and are one of a kind. That is our signature". Faced with difficulties for building by hand and limited in quantity but that makes our products unique. The characteristics of Houdai-gama are relaxed and somewhat humorous. The warm cuteness is definitely the result of handmade work.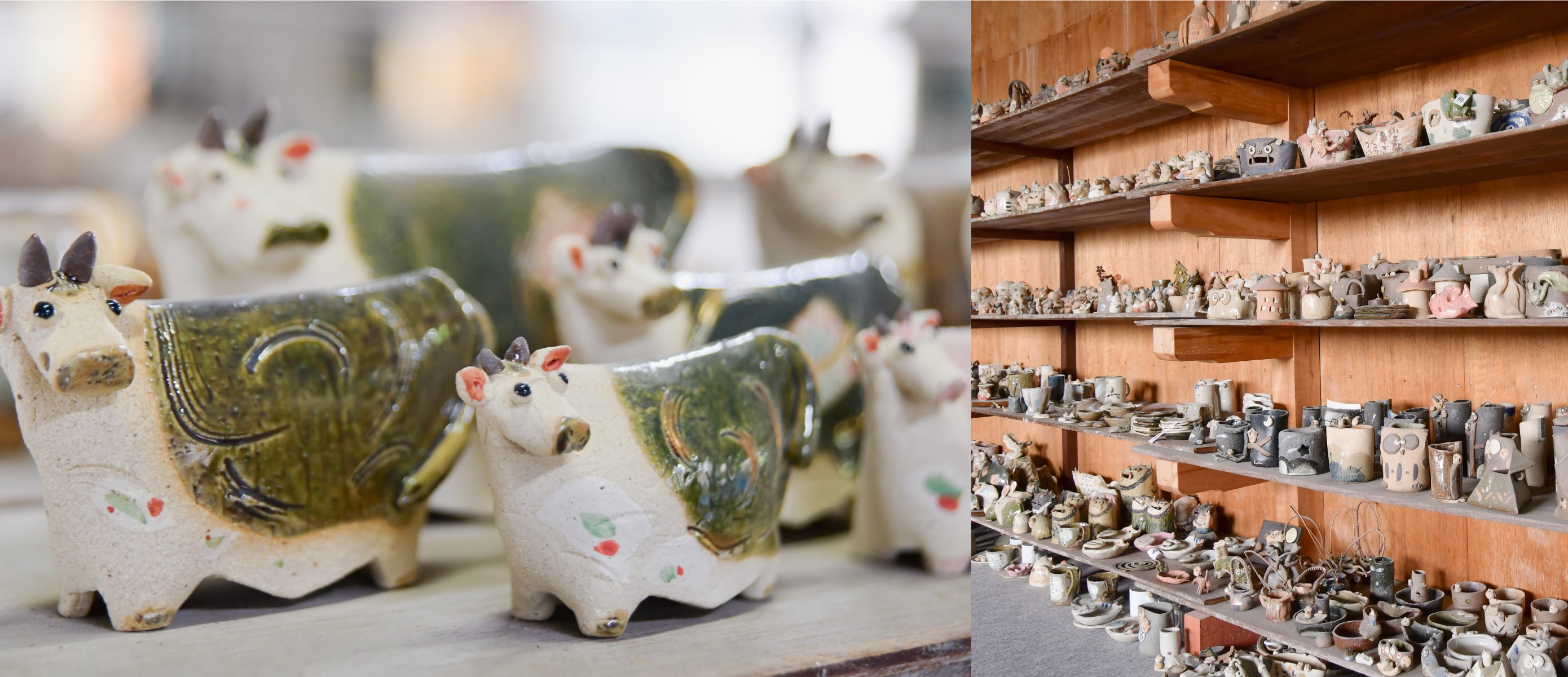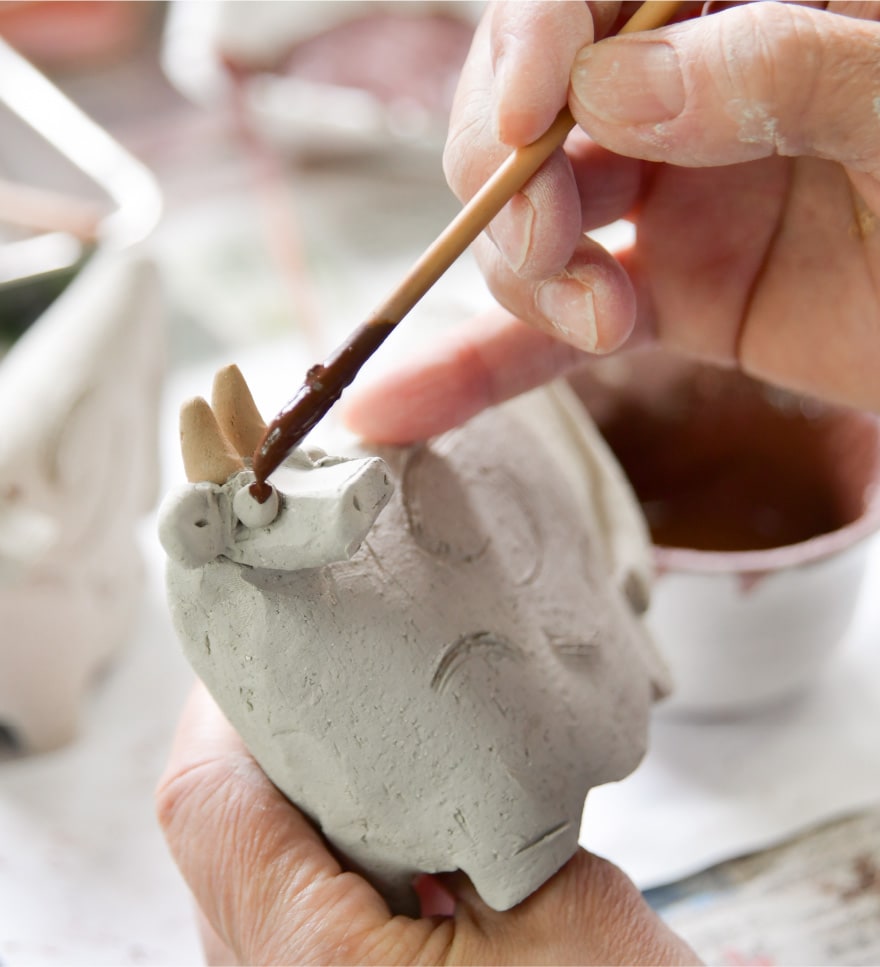 Once in a lifetime encounter
Even though they can only make limited amounts of products, it's noticeable that they've made a collection of various kinds of oxen, which is this year's zodiac. There are 20 different types of ornaments of oxen alone, using Oribe glaze, which is typical Minoyaki, and beautiful deep green or pink glaze that decorate it gorgeously. Besides these, they made 2 types of small sized ornaments, which include all 12-zodiac animals in one set. "It's much easier to make the same products all the time but the more types of products the more customers are pleased with our products", says Ito. Furthermore, there is a gallery in the corner of the workshop and all his works in the past are still on the display. "I don't end the supply of these products so if the customer wants one of these I can make the same one." Houdai-gama's strength is small lot production of various kinds. So why are there so many kinds of products? The reason behind it is Ito's wish for customers to feel "Ichigo Ichie" (a once in a lifetime encounter). Particularly he focuses on the eyes during the production process. Black paint is used to draw the eyes and the positioning is very important. Ito's thought is "So the eyes will meet". Depending of the position of the pupil, the ornaments expression looks happy, gazing up, or life like. This is the benefit of hand making and what makes it special. "When the light hits the paint, the eyes sparkle as though its come to life. It makes me happy to hear customers choosing their ornaments by their eye contact with them." For people to make a special bond with their ornaments, Ito continues to blow life into his works.
Discover The TOKI MINOYAKI
SHARE ON