TOKI MINOYAKI STORY

Inheriting both the traditional and
my father's techniques
Suzuki Touen
Suzuki Teppei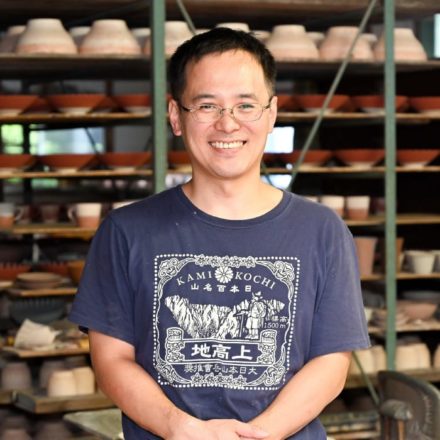 Profile
Suzuki Touen
Suzuki Teppei
322-22 Oroshi-cho, Toki city, Gifu, 〒509-5202
TEL +81-572-57-5193
https://suzuki-touen.jimdo.com/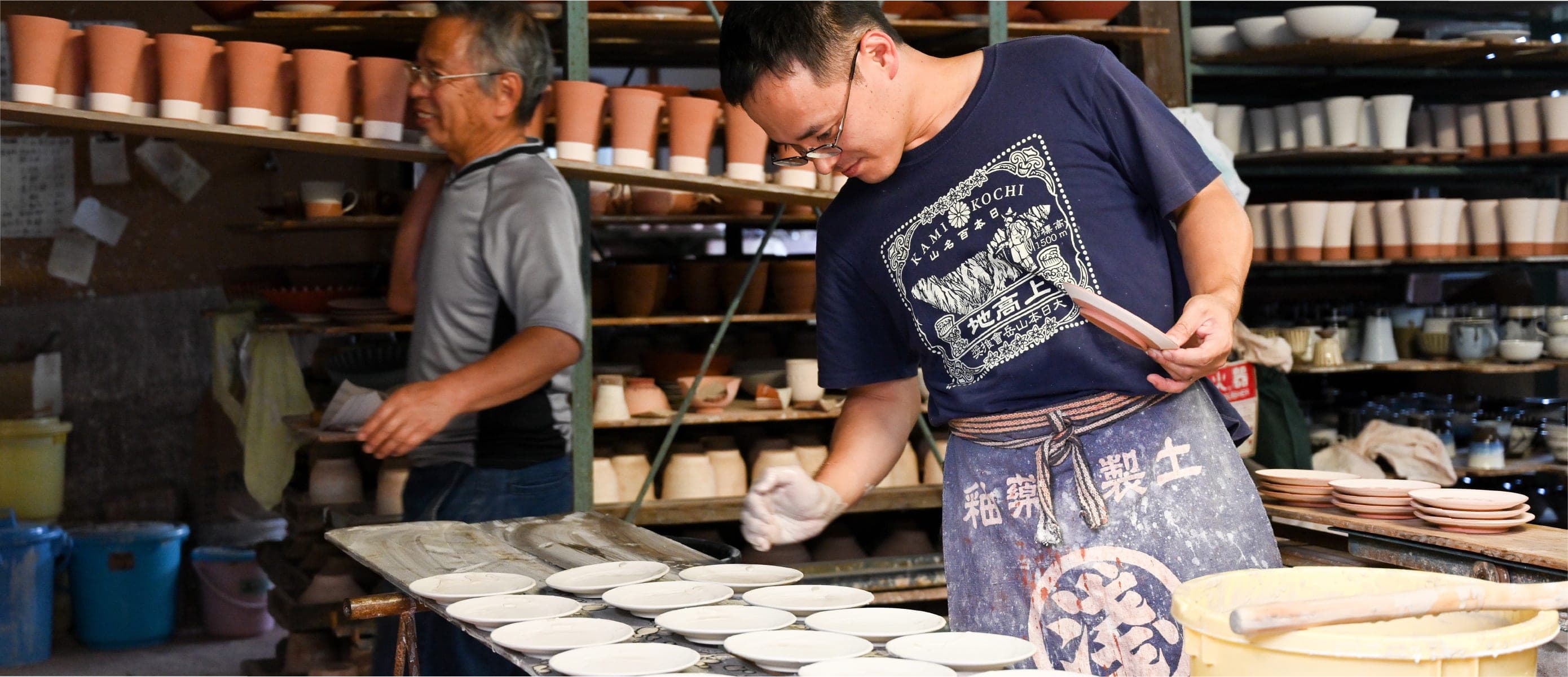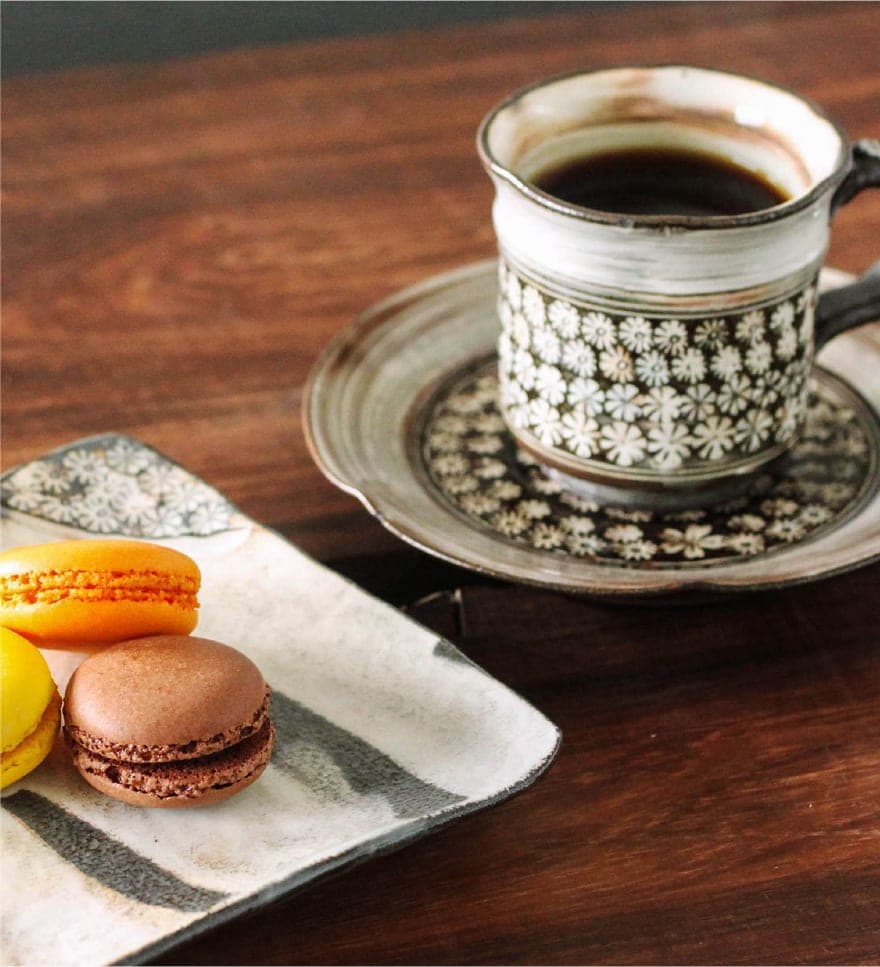 Passing on traditional skills
Oroshi-cho, Toki city, known as the town of pottery, Suzuki Touen produce pottery daily, using traditional techniques. In 1976, the first president Suzuki Hidetoshi established Suzuki Touen in Oroshi-cho hoping to get involved in the local industry. From the beginning, he has been actively producing pottery to protect traditional and difficult skills such as "Kohiki "a technique of coating pottery with white slip, "Mishima" a technique of inlaying a slip on the surface of pottery adding very fine designs or pressed stamp, and also "Kurotokusa" drawing vertical stripes as a decoration which all are techniques former potters must have competed to use these techniques. There is a workshop with a gallery next to their house which displays all the pottery they made such as plates, cup and saucers, rice bowls, vase, also the works of Hidetoshi who is the Traditional Craftsman which is certified by the Traditional Crafts Industry Promotion Association Foundation of Japan. The second-generation president Teppei who took the same path as his father is also trying to preserve the traditional skills with his father.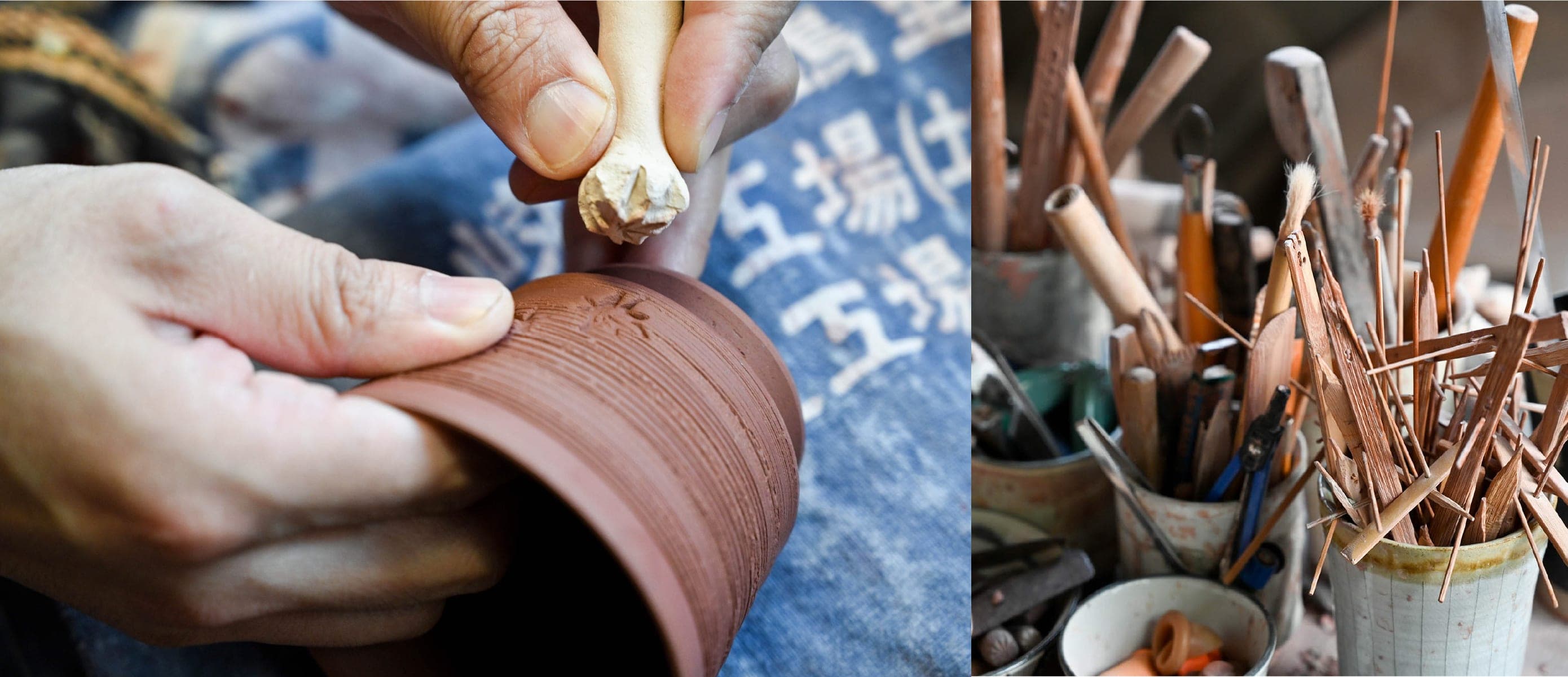 The master of slip and glaze called "Kohiki, Mishima, Kurotokusa"
"Kohiki, one of Suzuki Touen's major series is Hidetoshi's specialty. Kohiki is pottery coated with white slip on the biscuit and coated with a transparent glaze at the end and fired. To make the biscuit, he uses red clay which contains a lot of iron. The color of the clay underneath the slip give the pottery a warm texture. "Mishima" is a type of pottery which was born in the Korean Peninsula. Before drying the already formed pottery, it is decorated with flower design stamps called "Mishima decoration". Then it is covered with a white slip as well as Kohiki and the surface is wiped off, so the slip only covers the grooves, so the decorations reveal themselves. Kurotokusa is the design which has been loved since 1600. It stands out with black and white contrast, drawing vertical lines with water repellent and then coated with black slip. Lining with strength and weakness can express unique texture of hand painting. The sharpness of the pottery by using deep black slip makes the dish look even better. "A slurry clay called slip has lots of variety, some of them are colored or give ceramics pinkish color after firing. I choose different slips depending on the pottery." Says Teppei. Also, he carefully blends the material of slip using hydrometer called baume scale to measure density of liquids because the pottery turns out different depending on its consistency. In addition, there are 4 different types of transparent glaze, he chooses them depending on how he wants to finish the pottery. He carefully adjusts the density of glaze to make the texture to match the pottery.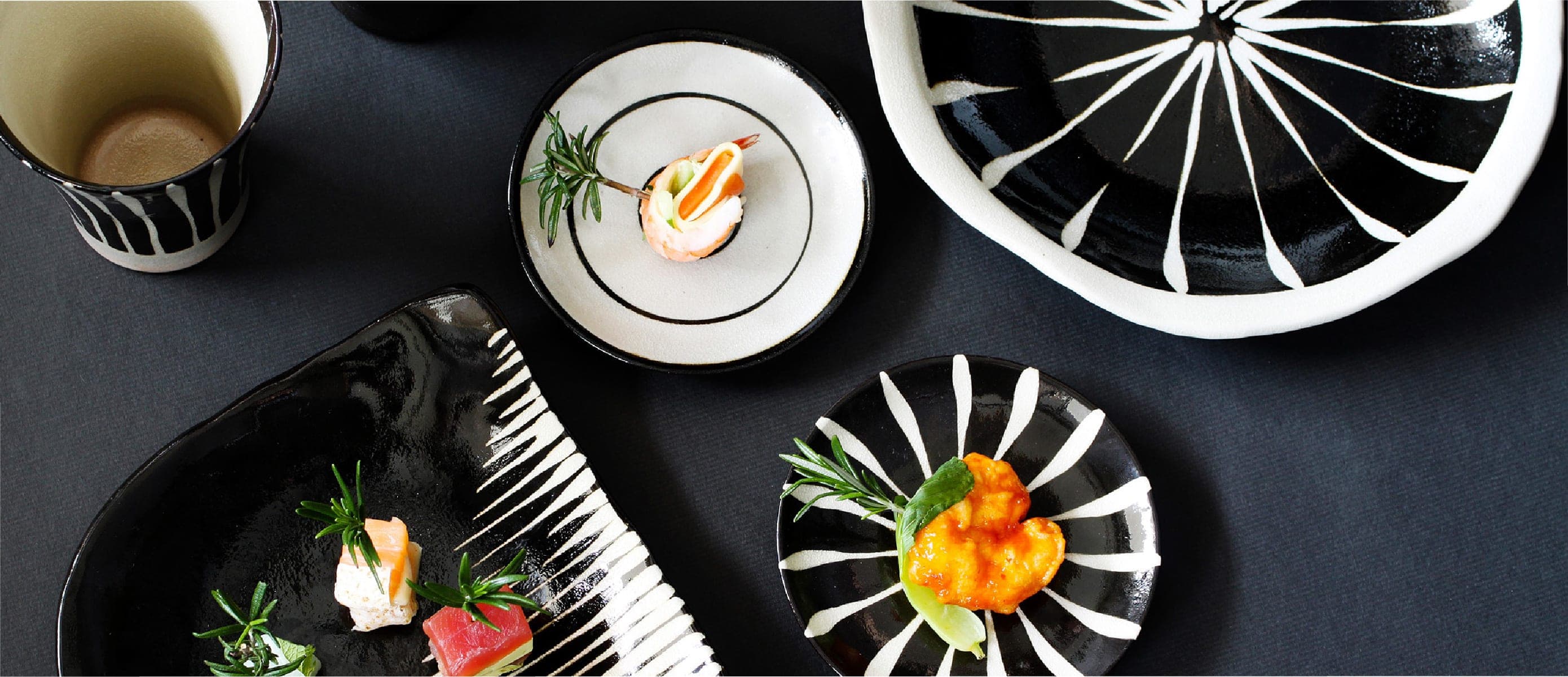 Acquiring skills like his father as second-generation president
Teppei's father Hidetoshi is active as The Traditional Craftsman, he has won many prizes such as "Chunichi International Exhibition of Ceramic Arts", "Tokai Traditional Art Craft Exhibition", "Asahi Ceramic Art Exhibition" including "Takuo awards" which is given to the person who dedicates to train Minoyaki to the next generation and also achieved as an excellent artist. Teppei grew up watching his father who is a great artist. After graduating from advanced ceramic course of Tajimi Technical Highschool, now he is undergoing training on the "Rokuro"(Potter's wheel). As the saying goes, "It takes 3 years to acquire mixing the clay, 10 years to learn pottery wheel." "Apart from my father's work as an artist, we need technique of mass- production for our pottery business. What my father can make in a minute takes more than 5 minutes for me but still it's not as good as my father lol. " Says Teppei. Once his father showed him an example and taught him how to make it, all he has to do is gain the experience and get used to it. Today, Teppei is working hard to inherit his father's skills not to mention traditional techniques such as "Kohiki", "Mishima"and"Kurotokusa".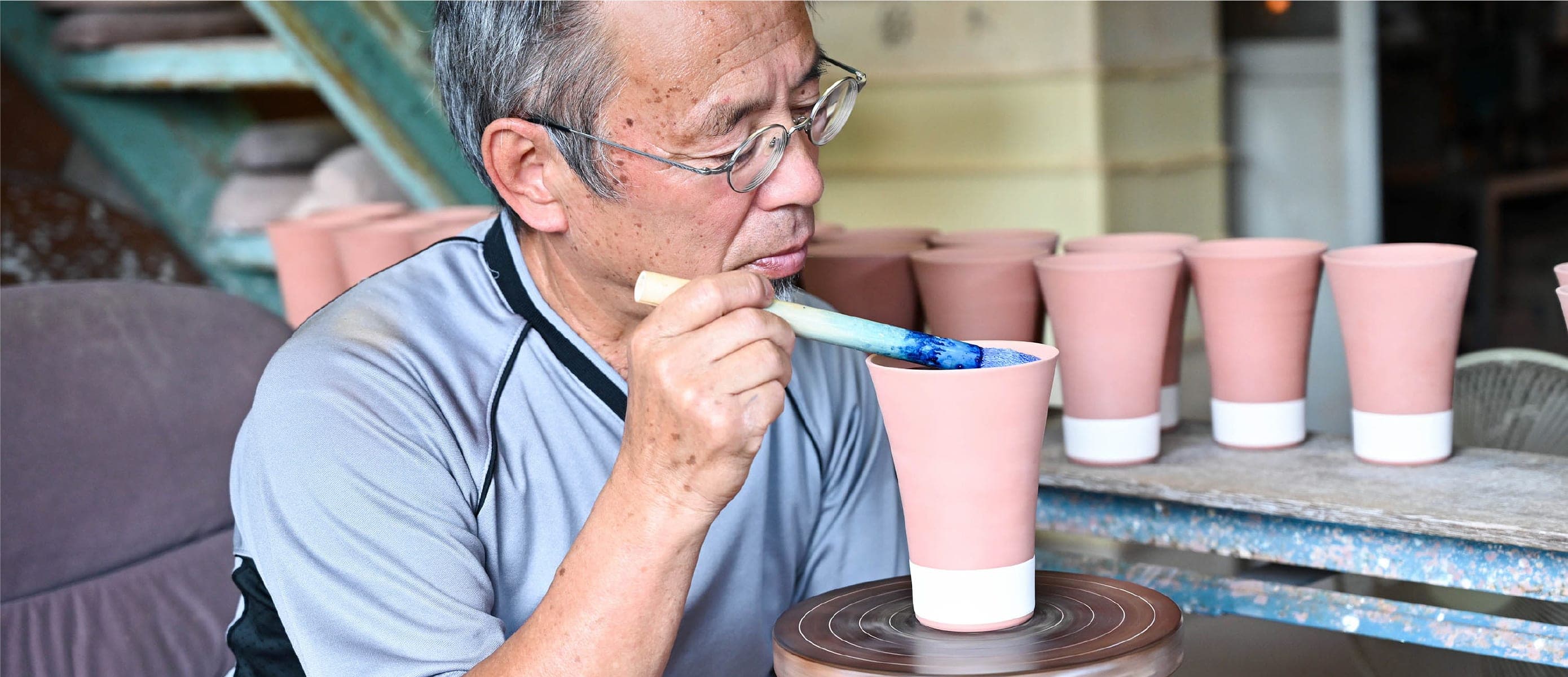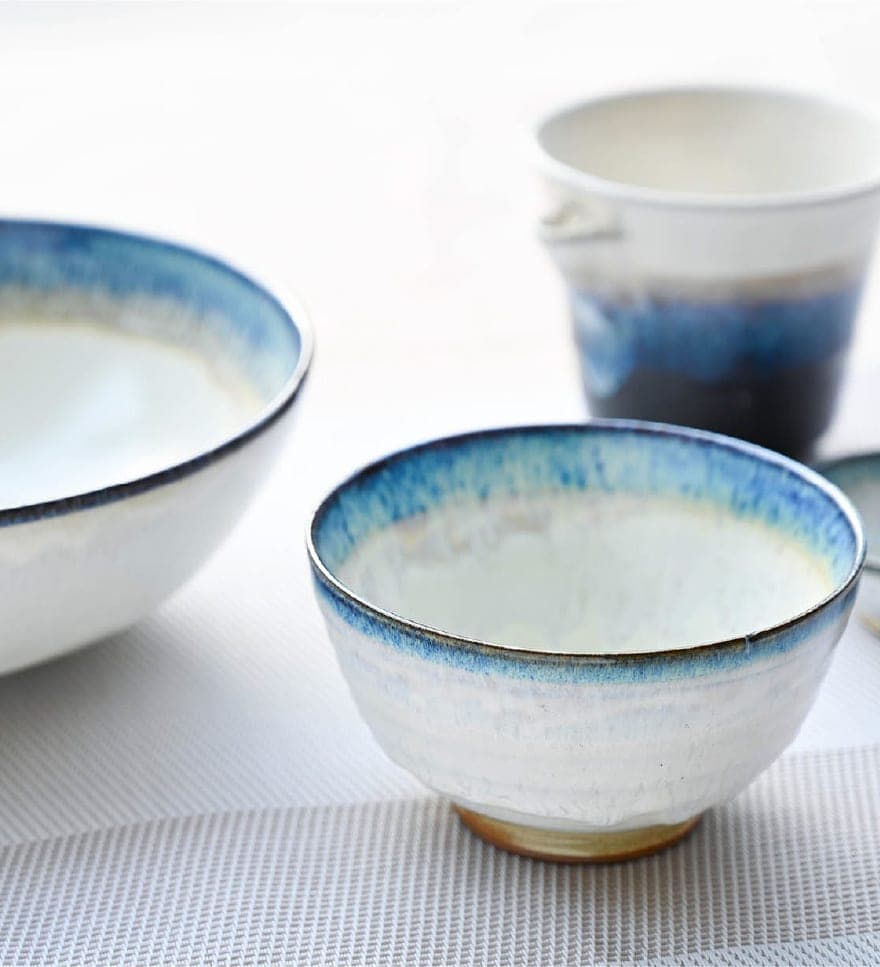 A new wave to all new Minoyaki products
From 9am to 9pm, silently working with my father and then to work solemnly in the workshop working on improving glaze methods. Repeating the process of analyzing and modifying the glaze to then fire the pottery in order to create the pottery of my vision. 3 years ago, a type of glaze using Boric acid and increasing the amount of titanium to create a rainbow color was developed. This new product called "Nuriwake" used the new glaze which the transparent glaze would change color and reveal a blue faint gradation. This received good feedback from local Boutiques. Not only was there focus on glaze development but creating new variations of flower stamps was a task as well. Other than flowers, shapes of maple and animals were created on graphic software and created samples on 3D printers. "Product development is fun so it's not hard at all lol. People know about Minoyaki but there are so many types that there is no unified style. By making unique pottery I want people to think this is Minoyaki, that is what I want to create". Second-generation president Teppei's face was serious as he talked about his efforts.
Discover The TOKI MINOYAKI
SHARE ON