TOKI MINOYAKI STORY

Pursuing the research of Glaze, passed down from predecessors
Shinkougama Kaneta Tanaka Pottery
Kazuaki & Kumiko Tanaka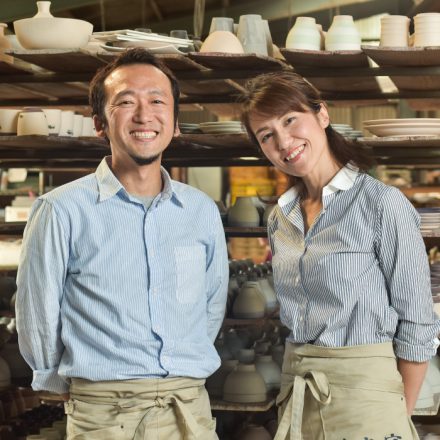 Profile
Shinkougama Kaneta Tanaka Pottery
Kazuaki & Kumiko Tanaka
629-2 Izumi-cho, Jorinji, Toki City, Gifu 509-5102
TEL +81-0572-55-3275
http://sinkougama.com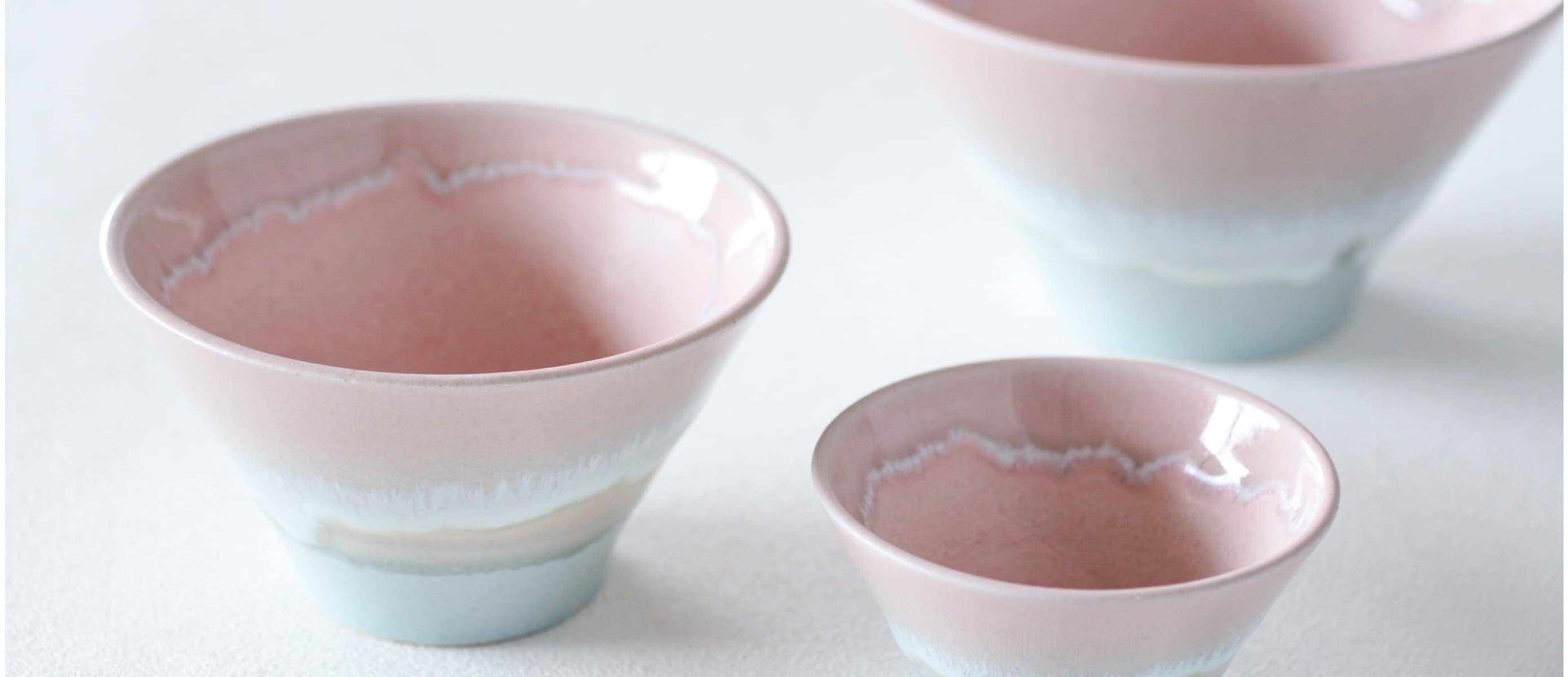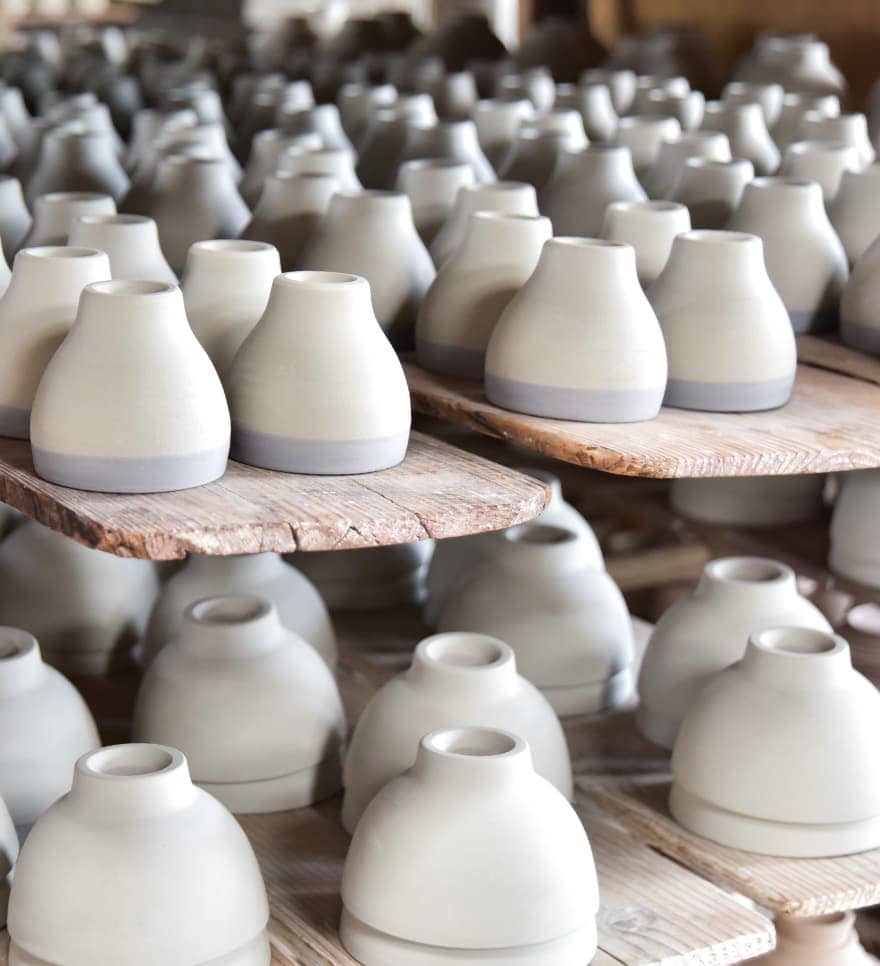 Non-mass production system built by predecessors
Glaze brings various colors and textures into potteries. Glaze is essential for pottery, but it can change in any way from mixture, density and method of baking. That is why it is difficult to make exact colors as desired. Shinkou-gama, established in 1895, fascinated by the potential of glaze has been boldly challenging itself since. The fourth-generation president Shinichi Tanaka started to pursue the challenge. He was fascinated by Nezumishino, the traditional glaze of Minoyaki, so he did form clay and mix glaze by himself and he changed the method of baking. He built an integrated production system specialized for Nezumishino in this area whose division of labor system was active. "At the early stage I ordered clay to mix, I was just like a Pottery artist lol", Kazuaki Tanaka the fifth-generation president is the one looking back remembering those times. Shinichi passed away after struggling against illness, just before he died, he entrusted various recipes of glaze including Nezumishino to Kazuaki which no one knew but him.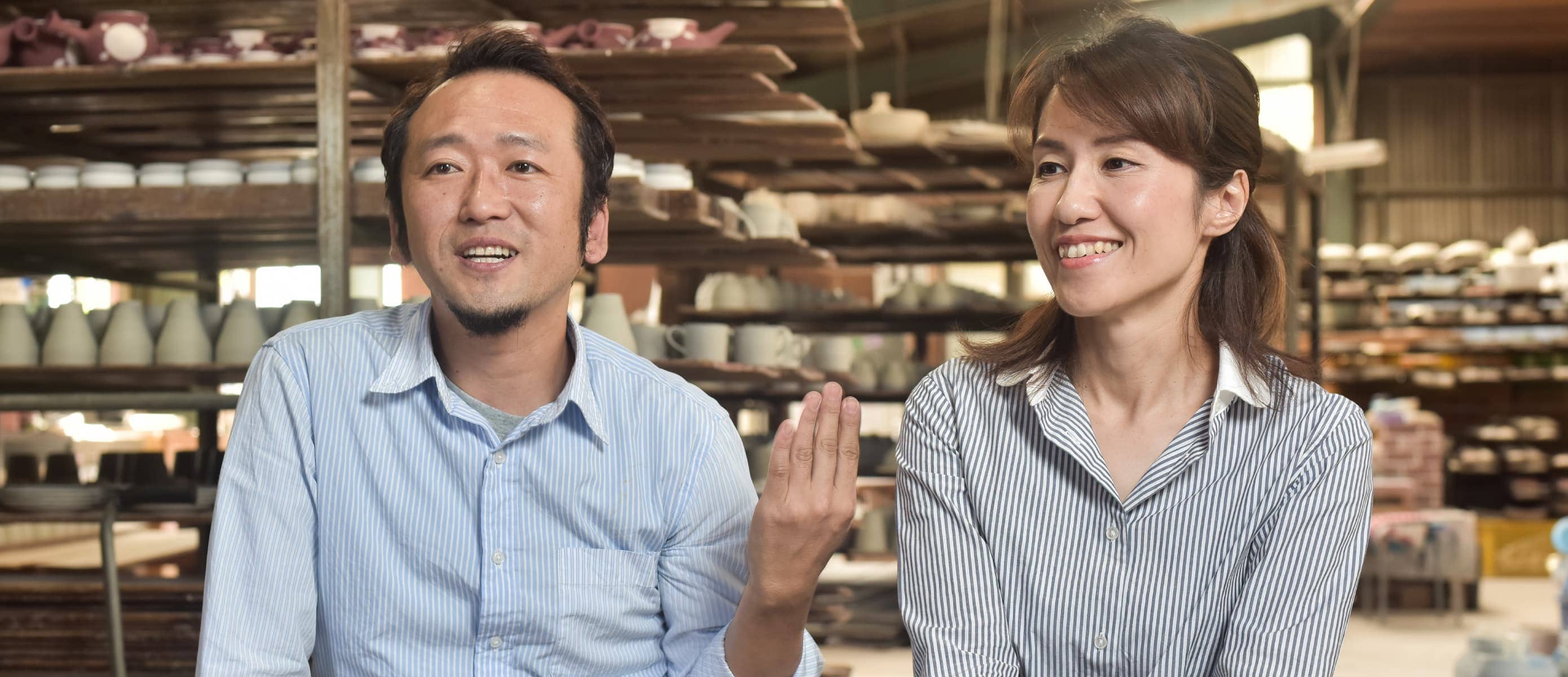 Being a Craftsman rather than an Artist
Kazuaki and his wife Kumiko had been watching how Shinichi was devoted to pottery.
They follow the same path as him. If two pots are located 10 cm away each in the kiln, the colors become different after baking even though the same glaze was used. So, it is interesting to find combination of glaze and temperatures of kiln to make different colors. Said Kumiko happily although it seems like a troublesome process. We started to make raw clay by ourselves 3 years ago and we use jigger called Mizugote which needs right amount of hand pressure to form. Afterwards, Kazuaki carves the sides using a pottery wheel to shape. Minding about all the details and being face to face with the pot makes them like Pottery Artists. "We'd prefer to be Craftsmen than artists" explain the two in unison. "Our job is to hand-make 100 units steadily with as much detail and deliver to our customers".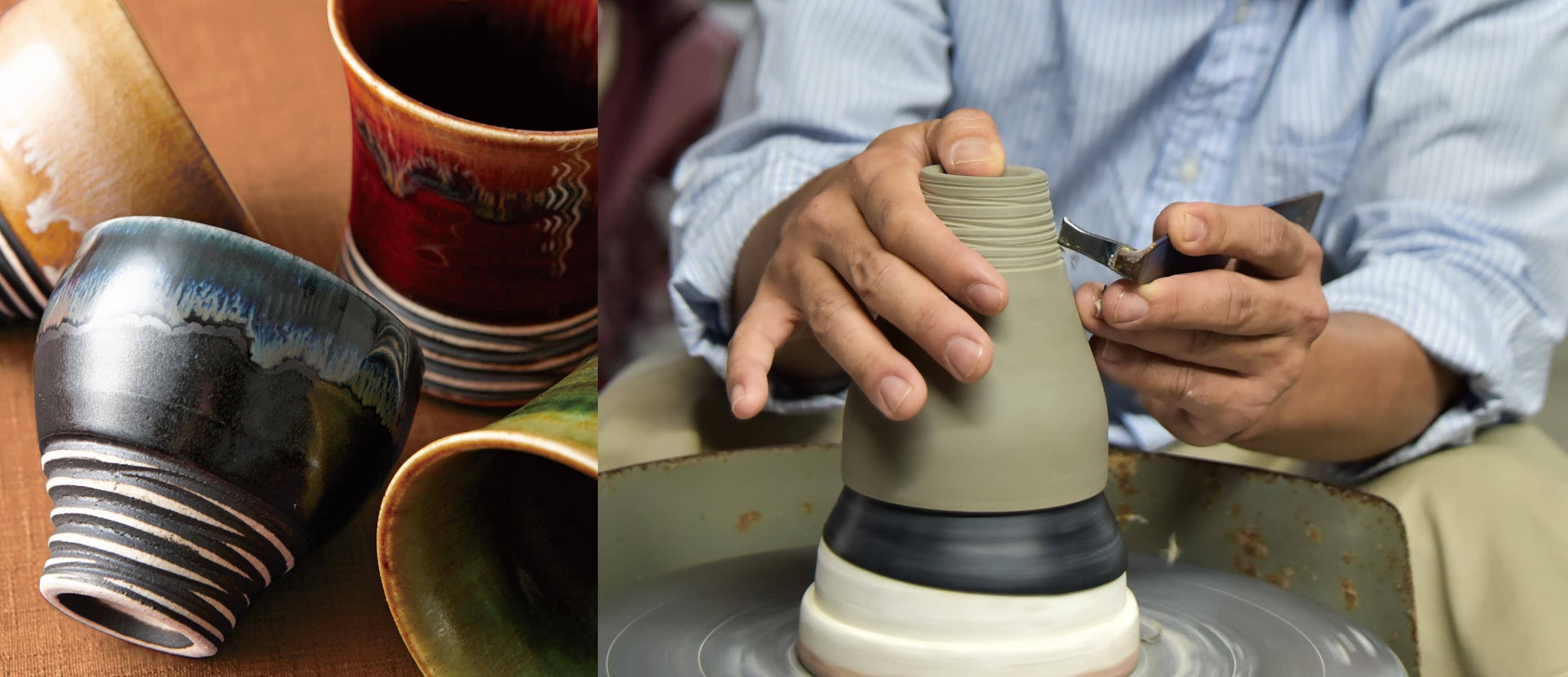 Enjoying colorful pottery created by the pursuit of Glaze
"Pastel Jule" created in 2015, was the byproduct of pursuing a better glaze. It is a small bowl with multiple color glaze like, Lemon, Blue Gray, Pastel Pink, and a faint Purple. At first, it appears as though the colors will not go well together but the pairing are the outcome of vast study and the depth and coloring magnificently melt into one. The secret of this attractive blend of color is also in the way the bowl is baked. At Shinkou-gama, predecessors derived a schedule based on the Shinoyaki which consists of 22 hours of baking the pots then slowly bringing down the temperature for 24 hours, so the colors become more vivid. This is 3 times the usual baking time. "Yellow glaze usually comes out with a bright orange like color but if properly cooled, it becomes a softer color like a lemon". This original baking method allowed to create the Jelly like gloss and vivid, calm coloring.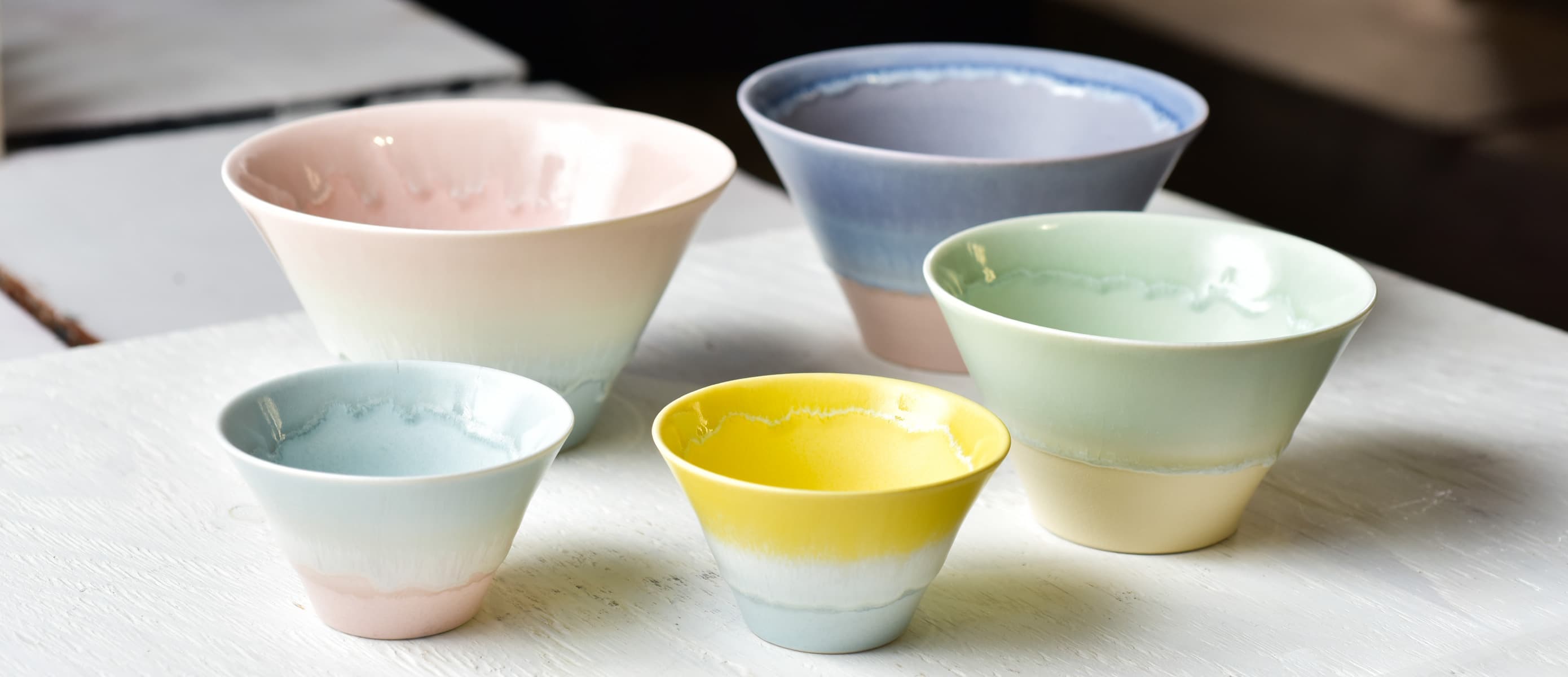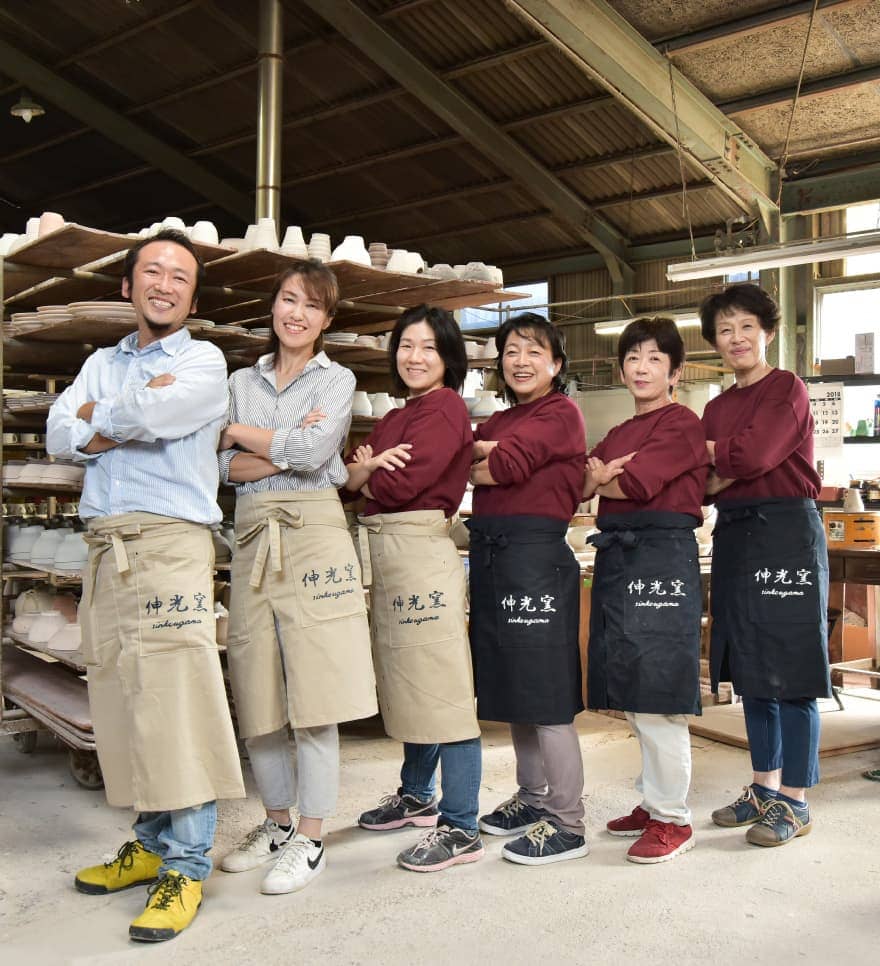 Minoyaki to inspire Children
"Pastel Jule" its intriguing color brought attention and in Concept Stores in the city, orders came rushing in. OEM Products which make over 100 samples annually, has popularity for their vast solutions catered closely to the type of customers and concept of the individual stores.
Minoyaki has the largest production in Japan and many people are involved in creating down to all the small details. The women who work at Shinkou-gama are filled with smiles and look like they are having fun. "Pottery needs to be free and fresh. I want to make pottery for children to say, "I want to become a potter" and inspire them". The expression on Kazuaki and Kumiko's faces who speak with ambition is very bright.
Discover The TOKI MINOYAKI
SHARE ON