TOKI MINOYAKI STORY

The Unique "Kohikiiroe" technique which expanded the hand painted pottery world
Marutatsu seitousho Tanzan Gama
Niwa Tetsuo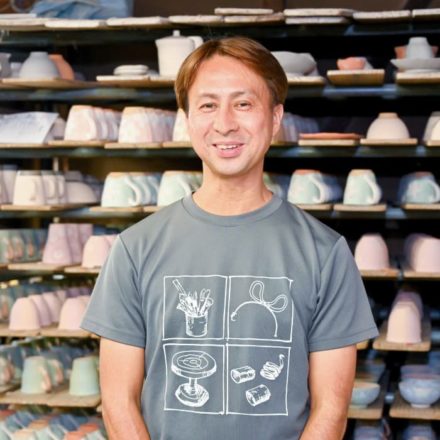 Profile
Marutatsu seitousho Tanzan Gama
Niwa Tetsuo
2321-148 Dachi cyo, Toki City, Gifu 〒509-5401
TEL +81-572-59-4188
Instagram
tanzangama_t256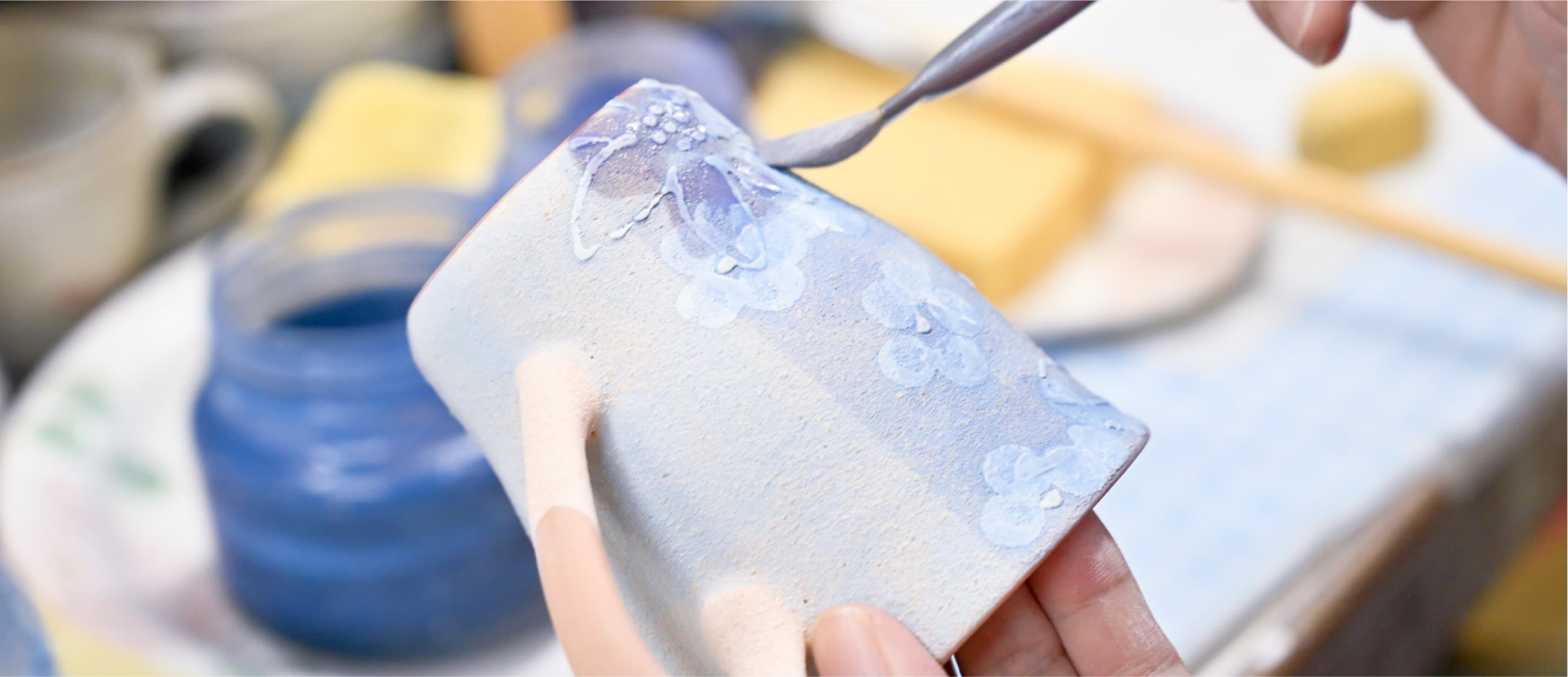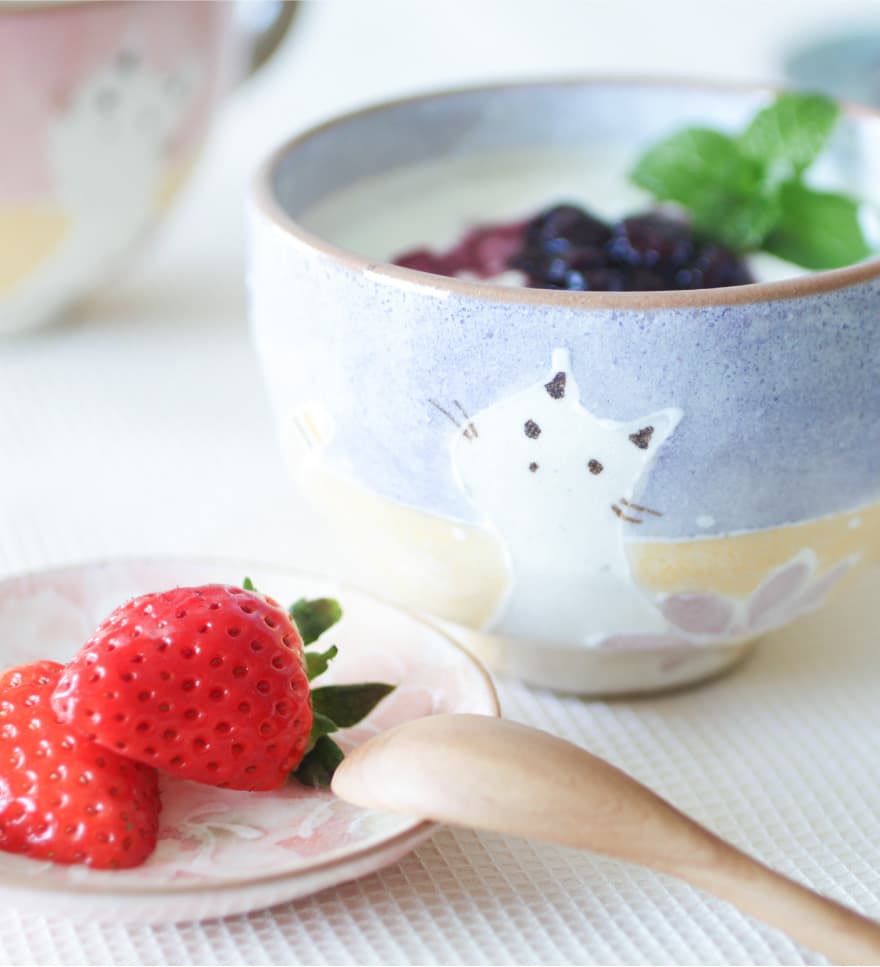 Development of over glaze technique throughout the times
Mugs, small bowls and plates with floral design and polka dot patterns and beautiful brilliant coloring, similar to watercolor paintings make the dining table gorgeous and people happy. These are works of Tanzan gama (Tanzan Kiln), established in 1952. After World War II, the 1st generation president started their pottery business in the town of Dachi, known for rice bowls. Since then, over the years they acquired the skills and processes of molding, painting, firing. "We have focused on hand painted decoration for over 25 years. Originally it was common for the color of pottery to be a deep blue or a monochrome color called "Gosu". However, when "Irogosu" was introduced, it allowed for a variety of colors to be produced which became popular during the Showa era (1925~1989). Potters tried to express more exquisite and beautiful hues, so they invented many techniques such as mixing and overcoating Irogosu", explained Tetsuo Niwa, the 3rd generation president. As the techniques of pottery decoration developed over the times, Tanzan gama pursued to produce pottery specialized in decoration to show their unique color and texture.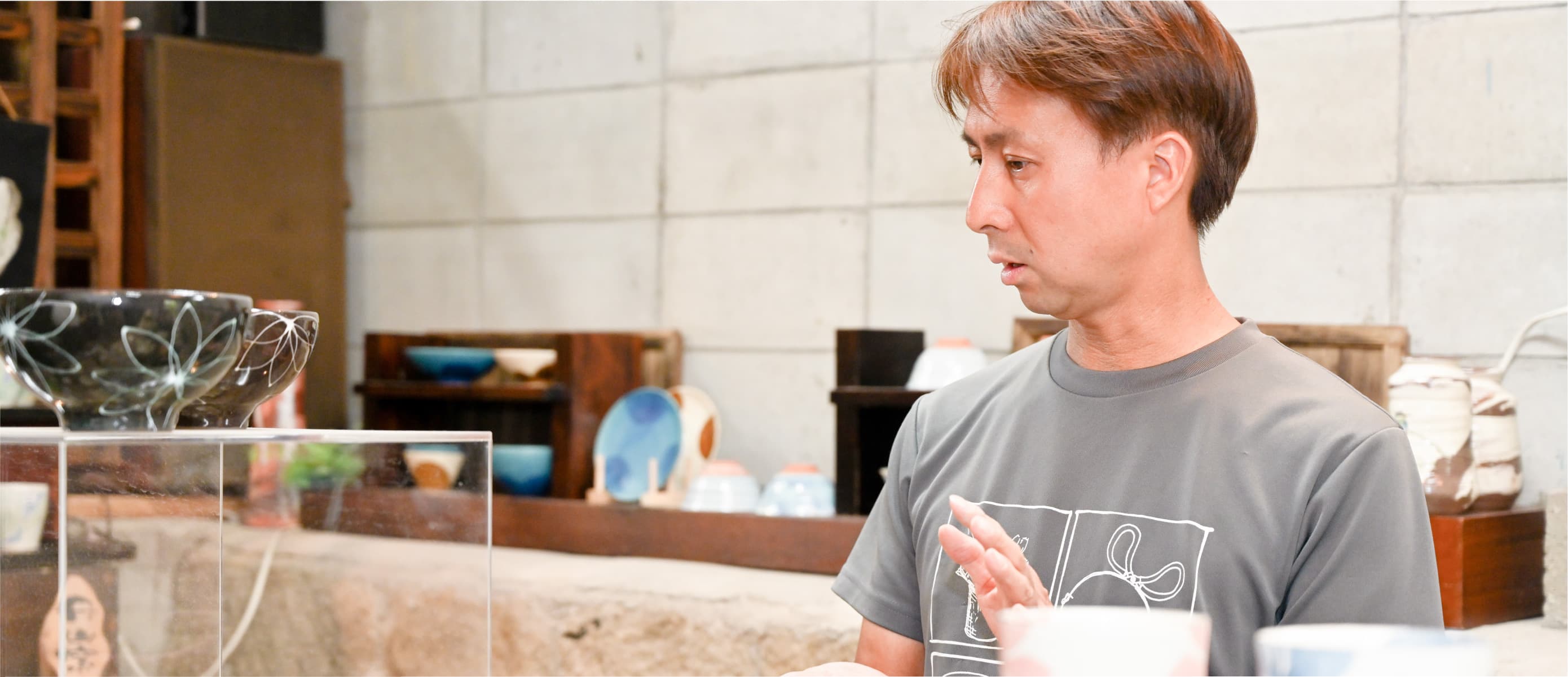 "Kohikiiroe" a fusion of traditional technique and hand painting
Tanzan gama mastered their technique called "Kohikiiroe" about 10 years ago. "Kohiki" which is adding a white slip coating on the foundation as a base coat and adding some floral decoration using a technique called "Icchin", which is squeezing a slurry glaze out of a pipe and drawing on the surface of the pottery to create a three-dimensional pattern by adding 3 – 4 layers of underglaze colors. Finally, by adding a coat of translucent glaze and firing in the kiln, the pottery transforms into a bright but soft hue resembling a watercolor painting. They established their own technique, a fusion of traditional techniques such as Kohiki and Icchin and their specialized technique of overcoating several colors of underglaze. "It requires a lot of work, but we want to portray detail that is part of creating fine pottery", said Niwa. There are seven different slips used for Kohiki, to match each pottery which varies in color and texture. Also, these decorations such as Icchin and overcoating with underglaze are all handmade and even experienced artisans spend a lot of time and effort. All those efforts lead to producing the three-dimensional and contrast of colors in the pottery.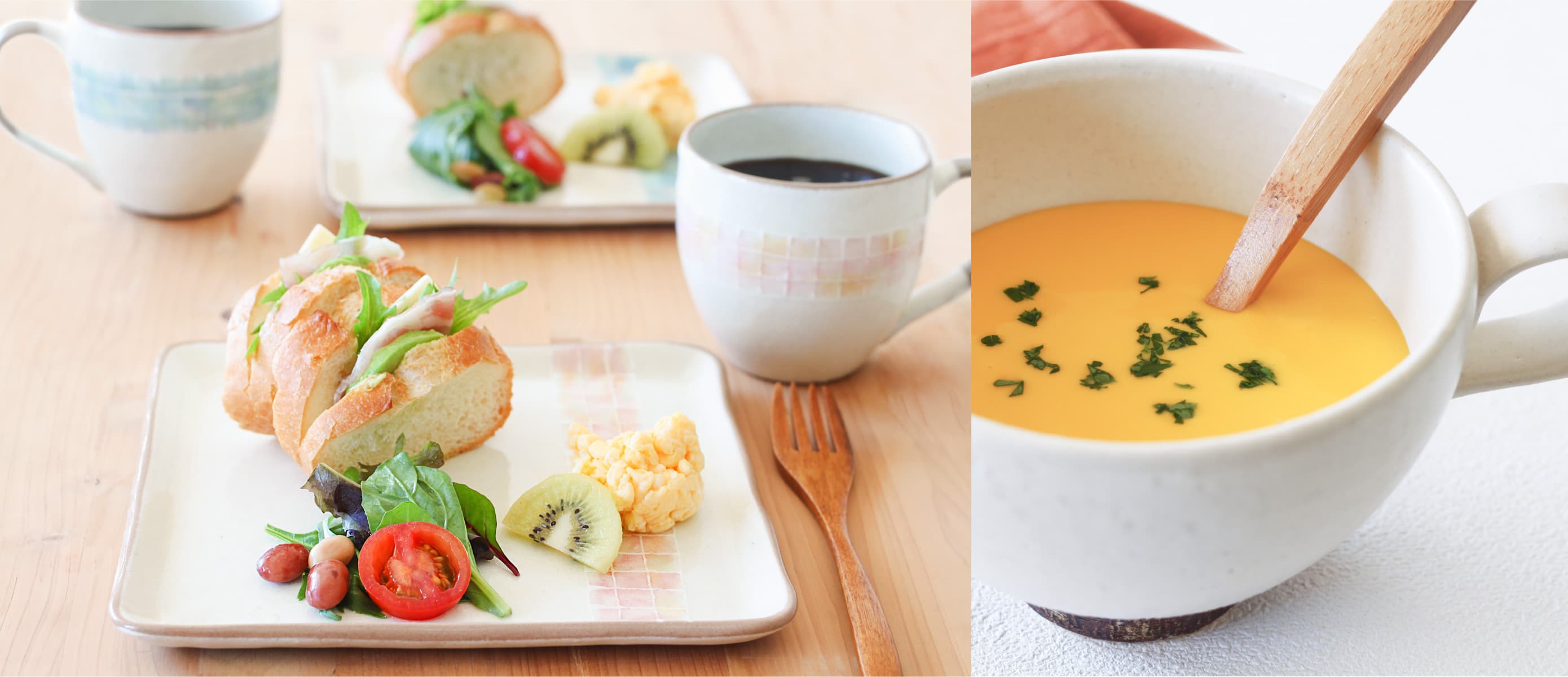 Improving products by listening to the customer
Making hundreds of samples every year to develop new product and at the same time incorporating colors and forms that fit with the times. To understand the customer's response and incorporate in their product development, they value the opportunity of having a face-to-face talk with customers at their gallery located next to their workshop and at pottery exhibits. "We have to evolve to suit the customer's needs, otherwise we cannot survive in this town which has the largest share of pottery in Japan", explained Niwa with a serious expression. But if everyone produces the same products, price competition will become intense and only the cheaper products will survive in the market. "To avoid such situation, we want to produce unique products. That is why we have been specializing in decoration techniques. As we have continued to do, if we keep on brushing up our techniques we can continue to produce new things. "Kohikiiroe is our latest mile stone."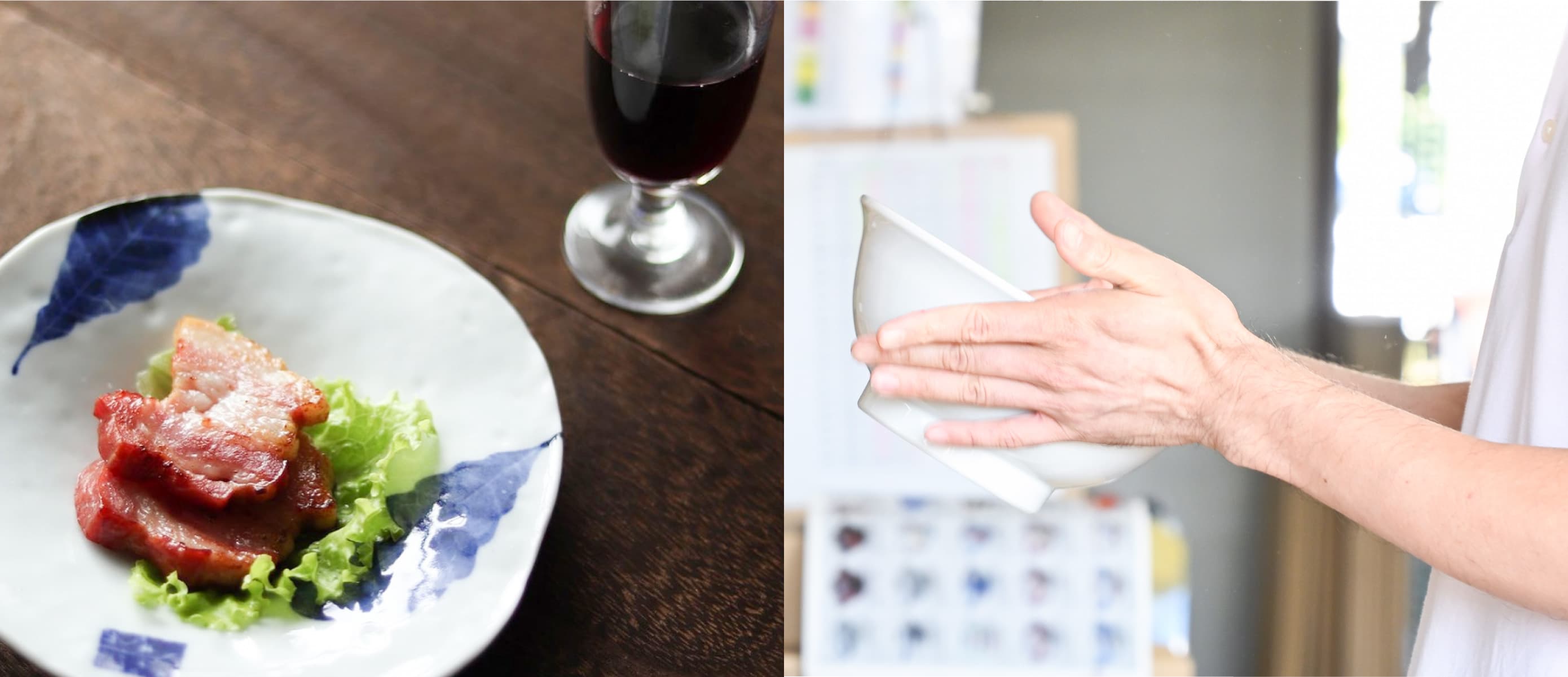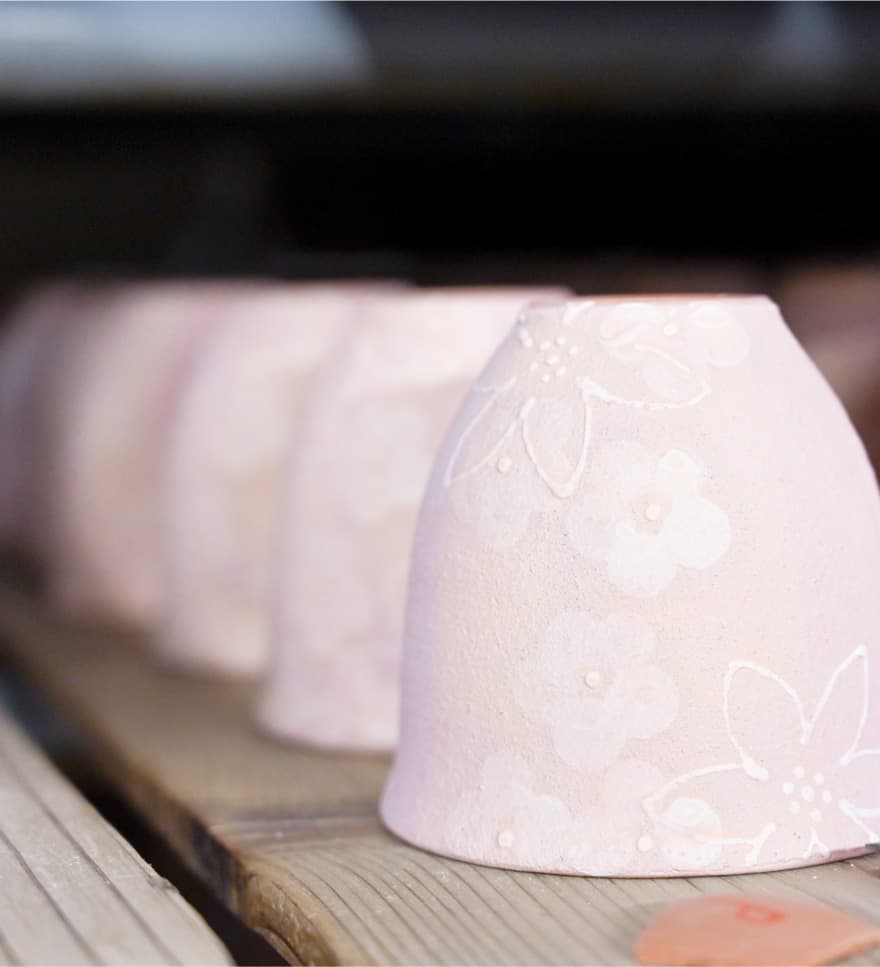 Making Minoyaki be further known overseas
Now, they are looking at spreading their sales channel overseas. "Pottery is not only for Japanese cuisine anymore. For example, using rice bowl for fruits may be good. I'd like to introduce new ways to use pottery. I believe Minoyaki can be successful overseas because of its intricate technique and unique design." Creating further value in Minoyaki adopting new styles but still keeping tradition. Their dedication will open up the future for Minoyaki.
Discover The TOKI MINOYAKI
SHARE ON