TOKI MINOYAKI STORY

Passing on the heritage and beauty that can only be created by hand.
Yamako Takagi Pottery CO., LTD.
Takashi Takagi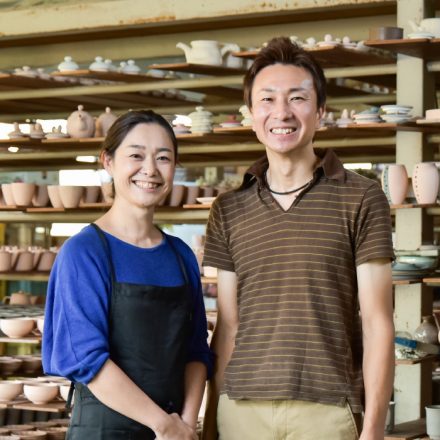 Profile
Yamako Takagi Pottery CO., LTD.
Takashi Takagi
364-2 Izumi-cho, Jorinji, Toki City, Gifu 509-5102
TEL +81-572-55-2660
http://www.yamakotakagi.com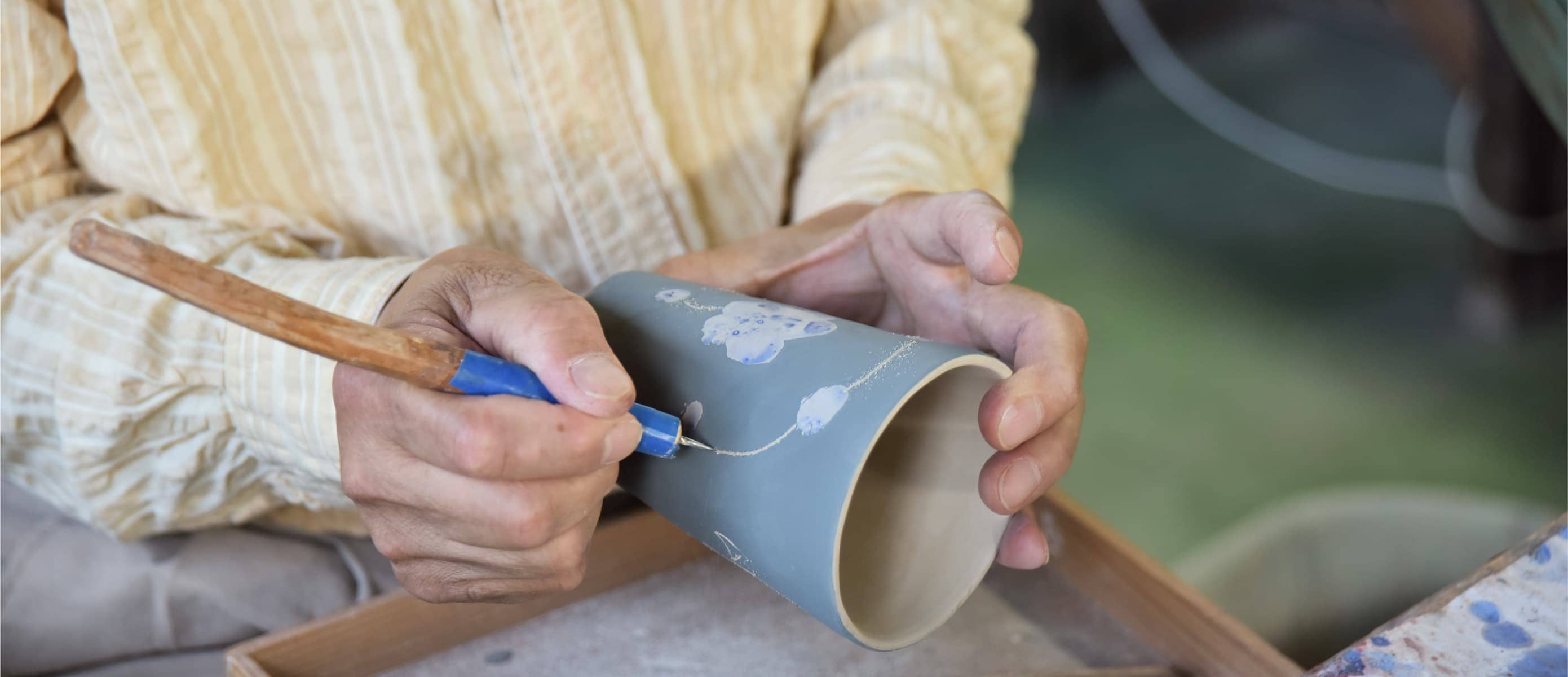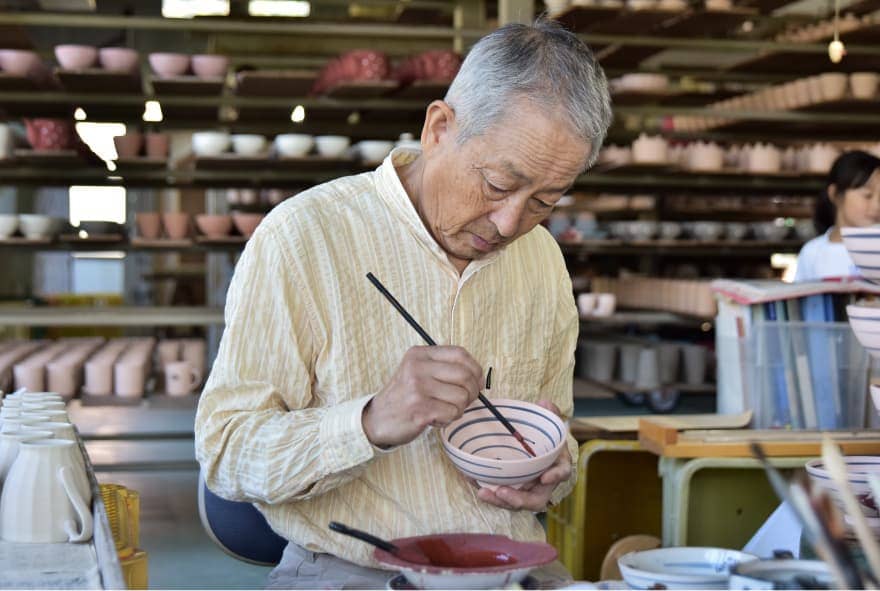 Highly valued Hand-painting technique since the Golden Age
At the workshop, there are unglazed Japanese tea cups lined up in a row. The Artisan picks up a cup and draws an even line using a brush without drawing a draft. That is a typical day at Yamako Takagi Pottery which specializes in "Decoration" a technique passed on for generations.
Established in 1929, at a time to break away from danger of Minoyaki's decline, artisans had to choose not in pursuit of beauty but to bake ceramic pottery for everyday life.
To realize low-cost and mass production, a division of labor system was introduced in Toki city. Dachi-cho made bowls, Oroshi-cho made Sake bottle, Hida-cho made dishes. These are all examples of the labor techniques that were rooted in each region and in Izumi-cho where Yamako Takagi Pottery is located, produced green tea cups.
"Local residents gathered in a workshop and made potteries in an assembly line.
Followed after the person in charge of the kiln to bake the pottery, the person in charge of decoration was the second highest paid employee", said Koichi Takagi, the second- generation president. Since most of the population of Toki city was involved in the manufacturing of pottery, decorating technicians who give color to pottery were highly valued.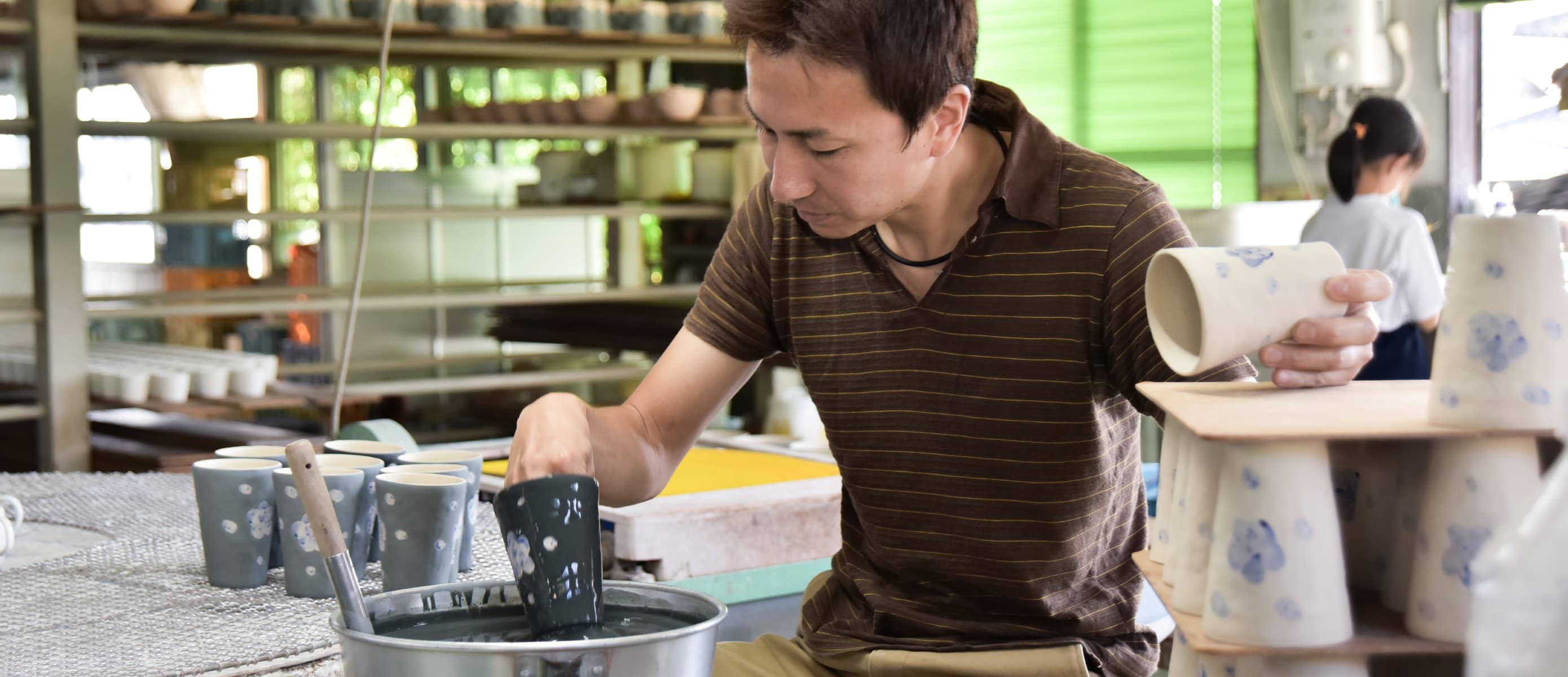 Passing on hand-drawn decoration technique is the very key for existence
Since its peak of production, Yamako Takagi Pottery specialized in various decorations in "The City of Pottery"
Takashi Takagi, the third-generation president struggles to inherit the technique. New and developed printing techniques such as, Transfer and Screen printing, hand-painted decoration has become inefficient nowadays and because of the changing needs and the lack of successors, there are Potters who give up hand-painted decoration.
"Pottery which people use casually for everyday life is the perfect match for the warmth of hand-painted picture." Seeking the texture which cannot be made with machines, orders are continuously rolling in from all over beginning with green tea cups for restaurant chains. "Some customers bring in pottery and ask if we can draw the exact same picture on it."
On the other hand, for a small pottery with only a total of 5 people, there is a limit to handling large orders, modifying details of hand-painted decoration which take time and effort. So, by outsourcing works such as mixture and forming of clay to subcontractors who they have known for a long time, Yamako Takagi Pottery was able to establish a division of labor to concentrate solely on decoration.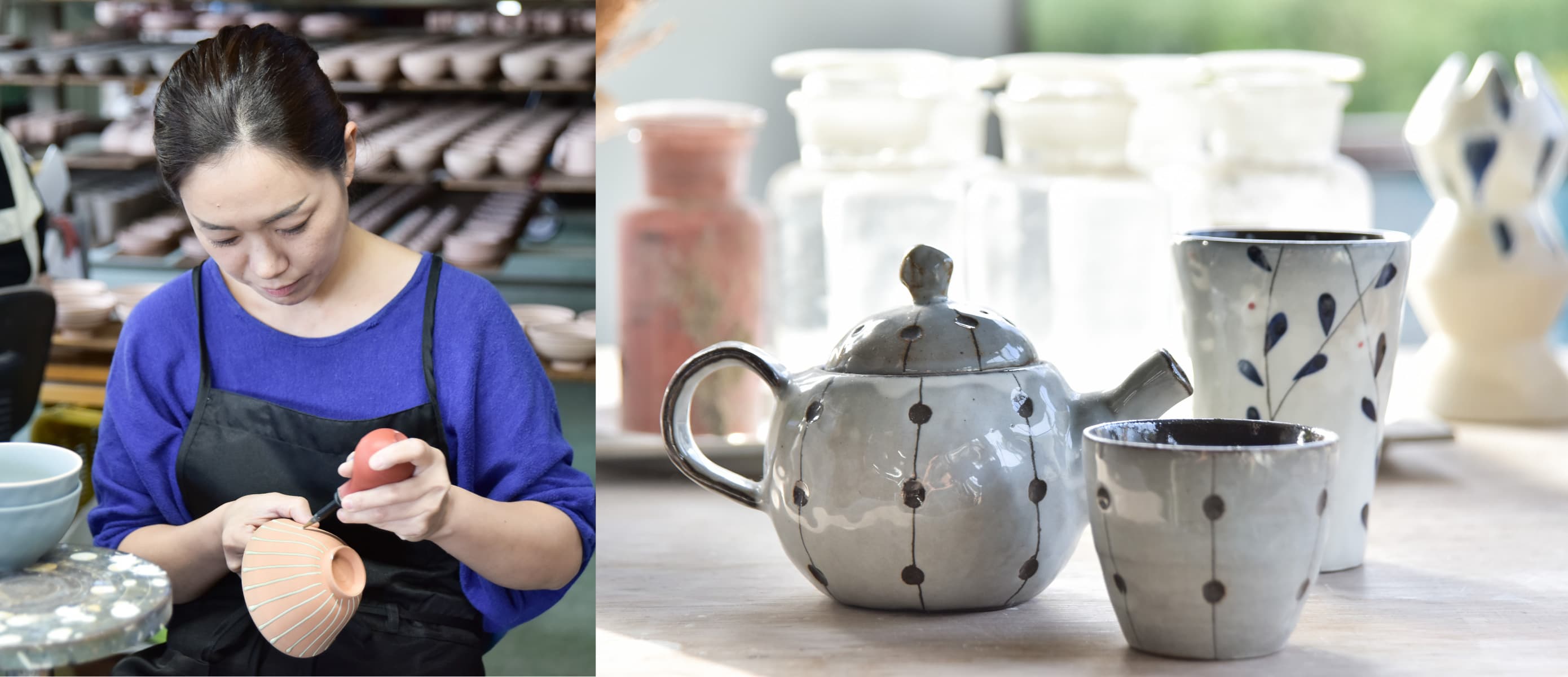 The very technique which cannot be mastered easily becomes the sole advantage
Line-Carving a method which pottery dough covered pottery is decorated by drawing on it with a needle.
Icchin method, which is decorating the surface of pottery by squeezing the slurry glaze out of a pipe. There is a diverse number of hand-painting techniques, which takes an enormous amount of time and experience to master. Takashi's goal is to become like his father Koichi, the second -generation president. He is 74 years old and he has been doing this for 53 years.
Koichi makes some tools by himself for decoration such as a Kakibera which is a looped tool to carve the surface of clay and a stylus (Teppitsu) which is used to carve millimeter unit thin lines. I make the tools by shaving a tree branch picked up at a nearby mountain. It fits the hand better than a ready-made one. He is still active on the forefront prepared with his tools handy.
"There are a lot of techniques and products which I haven't acquire yet compared to my predecessors. Upon first sight, a green tea cup with a painting of a pine tree looks easy to draw but the brush strokes are difficult" Said Takashi.
It is not something anybody can copy easily. That's the very advantage for a small pottery like us to survive. Takashi and his wife Mayumi are breaking their backs to achieve the goal as soon as possible.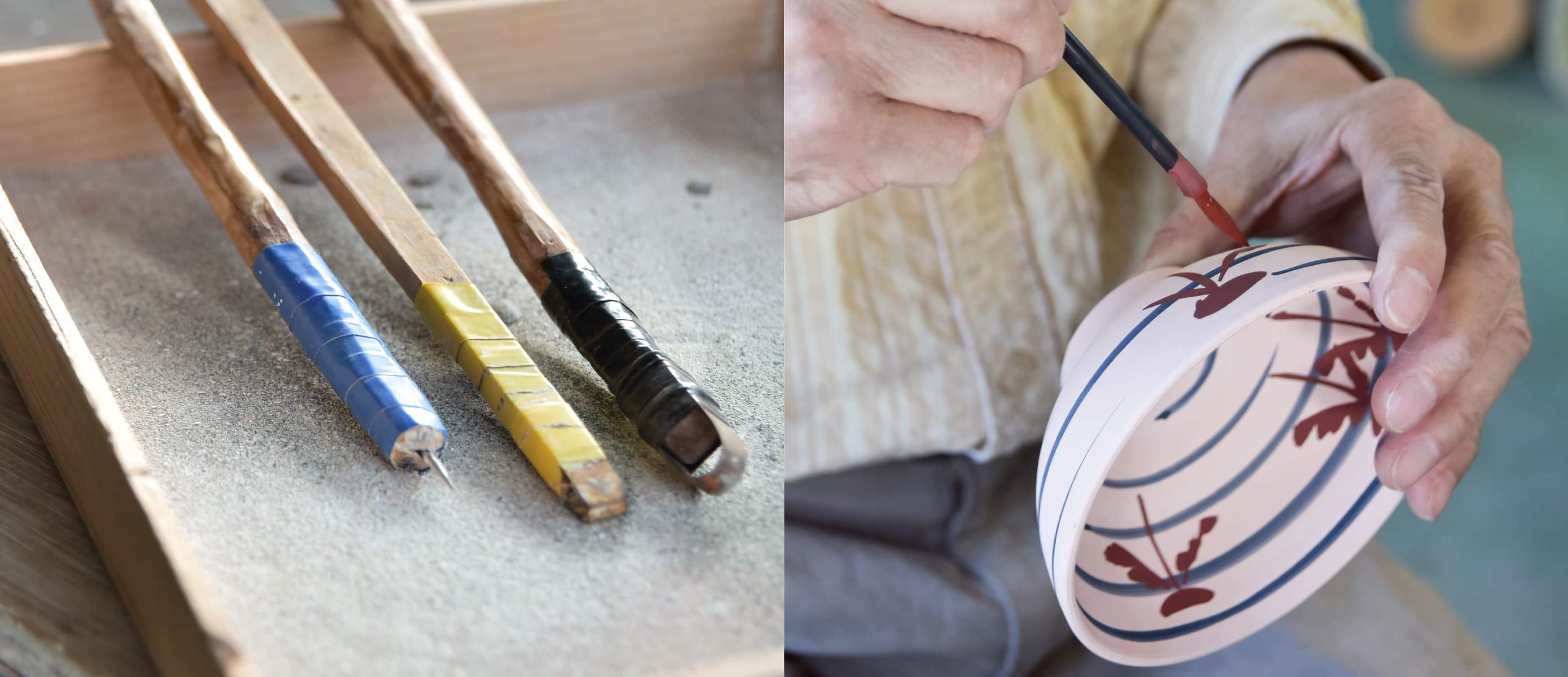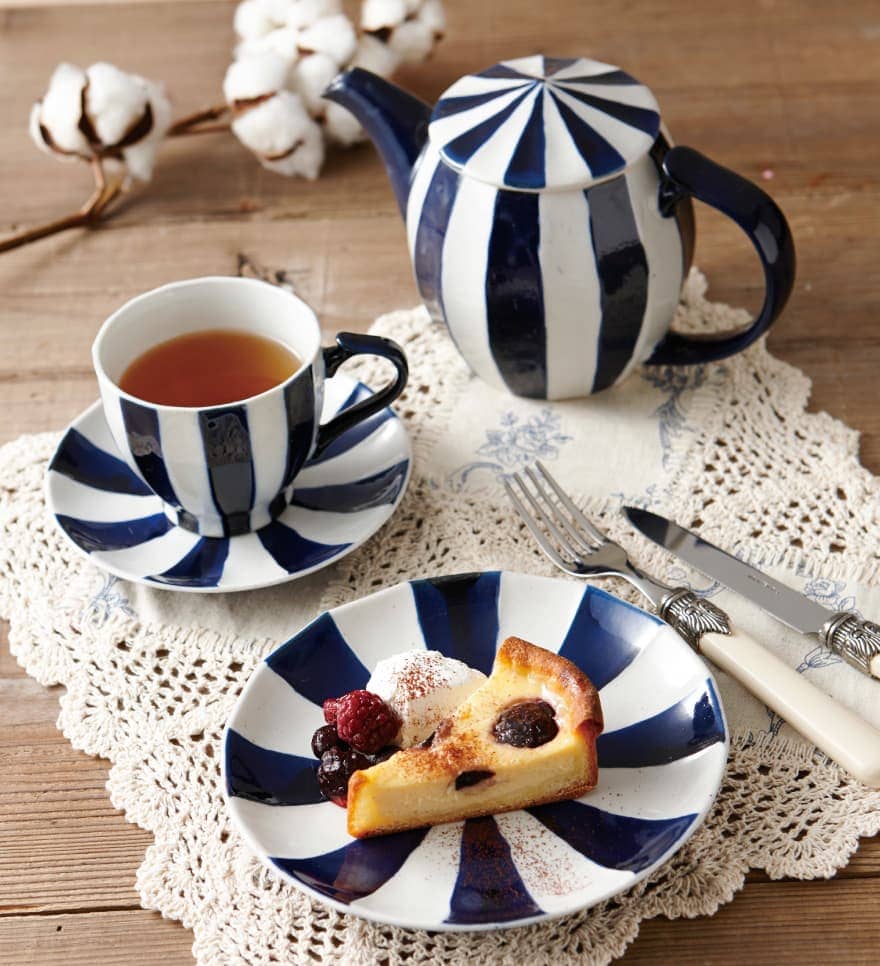 Division of Labor which allowed Toki city to develop its Minoyaki
On the other hand, there was a change to follow current trends. The hand-painted tea set whose design comes from a circus tent, the rim plate which is painted with modern dusky colors using Shino glaze (feldspathic glaze) to make plump texture, Yamako Takagi Pottery made exclusive products putting their own technique into modern design. Also, the stone ware which is said "Harder than ceramics and more textured than porcelain." That they have been particular about for a long time was evaluate and selected for OEM products.
The stone ware is gaining popularity with its uneven color and antique like texture which was finally achieved after six months of trial and error.
"Toki city which rooted the division of labor system accomplished accumulating various decorative techniques and specializing in decoration. We continue the pursuit of techniques so when people hear Yamako Takagi Pottery they immediately imagine our technique." Techniques which developed particularly in this area are being passed down to next generations and evolving to become a part of another history.
Discover The TOKI MINOYAKI
SHARE ON