TOKI MINOYAKI STORY

Elegant Minoyaki loved throughout the ages
Kaizan Gama
Mitsuru Tsukamoto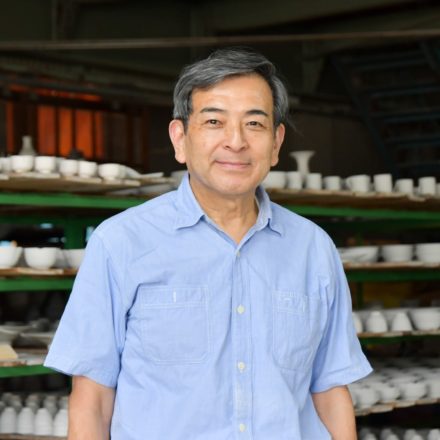 Profile
Kaizan Gama
Mitsuru Tsukamoto
1805 Dachi-cho, Toki city, Gifu, 〒509-5401
TEL +81-572-59-8415
http://www.kaizan.net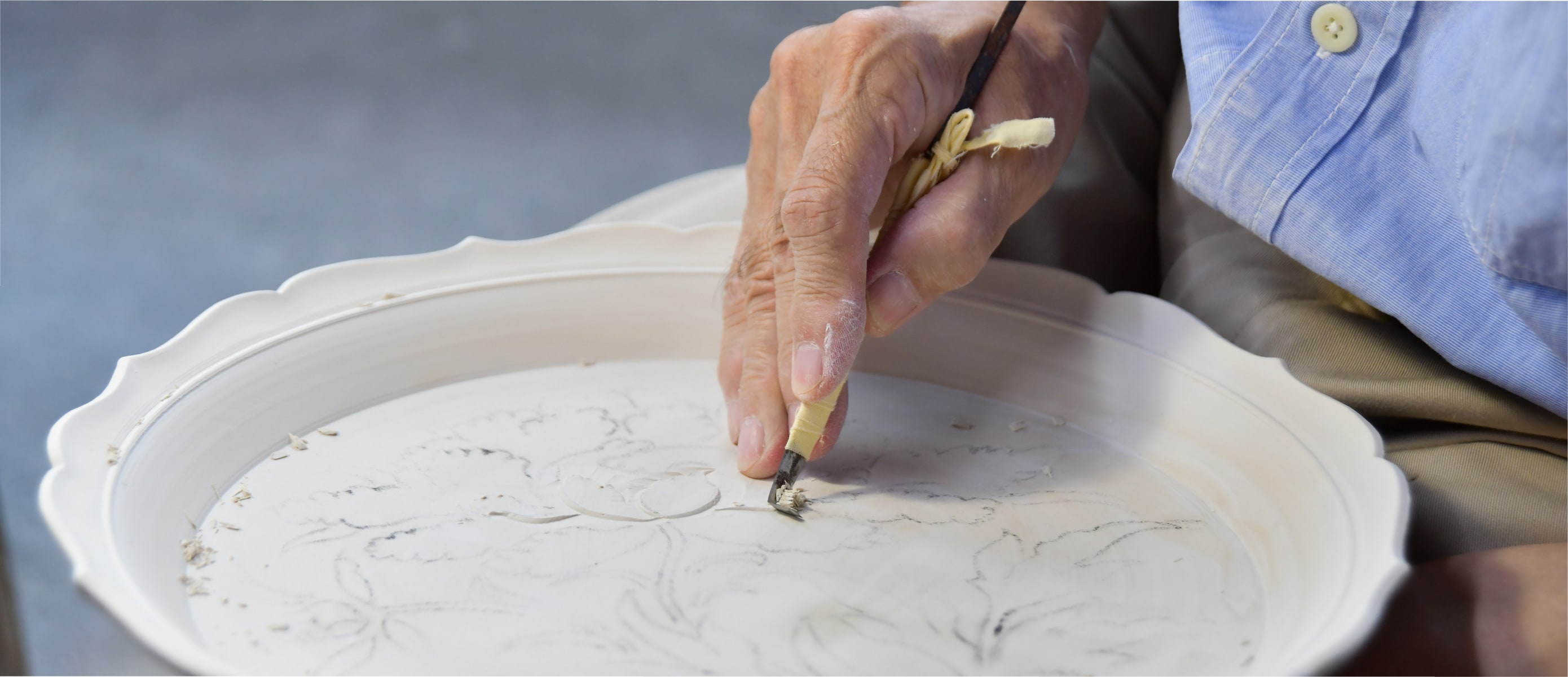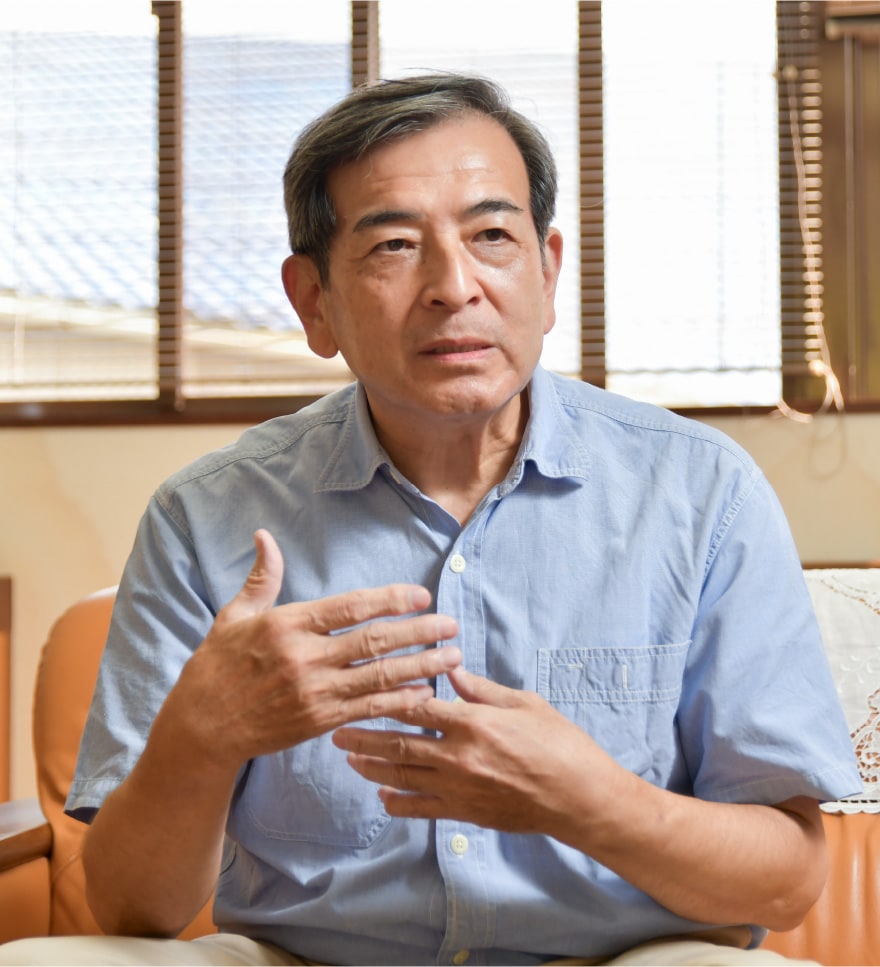 Fascinated by the beauty of ancient Chinese pottery
The beautiful celadon ware with a jade green contrast and white porcelain known as "Ivory White" having a warm yellowish white color are the refined potteries made by the potter, "Kaizan gama". "I want my pottery to be elegant, graceful and humble", said Tsukamoto Mitsuru, 10th generation president. Kaizan gama was established about 300 years ago. It has been producing pottery since the Edo period. Kaizan gama's turning point was when 9th generation president, Kaiji Tsukamoto was in charge. During the early Showa period, when Japan was still developing, Kaiji came across celadon ware and white porcelain that were made in China at the Northern Song Dynasty. The beauty of the potteries enriched the people's hearts and deeply impressed Kaiji, "I have never seen such amazing potteries". At the time, the wealthy preferred celadon ware and white porcelain but Kaiji thought he could make them himself to incorporate into ordinary Japanese households. He immersed himself in research. He always carried shards of celadon ware and white porcelain and gradually found materials and a process of firing pottery through trial and error.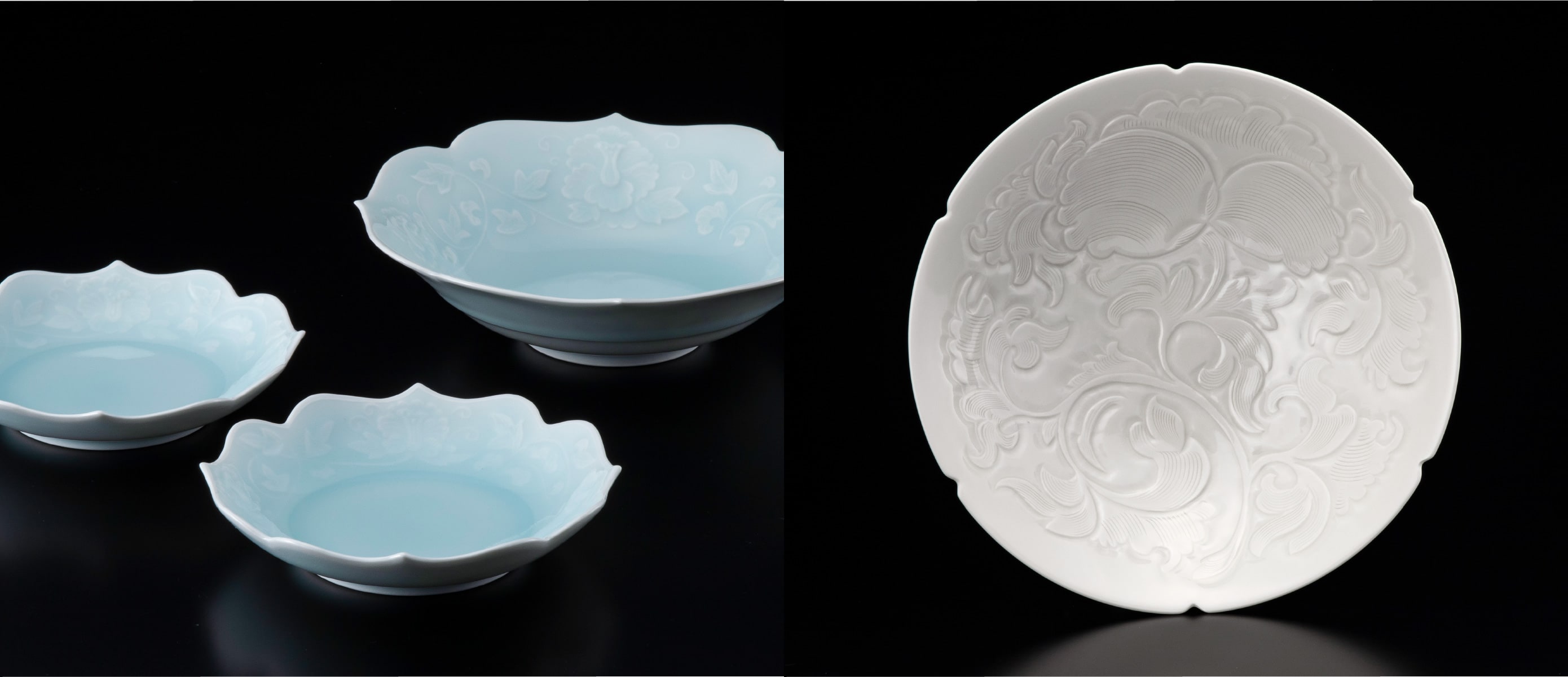 Unique technique for creating celadon ware and white porcelain
Celadon contains small amounts of iron oxide. By minimizing the amount of oxygen entering the kiln before firing, Carbon monoxide is produced from the incomplete combustion and then iron oxide causes the natural jade green color. Depending on the thickness of the glaze, a gradient of beautiful celadon green shows up. On the other hand, white porcelain needs enough oxygen for combustion to occur during the firing process. As a result, the transparent glaze turns slightly cream-colored and gives a soft look to the original white biscuit color. Another feature of celadon ware and white porcelain is a decorative carving technique called "Katagiribori". Before the formed clay dries, refined arabesque patterns are carved using metallic carving tools. At that time, Kaiji's Katagiribori decoration was second to none, especially the fine delicate pottery carved both inside and outside had breathtaking beauty. Kaiji acquired his own techniques of celadon ware and white porcelain, and then in 1983, he was made a Living National Treasure.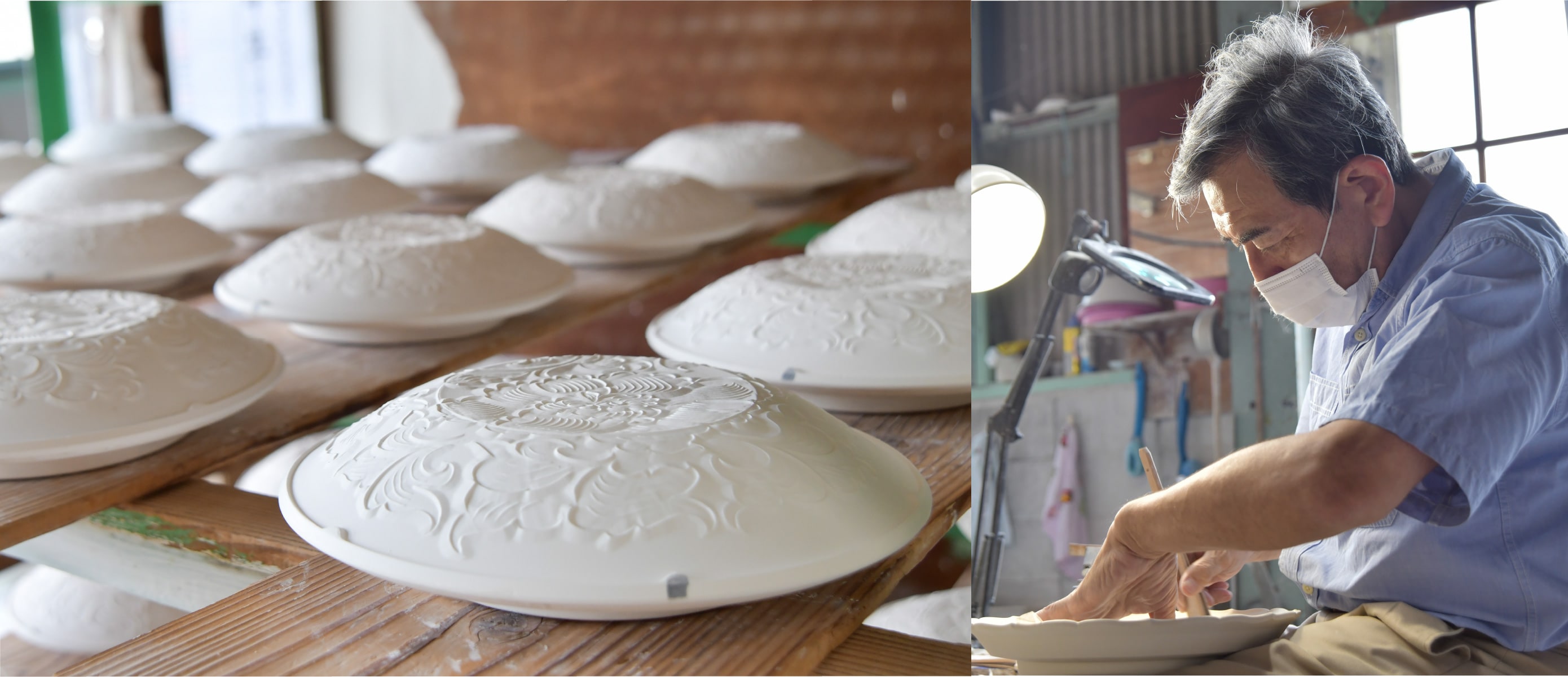 Inheriting the technique and passing to the next generation
Now, Mitsuru Tsukamoto, Kaiji's son is taking over the skill from his father. To maintain the quality, they purchase custom-made clay for biscuit and blend the glaze by themselves. The most difficult technique to pass on is the "Katagiribori" decorative carving technique. It is said to take 10 years to master and you have to create carving tools by yourself. They prepare dozens of types of carving tools that are made by shaping heated thin strips of steel that are cut and sharpened. The way he uses various tools for decorating with smooth motion and technique is clear show of craftsmanship. "I have been learning from my father and finally acquired the technique. But I feel it's not good just to copy him. I want to try to create something new while carrying on the tradition", said Mitsuru. He purchases pottery stones for making clay and crushes them by himself to study its characteristics for making improvement in the clay. He also creates designs for coffee cups and small plates for use in modern households to improve as a potter.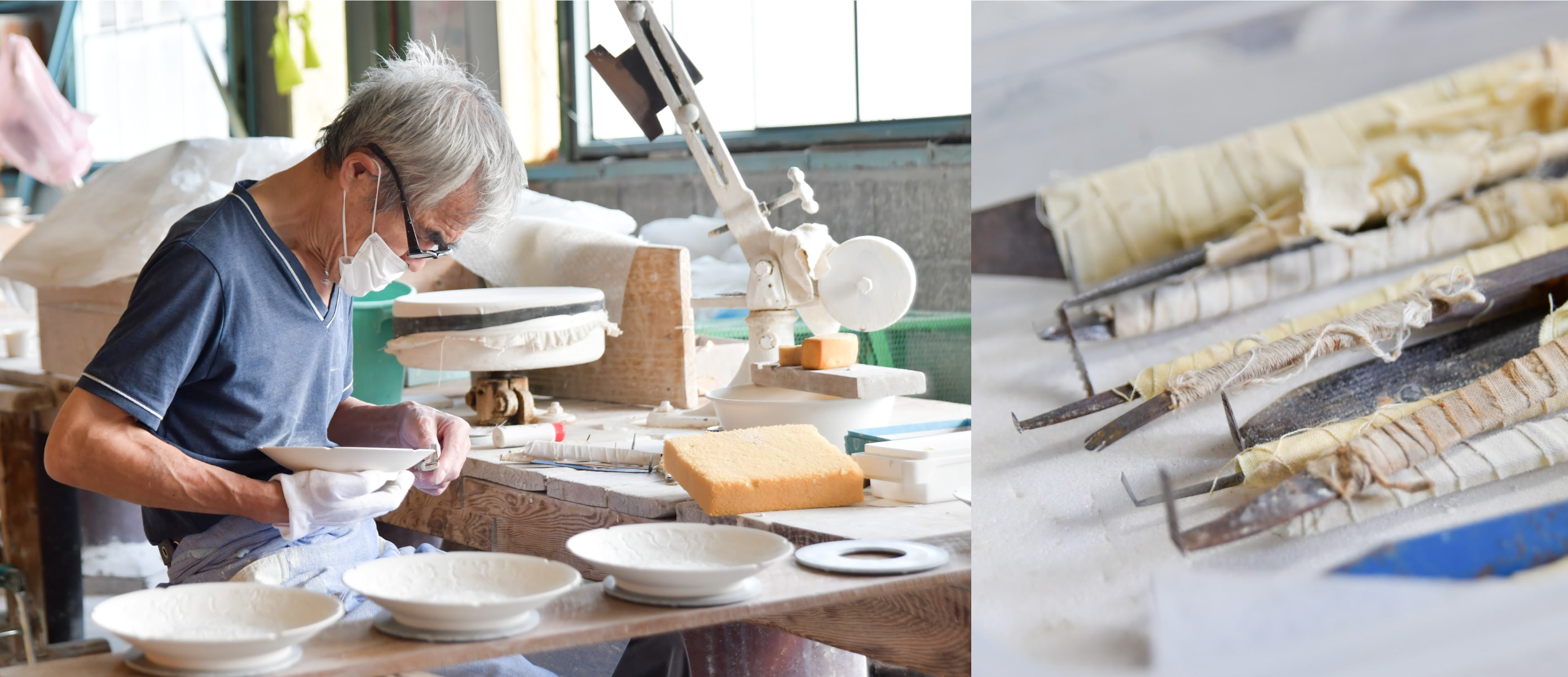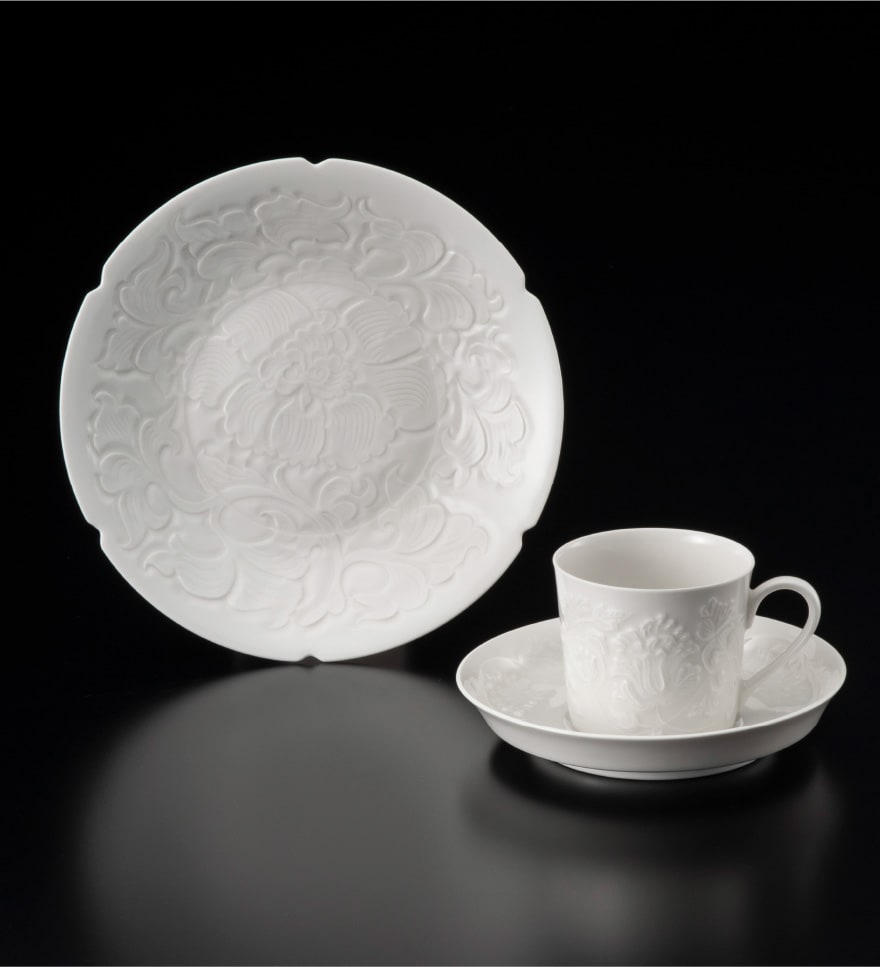 Creating pottery to bring hope
Fascinated by ancient Chinese pottery, Kaizan gama's celadon ware and white porcelain developed uniquely. "Although we are influenced by China, my father and I have been working very hard to make pottery nobody can copy. Our intention is to create Pottery that fits well throughout the four seasons", said Mitsuru. Kaizan gama which has been dedicated to pottery for a long time had to adapt along with the times. "After World War ll, Japanese lifestyle westernized rapidly. I often think over how Japanese culture should be. I want people to feel Japanese culture through Minoyaki even in the changing times. Not only reminiscing in nostalgia but to make pottery for the future." A pottery with such a long history is more reason to continue to work towards the future.
Discover The TOKI MINOYAKI
SHARE ON