TOKI MINOYAKI STORY

Craftsmanship of pottery portrayed through Washbasins
Sinzan Gama
Koichiro Ito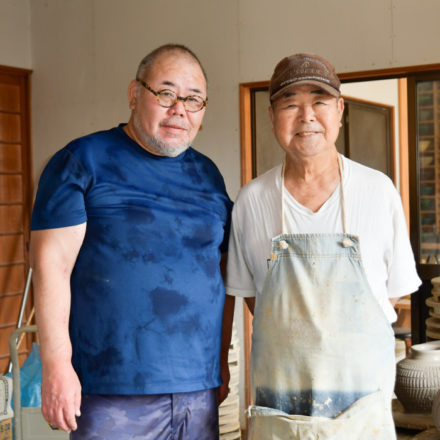 Profile
Sinzan Gama
Koichiro Ito
1535-5 Oroshicho, Toki city, Gifu, 〒509-5002
TEL +81-572-57-6709
http://www.sinzangama.com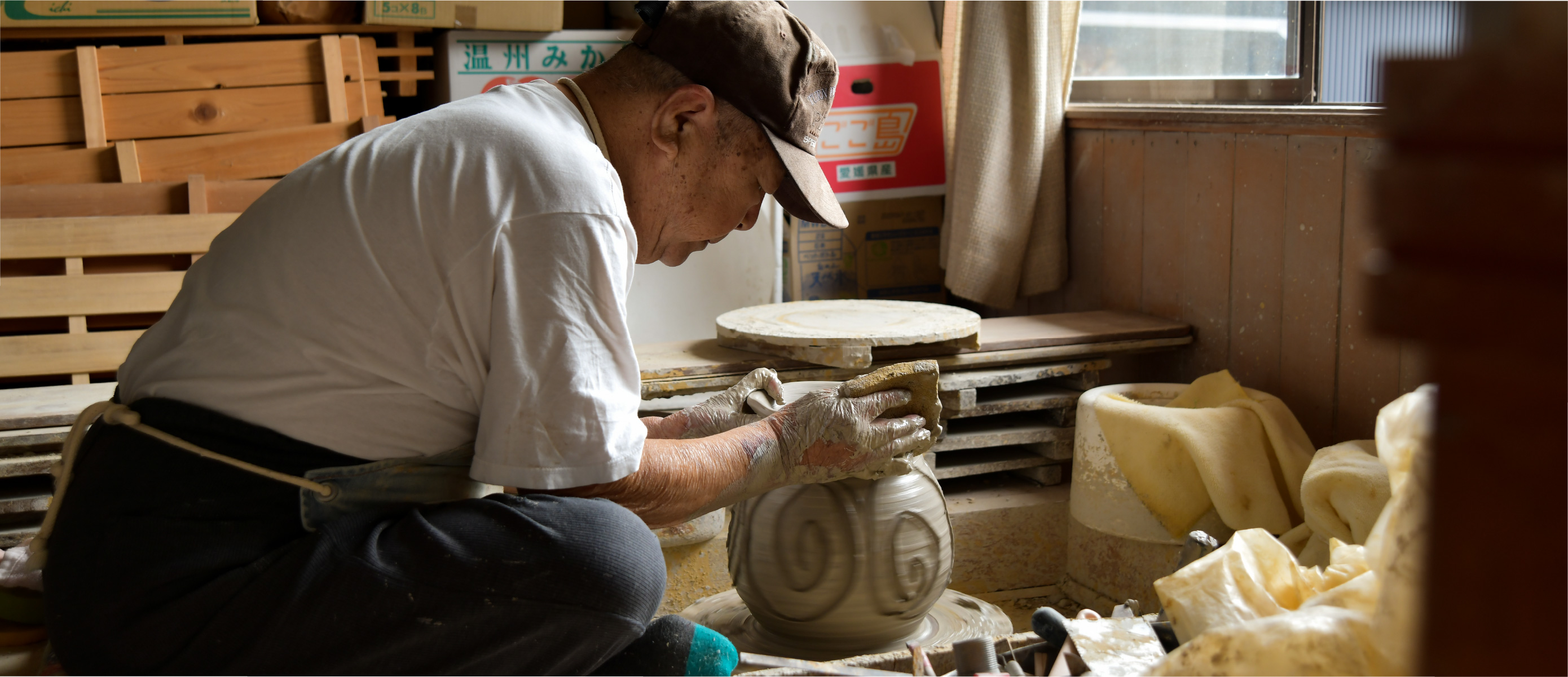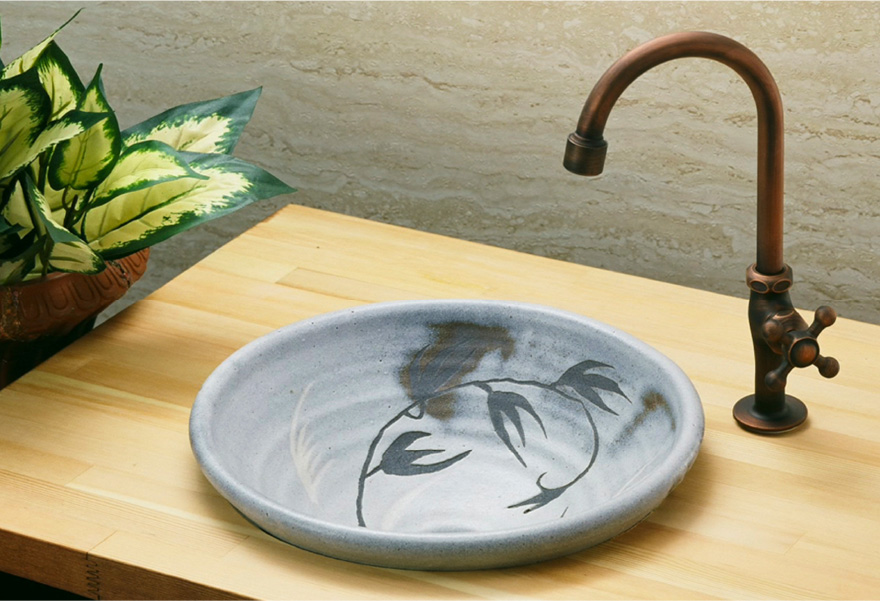 Creating Washbasins fit for modern life
Established during the early Showa era(1926~), Sinzan gama is run by Shinji Ito, second-generation president and his son Koichiro Ito who is the third-generation. It's been making pottery such as japanese traditional jars, vases and tea utensils using potter's wheel. People's lifestyle has changed drastically with the times and are concerned about their future business. They thought pottery became old-fashioned and too outdated for younger generations and people are losing interest. So they began to think about new pottery different from what they had been making. Then they came up with an idea of making washbasins. Koichiro and Shinji had already experienced making large vases used in Ikebana exhibitions, so they were not worried about that challenge. " People in their 20s to 30s often get new houses after their marriage so we wanted them to have an interest in pottery as a home interior." That is how they started to work on washbasins.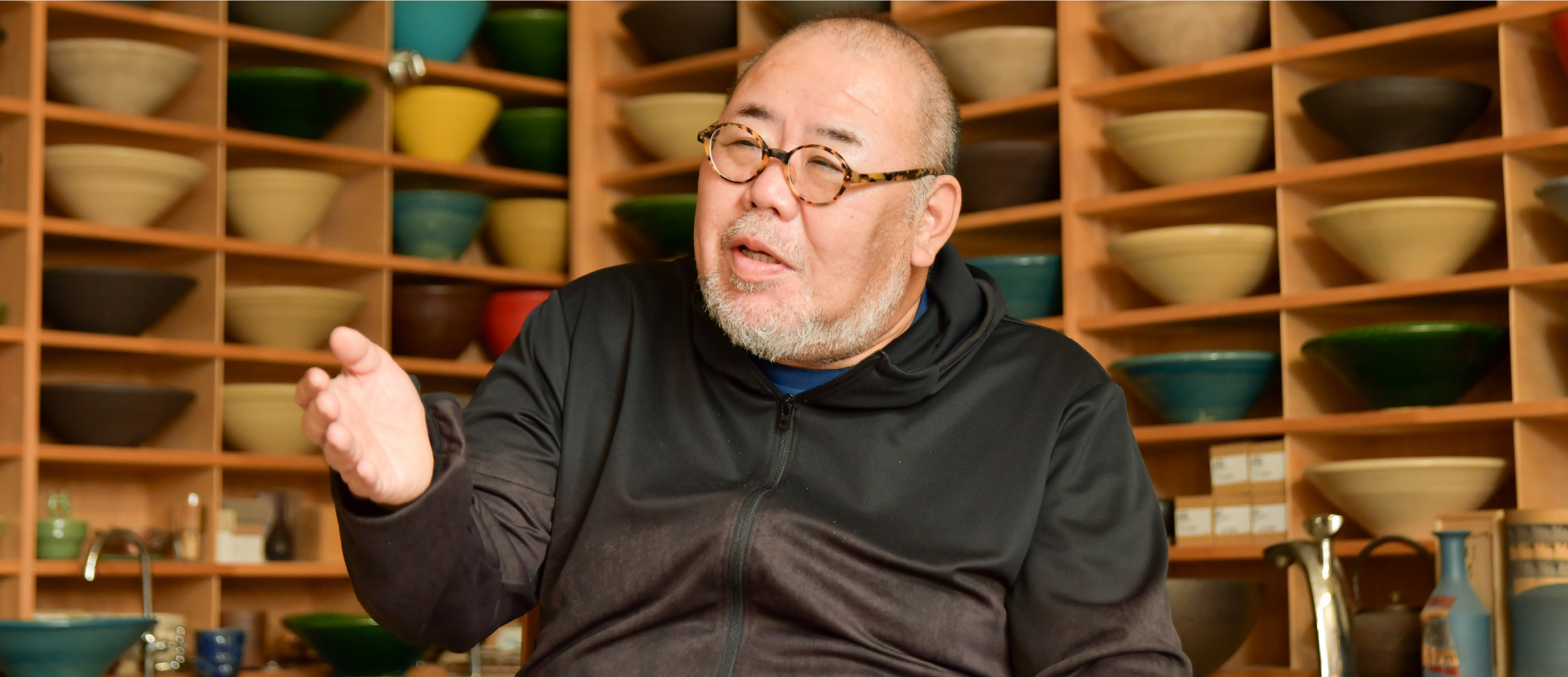 Minoyaki only possible to be created by traditional Craftsmen
The diameter of a washbasin is about 25cm for smaller ones, while larger ones may range up to 40cm. When you work on a potter's wheel, the larger the washbasin the more the clay becomes distorted and makes it hard to shape. To succeed in this process, optimal materials and a solid technique are required. Thick clay from Shigaraki is suitable for making washbasins which require undistorted form rather than detailed work. Sinzan gama especially values using old clay and leaving it out until it becomes the right thickness to shape. Both Koichiro and Shinji are registered as traditional Minoyaki craftsmen, and above all their potter's wheel technique is guaranteed. They throw the clay on the wheel and quickly form a bowl with practiced hands. The advantage of handbuilt is being able to add detail and extra care such as keeping the edge thick to express profundity of the pottery. The finger prints left by shaping the clay on the wheel become beautiful decoration and the unevenness gives exquisite taste. "Buying your own home is once in a lifetime, so people must be interested to buy a one-of-a-kind washbasin as a home interior." As they expected, Sinzan gama's washbasin was a hit by people who wanted to build Wooden Homes utilising natural materials or modern japanese style houses. Soon, they got a rush of orders.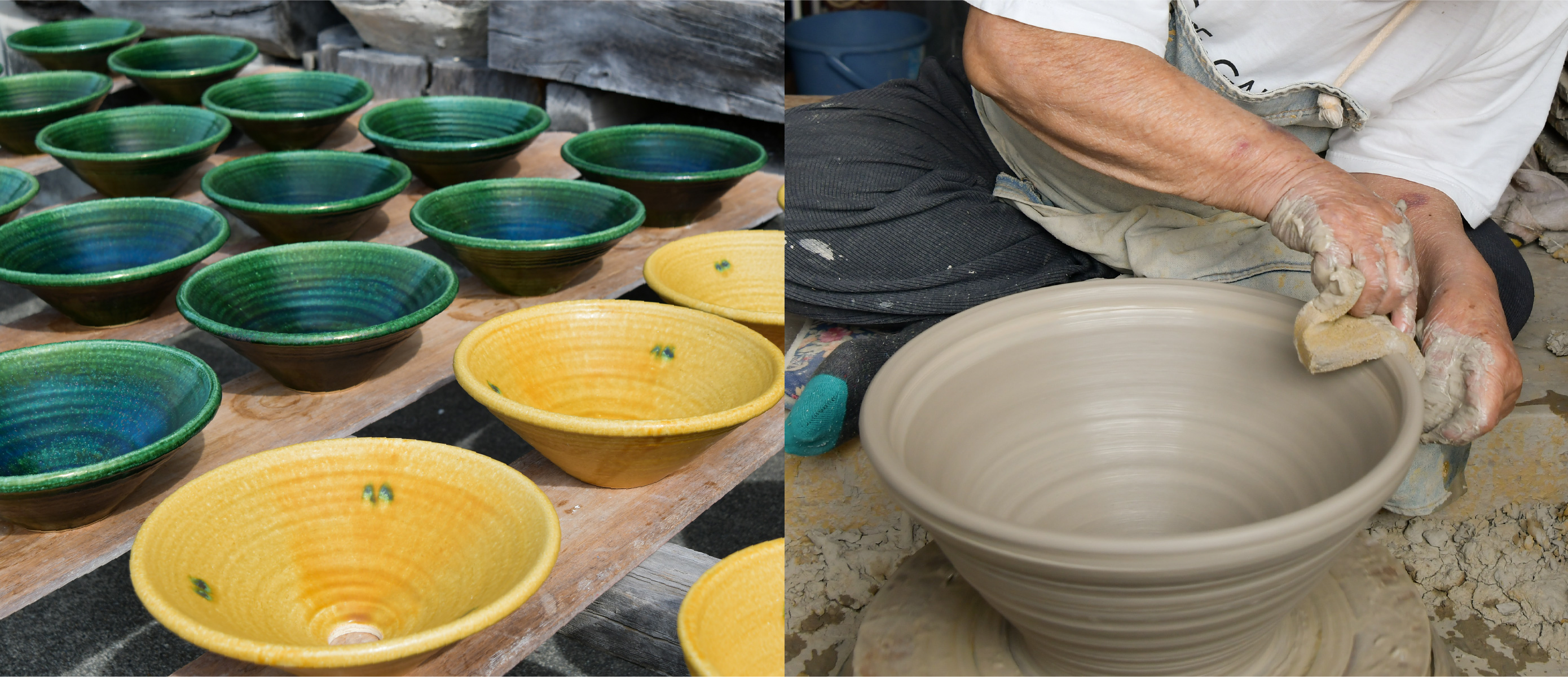 Pottery made with no compromise to detail
The process of making washbasin is kneading the clay with a kneading machine first, and then shaping the clay on the potter's wheel. It is then let dry, followed by biscuit firing and covered with the first coat of glaze and then firing once again. They have a wide range of designs to match different preferences and home interiors. Sinzan gama deals in washbasin by using traditional techniques such as Nezumi shino, Oribe, Kiseto and Ash glaze and also modern style ones such as vivid turkish blue, red or lemon yellow. Depending on the glaze they adjust the temperature of the gloss firing. At the end apply water-repellent coating and dry it to finish the product. The washbasin of Nezumi shino was awarded by the Ministry of Economy, Trade and Industry as a new style of work which is well harmonized with the tradition of Minoyaki. An Iron-oxide slip called Oniita is applied to white clay and then the slip is scraped with a spatula to make a pattern. After glazing and firing, the scraped area forms into a white pattern and the rest turns gray from the chemical reaction in iron. In addition, to express more texture of the work, the time and temperature of the firing process is adjusted to create burned spots or uneven baking until satisfied with the outcome. "I think it is important to make pottery without using machines to convey the value of traditional crafts. I want to express the spirit of pottery."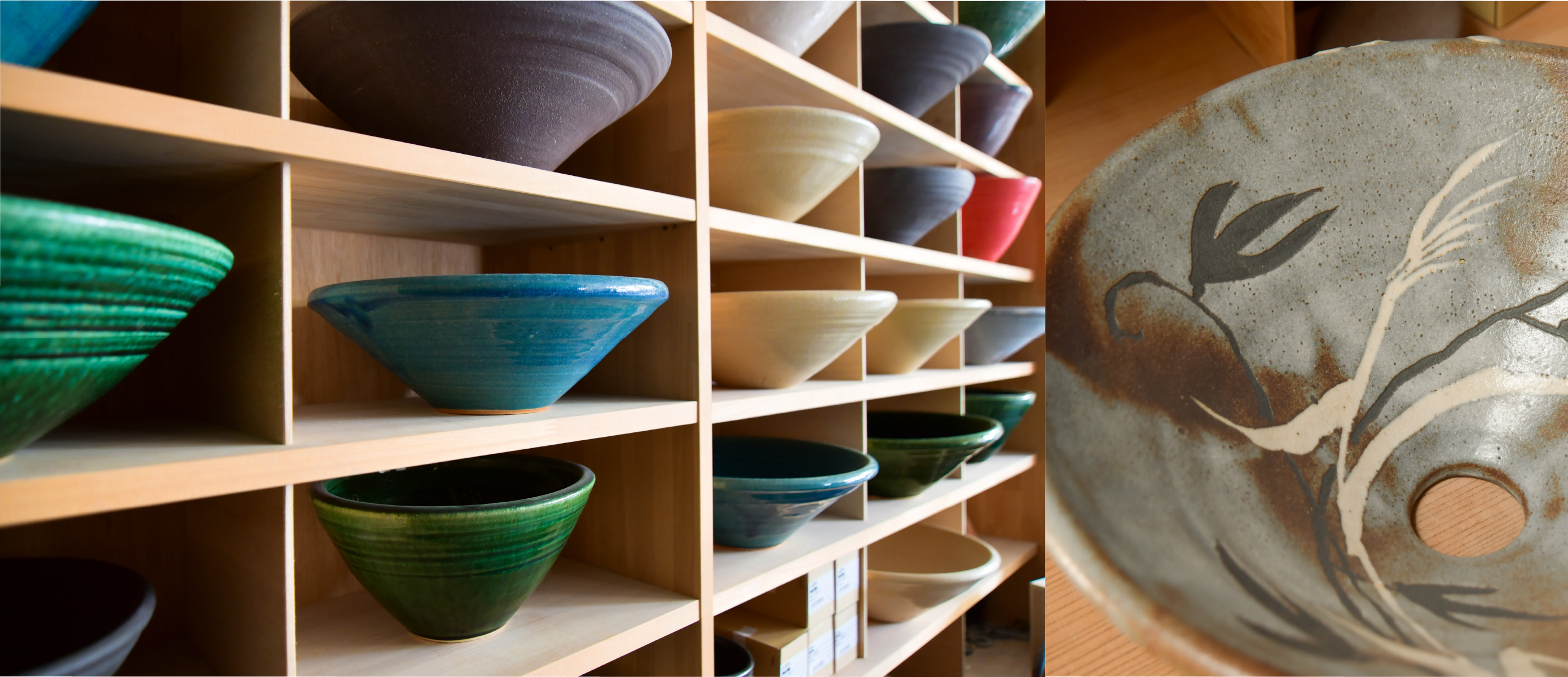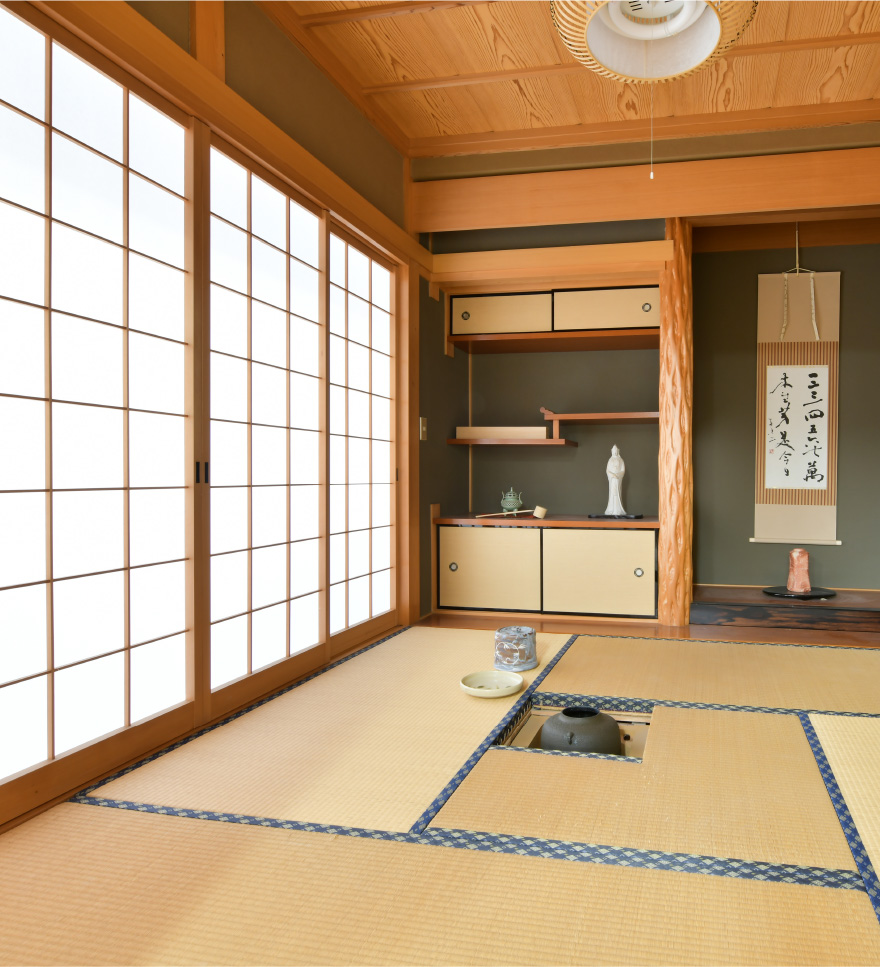 Way to intrigue younger generations with pottery
As a way for people to be familiar with pottery, visitors can observe the washbasins lined up in the workshop. Sometimes Koichiro and Shinji are there working on the potter's wheel. People who plan to open a new store or build their own house often visit the workshop to look for washbasins and let out a cry of admiration by their craftsmanship. In the past, there was a custom that girls learn the manners of tea ceremony and Ikebana before their marriage and it was an opportunity to know about pottery but it is decreasing nowadays. So Sinzan gama opened a tea room gallery on the second floor of the workshop so people can visit to touch and try tea utensils or large vases made with traditional techniques. "I believe that this will become the chance to get acquainted with pottery for the younger generation. I am glad that people who came to the gallery had an interest in pottery by looking at many types of traditional tea sets or vases." says Koichiro. Minoyaki and pottery, have a long history. " It says it takes about 100,000 years for the pottery which is fired at1250 degrees to return to the soil. This is why pottery is attractive and we have to pass down its history and culture to the future." They will pass on the value, profundity and the warm texture of pottery through washbasins, attracting attention as household goods.
Discover The TOKI MINOYAKI
SHARE ON