TOKI MINOYAKI STORY

Spread the value of Minoyaki with unique design
Chizan Gama
Osamu Ando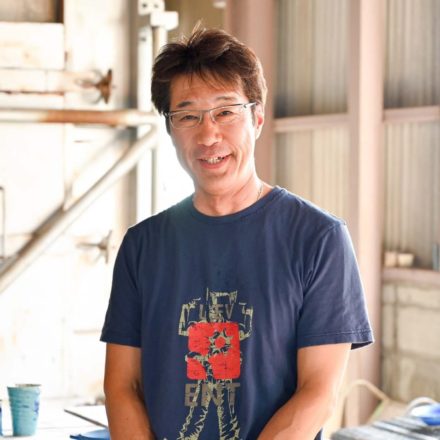 Profile
Chizan Gama
Osamu Ando
1476-3 Oroshi-cho, Toki city, Gifu 〒509-5202
TEL +81-572-57-6570
https://www.chizangama.com/
Instagram
chizangama1926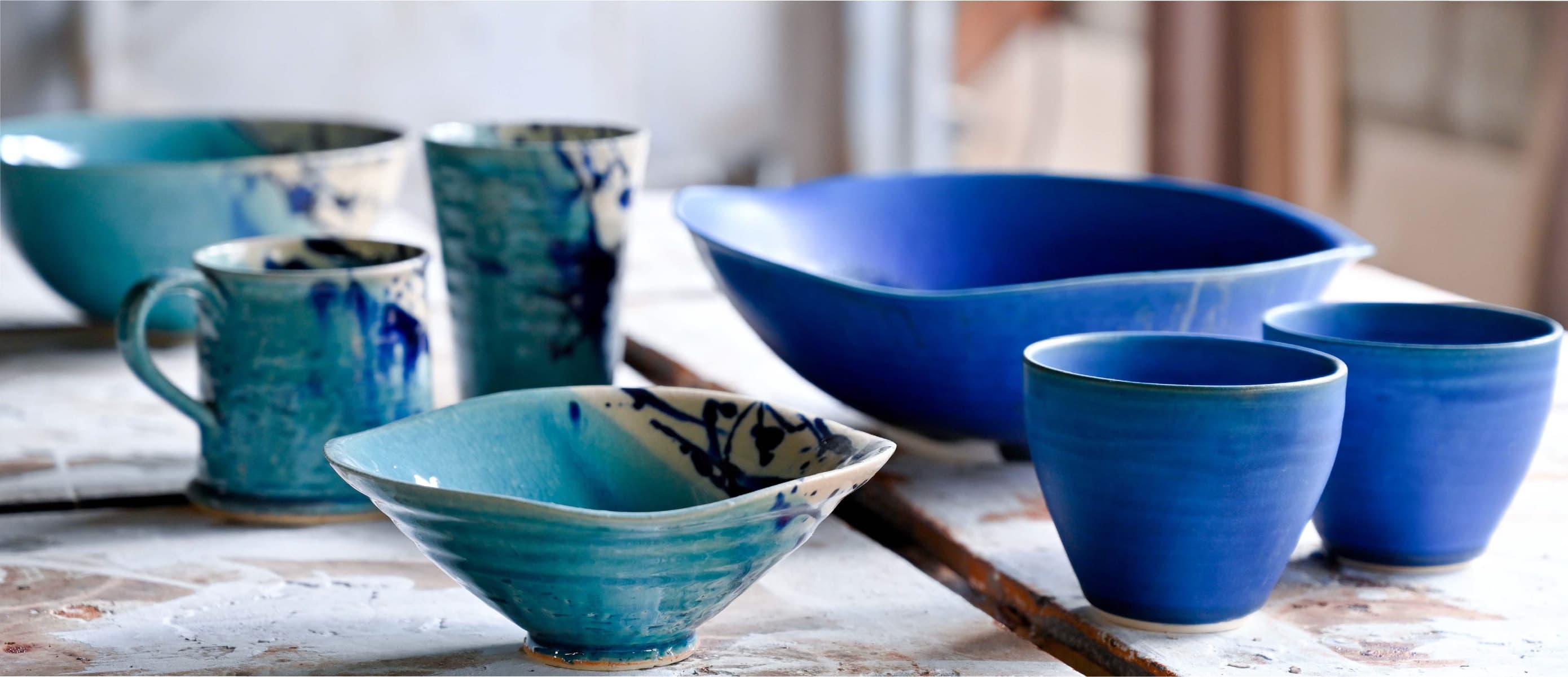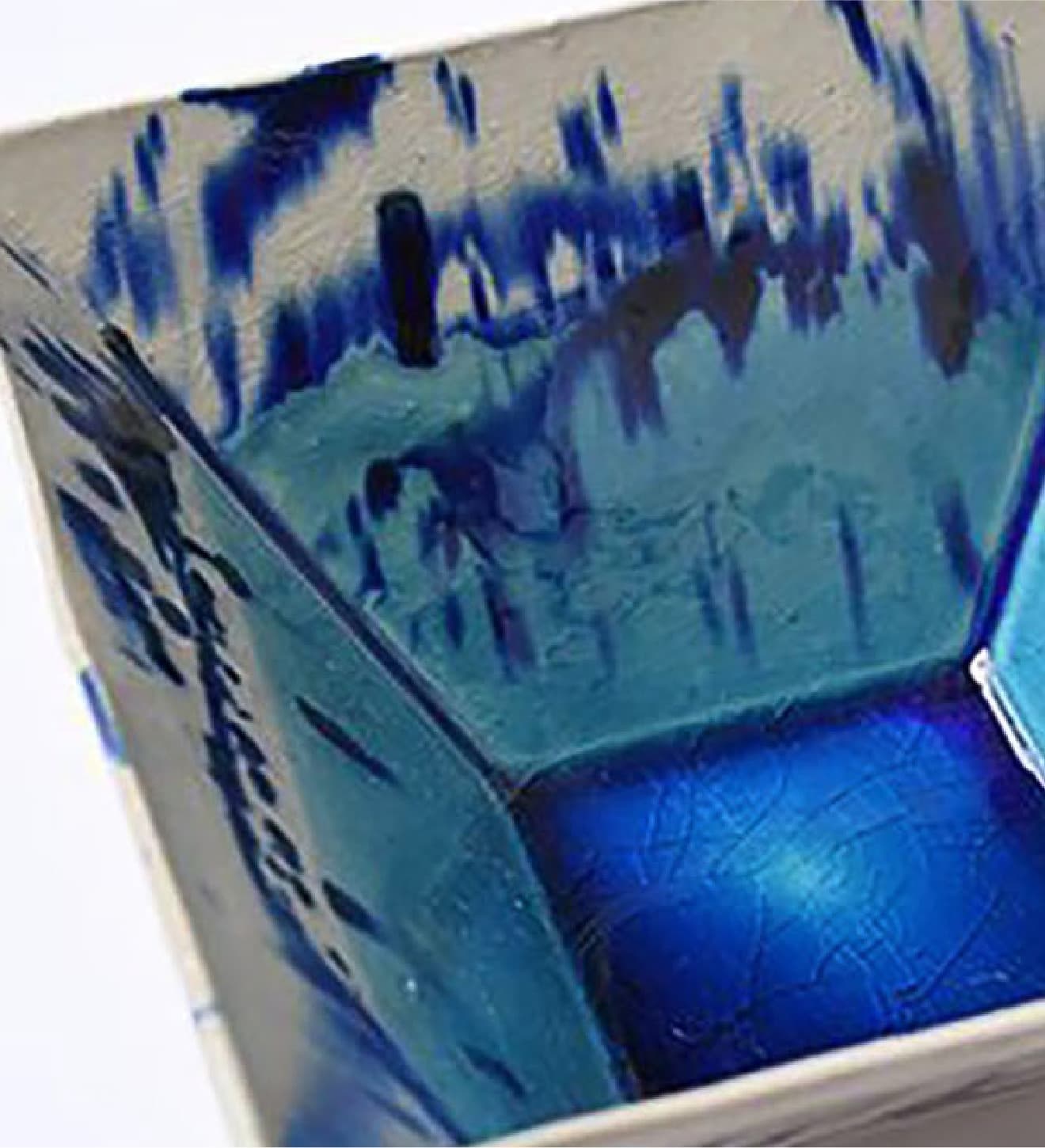 Achieve Minoyaki pottery that surpass the rest
Chizan gama was established in 1926. "Amongst the various kinds of Minoyaki pottery, Oribe, Shino and Kiseto are very famous but these aren't the only kinds. I've always wanted to produce our original product." When Osamu Ando became the third-generation president, he set off to create his original works. They improved their skills of Turkish blue glazed pottery and a Red painting called "Akae" and brought originality in the way they glazed, fired and made carvings on their pottery. The results were a refined Japanese style, "Original Shu-Akae", a mesmerizing and awakening blue-colored "Chizan Blue" and a more modern familiar "Galaxy blue". These are the main original products made by Chizan gama.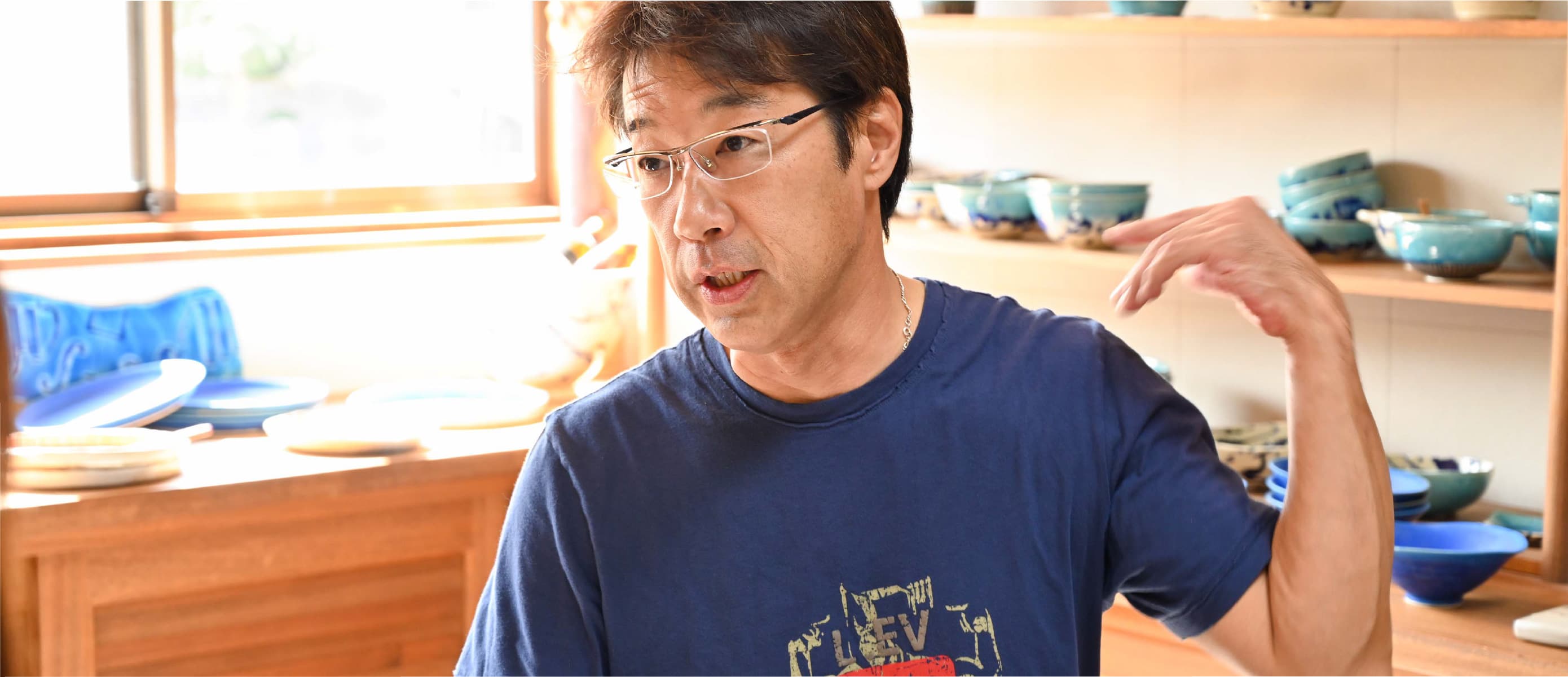 "Shuaka" plate to brighten the table
Done without making drafts, the characteristic of the "Original Shu-akae" is a warm texture with bold circles and fine lines drawn as the artisan feels at that moment. Akae uses highly saturated red pigment, so concentrating on the color of Akae technique they focused to create their uniqueness. "I thought the color red is too intense, so I wanted to make tableware with a gentler color to add warmth to the table." He adjusted the density of red pigment and created an original "Shu-aka" color which was a warm orange red. Furthermore, he chose a soil containing iron to add warmth to the clay. By doing this, he produced pottery with unique color and texture of soil and non-white biscuit which was unique to Chizan gama.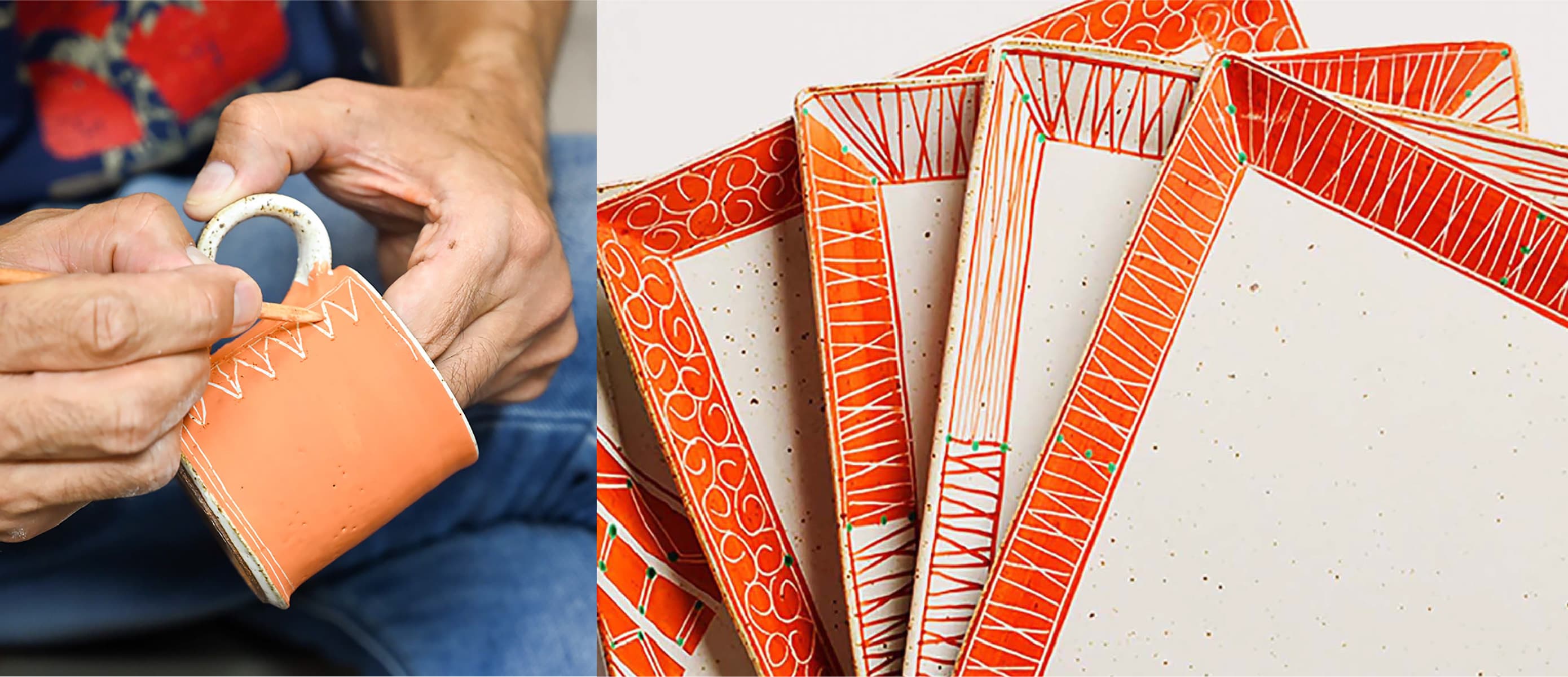 Pursuit to create a unique blue
Similar to "Original Shu-akae", "Chizan blue" also focused on color and has a very alluring clear blue color. However, "It's very difficult to fire the pottery with blue glaze." Said Ando. Turkish blue glaze is easy to flow down and crack during the firing process, but when the pottery has cooled, the beautiful cracked pattern called, "Kan-Nyuu" is formed on the glaze surface which made an attractive texture. By carefully examining the color while in the firing process, they were able to create a color which emphasizes the smooth features of Turkish blue glaze even more and succeeded to create a unique blue. Furthermore, the brand-new color called "Galaxy blue" was a challenge to find a deep blue instead of a clear and smooth blue like "Chizan blue". "If the pottery is fired too much, the thick glazed part becomes vitrified. To prevent vitrification, we moved the pottery many times in the kiln during the firing process." Lightly firing the original blue glazed pottery, which has deeper color than Turkish blue glaze, the shiny metallic light resembling stars in the galaxy come out from the matte texture because of the cobalt melted from the glaze. The unique blue colors which Ando creates can decorate the table brightly and received great reputation.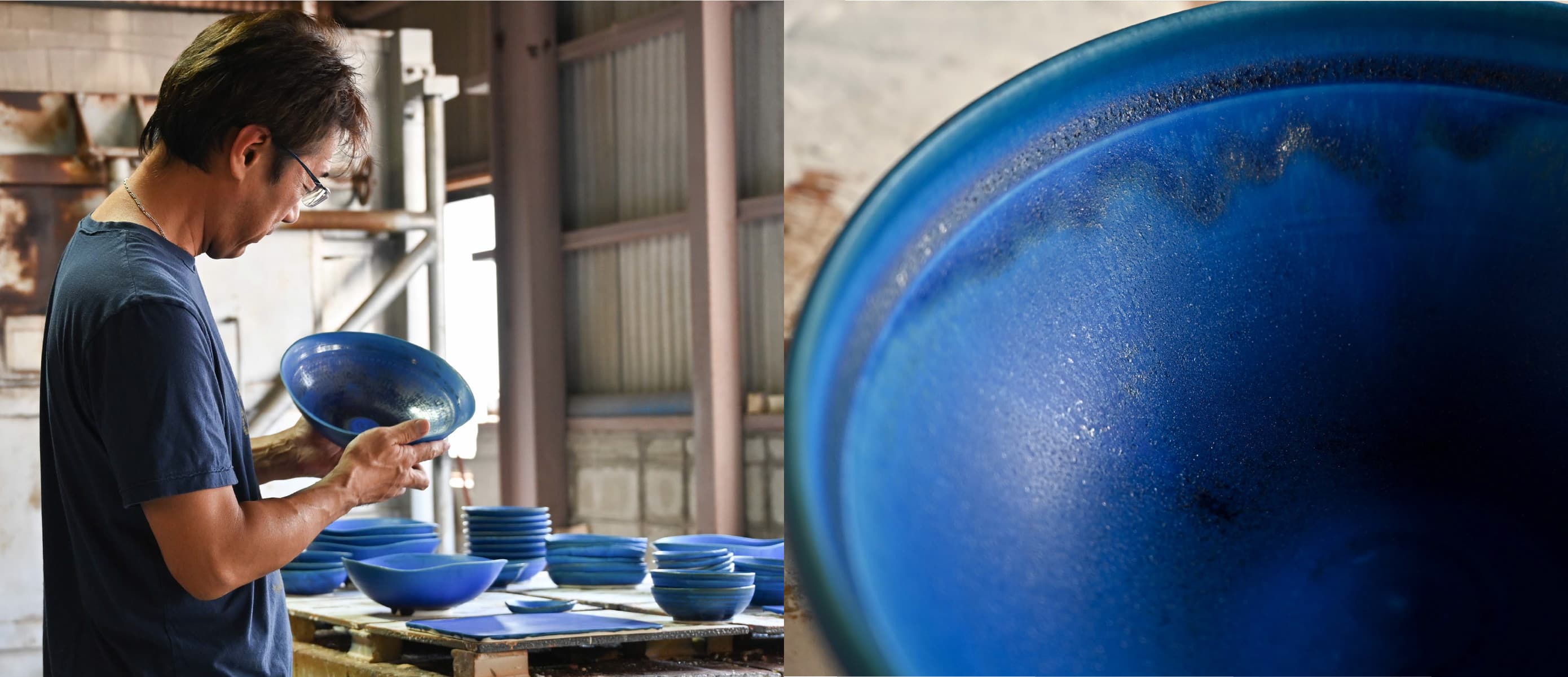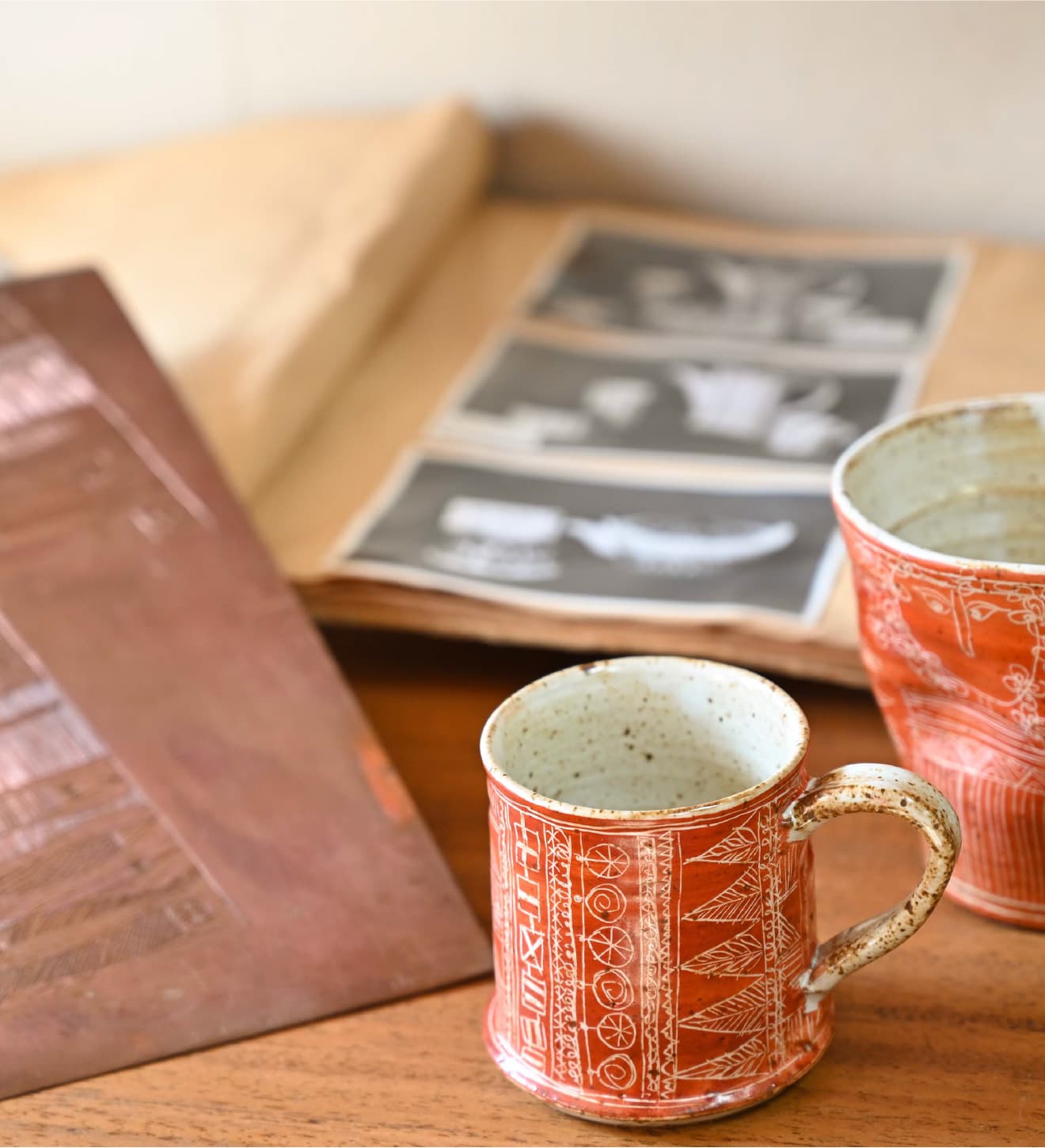 Producing Minoyaki to enhance brand recognition
"I think Minoyaki has the capability to assume an important role as it is a large part of the domestic pottery industry. The price range being so wide, we have to brush away the image of mass production that everybody is so used to. To enhance brand recognition, each potter has to produce high quality and original pottery." Ando created sophisticated pottery which is unique to Chizan gama in the process of molding and decoration using his artistic sense. Recently he revived silkscreen printing pottery which used to be produced at the time of establishing Chizan gama and named it "Old Chizan". "I think Old Chizan still has value in the present age." He decided to reproduce it because he wants to focus on producing high quality pottery even though it is time consuming. Point of sales for the pottery are at pottery exhibitions or events held all over the country and he focuses on selling by himself. "I will make further efforts to introduce the value of pottery of Chizan gama style Minoyaki to many people. I will continue my challenge everyday.
Discover The TOKI MINOYAKI
SHARE ON