TOKI MINOYAKI STORY

Revitalizing the Pottery Industry by spreading the value of Minoyaki
Maruchu Inc.
Hironao Sakai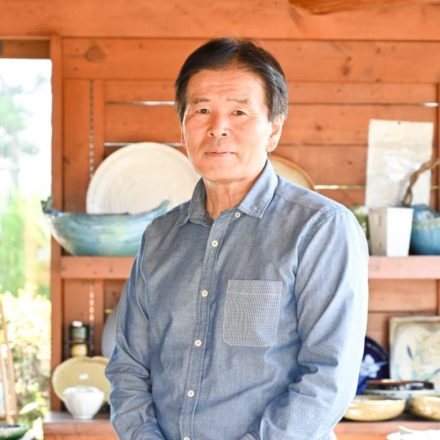 Profile
Maruchu Inc.
Hironao Sakai
4-6 Izumi Kitayama-cho, Toki City, Gifu 〒509-5171
TEL +81-572-55-1100
https://maruchu-potter.jimdo.com/
Instagram
maruchu_potter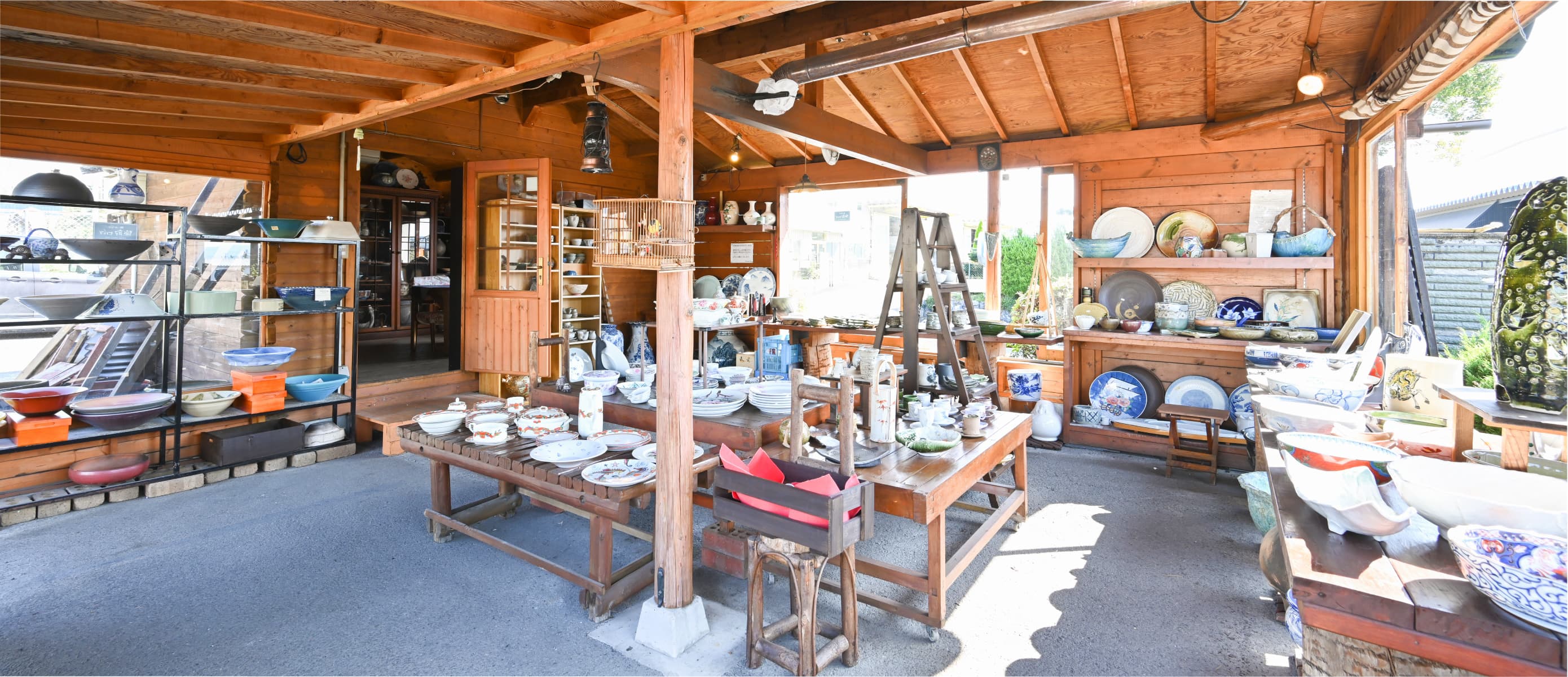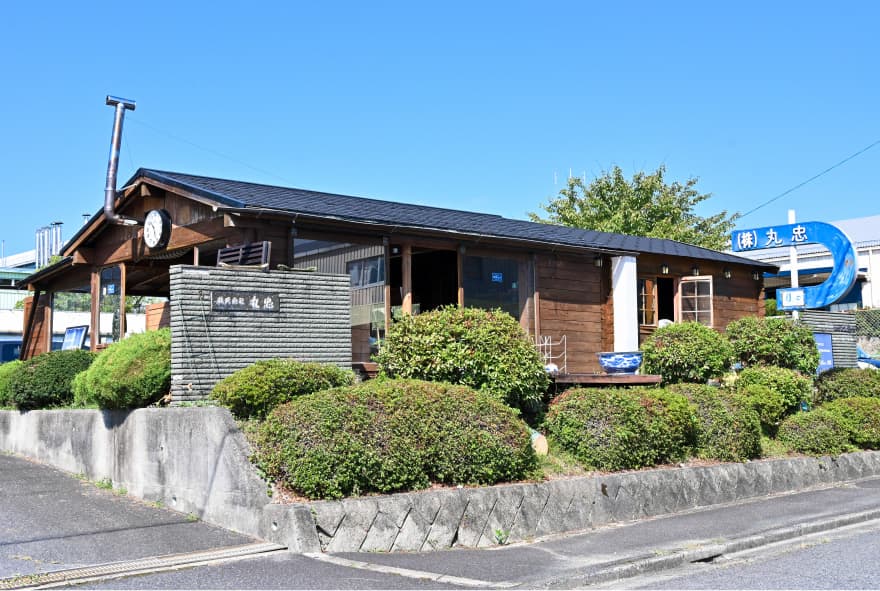 Leading the pottery industry as a pioneer of tableware for Chinese cuisine
Toki city is located in Tono region and is where many ceramic manufactures and Potters work. Hironao Sakai was born into a family in the ceramic manufacturing business and is currently a Minoyaki distributor in Oribe Hills. In 1950, Noriyoshi Sakai the father of Hironao and the founder, started Maruchu as a Ceramic ware sales company. "The trend at the time was to keep producing things no one had ever made, I was told. So, my father focused on tableware for Chinese cuisine." Many companies already manufactured plates and bowls, sake server and tea cups. After World War II, Chinese food and Ramen noodles gained popularity and the family of products such as bowls, small round plates, octagon plates, and ramen spoons were introduced. The authentic design of dragons and phoenix birds which are traditional imaginary Chinese creatures, also the pattern called, "Karako" with the depiction of Chinese children playing and celadon porcelain attracted lots of attention and pioneered as tableware for Chinese cuisine. "Our products are used in TV commercials and we were called the pioneers of tableware for Chinese cuisine." In 1958, instant noodles were released for the first time in Japan and Chinese cuisine widespread as part of people's everyday life. 60 years since then, ramen bowls are still our main products.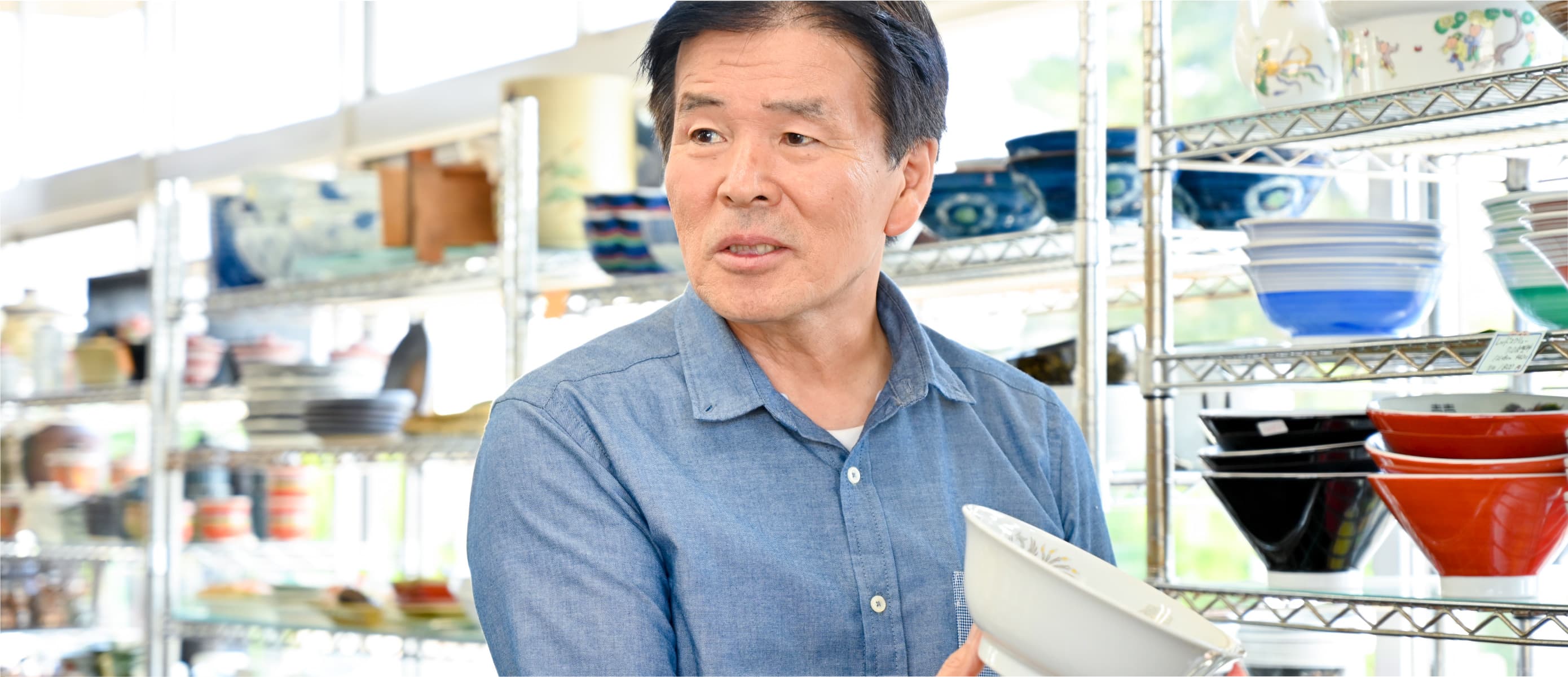 New developments with key products
As time went by, people gradually began to use different types of tableware for Chinese cuisine and the demand for Chinese tableware decreased in the market. "Not only table ware for Chinese cuisine but the Minoyaki market itself was shrinking. To put the brakes on this situation, we had to create a product which would change the image of Minoyaki, which at the time was perceived as mass produced and cheap." Without changing the form of the bowl, which we've already improved usability and design for many years with our supplier, we started to make samples of hand painted bowls to add value to Maruchu's products. The new ramen bowl used a Japanese color scheme and hand painted design which received good reputation for serving authentic ramen and unique modern ramen. This triggered the start for Maruchu's original hand painted tableware for Chinese cuisine, Japanese and Western tableware. Especially for western tableware, they made tableware which Hironao's wife, Yoko hand painted to add uniqueness. "I realized the importance of artisans who can bring added value to our products."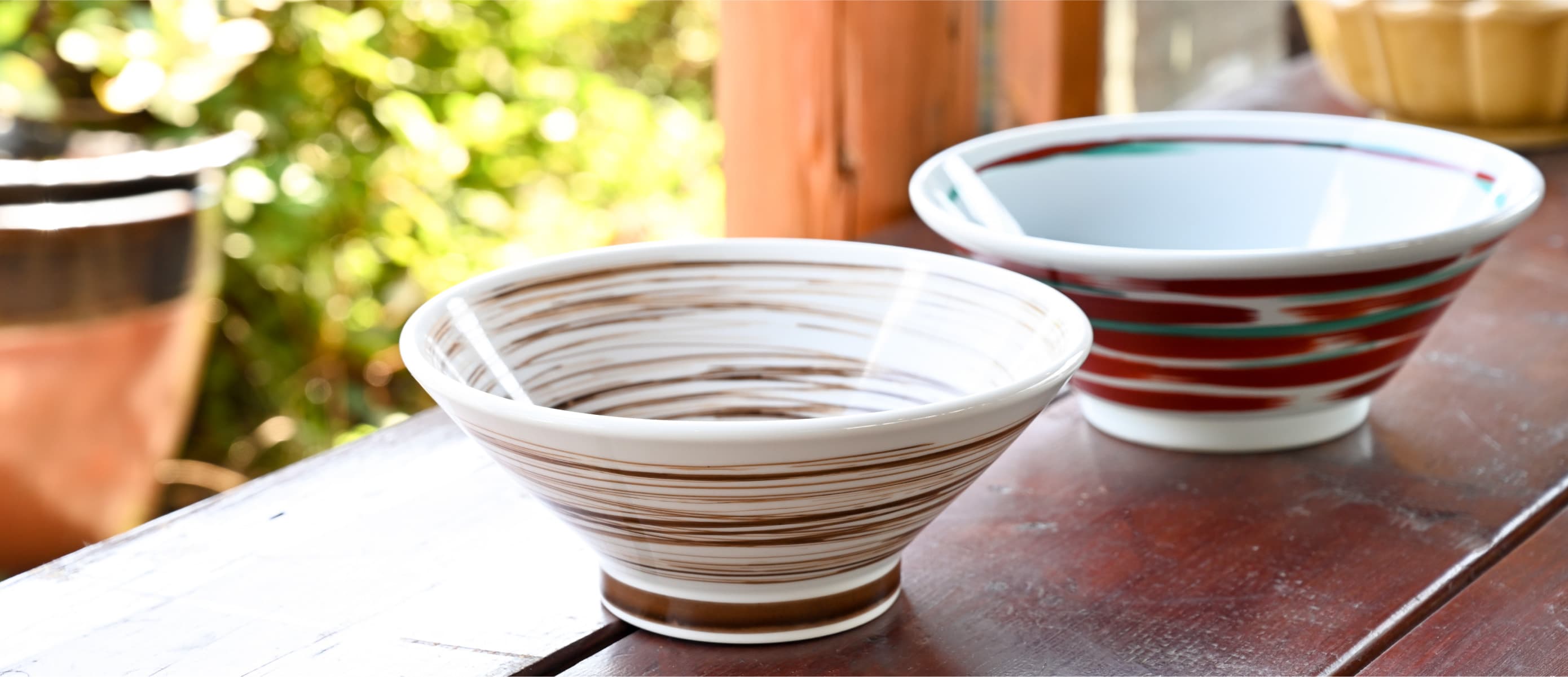 Inheriting the skills of Toki Pottery
The other point in Sakai's product planning was focusing on the artisan's techniques. "I think it is important to produce tableware which costumers can only come across in Toki city and can feel the artisan's time and effort. Minoyaki is pottery which utilizes the characteristics of its wide variety of soil and glaze. To make one pottery, it needs a lot of potters to mix soils, glaze, mold and paint. Along with shrinking Minoyaki market, the number of potters is decreasing." Said Sakai. In the past 30 years, the number of Potteries are decreasing in Toki city and accordingly to clay companies who are the suppliers for Potteries also decreased sharply. In addition, Akamaki which use transcription with red strip lining on the edge of ramen bowl is one of the over glaze techniques of Minoyaki, but they have decreased all together. The lack of successors of over glaze painting technique has become a crisis. Sakai who is the chairman of cooperative business association of Oribe Hills, mentioned that we have to work on human resource development for the future of the pottery industry. The additional value of hand painting artisans which Sakai focused on his new product, was a mission for him to provided opportunity for artisans to improve their skills and create demand.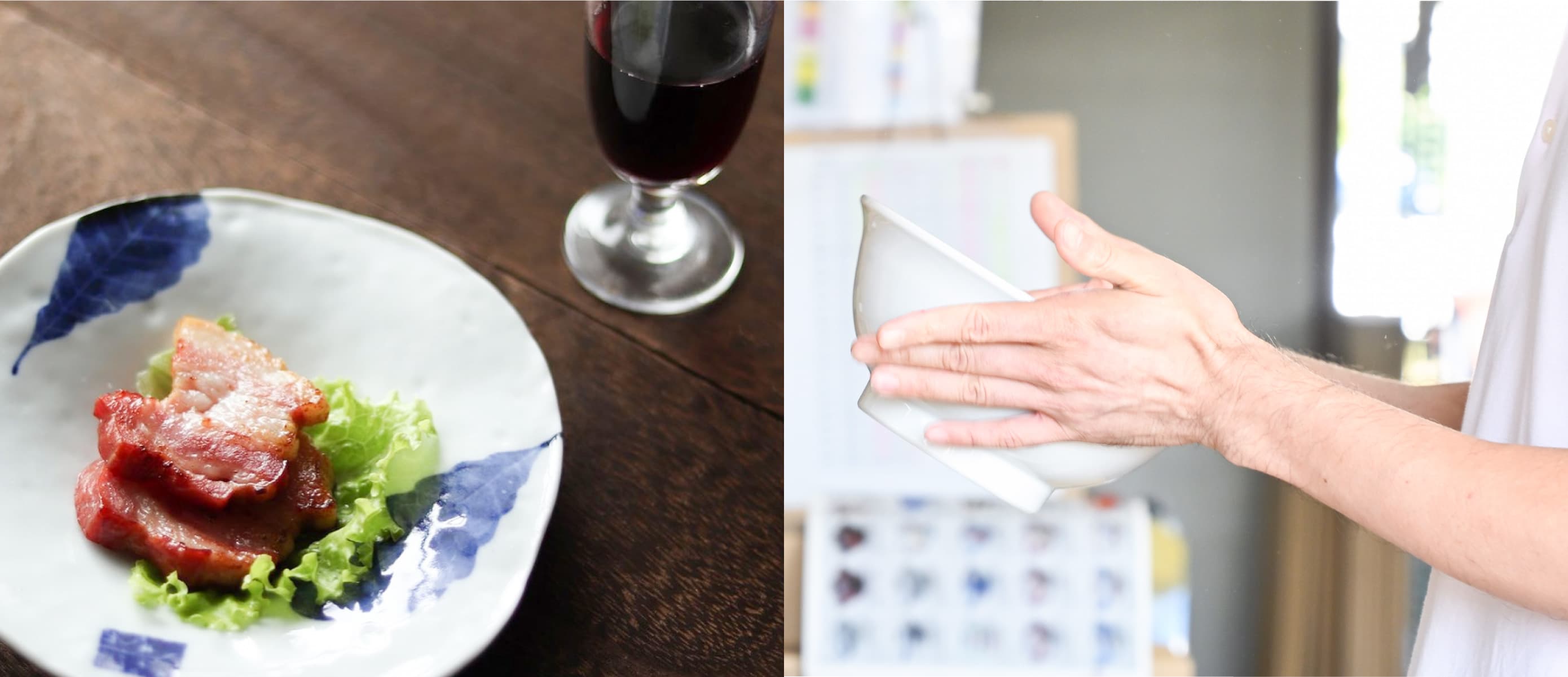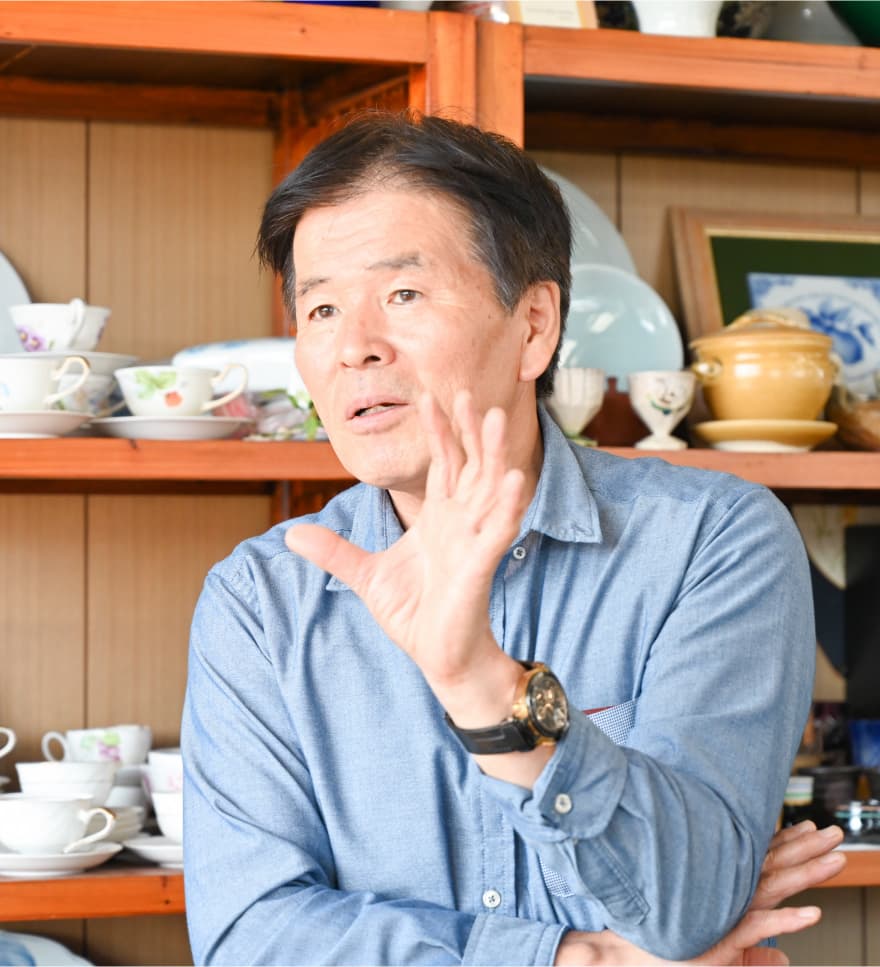 Promoting Minoyaki from consumer perspective to revitalize the city
"What can I do to revitalize the Minoyaki industry?" This phrase is always on Sakai's mind. He advertises Minoyaki actively to expand the passion of artisans who support inheriting their pottery techniques not only within his company but also throughout Toki city. "I would like visitors who come all the way here to know how wonderful Minoyaki is. I ask their preference and recommend them to wholesalers or manufactures whichever they prefer. Sometimes I don't refer my own products and recommend someone else's, which I feel silly about doing lol" He wants to provide a lot of people opportunity to look and experience Minoyaki. "It's a shame if someone thinks mass producing techniques are the only characteristics of Minoyaki. They will see the actual product and realize that Minoyaki has survived having techniques to produce any kind of pottery." Sakai's new target is making a place to attract more people starting with Oribe Hills which is great for shopping. He is sure that not only for shopping but adding workshops where people can get an experience of painting and molding pottery will be successful to learn more about Minoyaki. "We have to be more open to teach the features of Minoyaki to people who come visit." Sakai has a strong will about protecting Minoyaki, the main industry of Toki city.
Discover The TOKI MINOYAKI
SHARE ON